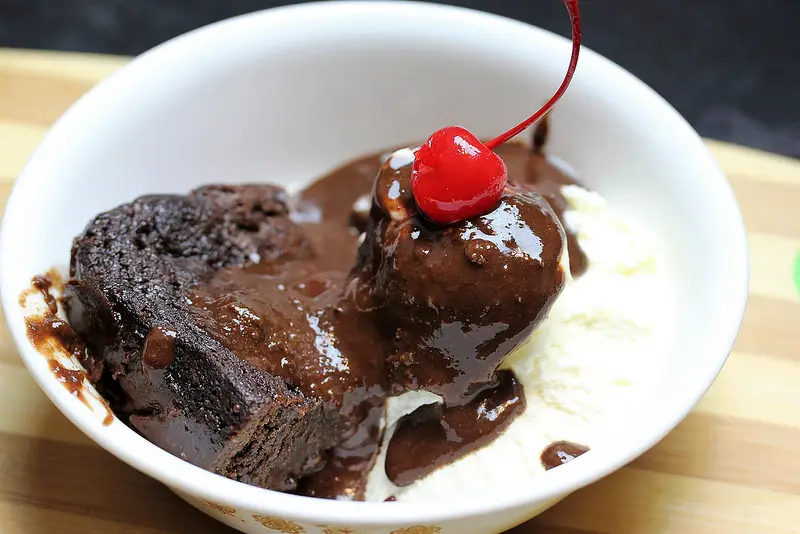 Hot Fudge Pudding and ice cream. How good can it get this Hot Fudge Pudding Cake is rich and delicious and is a simple recipe to put together.

Hot Fudge Pudding Cake
Ingredients
2 teaspoons instant coffee
1 ½ cups water
⅔ cup Dutch processed cocoa (divided)
⅓ cup brown sugar (packed)
1 cup granulated sugar (divided)
6 tablespoons unsalted butter
2 ounces semi sweet chocolate (shaved or chopped)
¾ cup all-purpose flour
2 teaspoons baking powder
1 tablespoon vanilla extract
⅓ cup milk
¼ teaspoon salt
1 large egg yolk
Instructions
Preheat oven to 325F.
Spay an 8 x 8 baking dish with cooking spray. Mix the coffee into the water and set aside.
In a small bowl whisk together ⅓ cup cocoa, ⅓ cup granulated sugar, and the brown sugar; set aside.
Heat a saucepan with water that you can fit a small bowl into just to simmering. Place the bowl on top of the water and melt the butter in the bowl. Mix in the semi sweet chocolate, and ⅓ cup cocoa stirring until chocolate is smooth and melted; set aside.
In another small bowl whisk together the flour and baking powder.
In a medium size bowl mix together the ⅔ cup granulated sugar, milk, egg yolk, salt, and vanilla. Add the chocolate mixture and mix with a spoon to combine. Add the flour mixture and mix until moistened.
Pour the batter into the baking dish evenly so it comes all the way out to the sides. Evenly sprinkle the cocoa mixture over the top of the batter and then gently pour the coffee over the top.
Bake for 45 minutes or until cake starts to pull away from the sides and the mixture is hot and bubbly. (don't over bake)
Let rest 45 minutes and serve with ice cream.
Adapted from Baking Illustrated