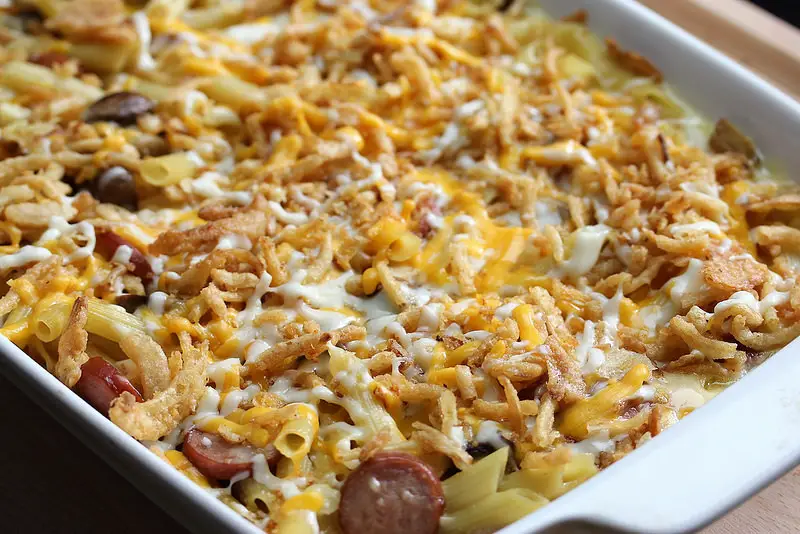 My wife picked up some smoked sausage on sale at our local market (was such a good price she couldn't resist).  I was planning on some type of casserole dish for supper so I decided to give this Smoked Sausage with Penne Recipe a try.
This is a simple recipe that doesn't require a lot of prep or cooking time. The end result is a cheesy and rich casserole dish. Give this one a try it's really good!!

Smoked Sausage with Penne Recipe
Ingredients
2 cups uncooked penne pasta
1 pound smoked sausage (cut into ¼- ½ inch slices)
1-1/2 cups milk
1 can (10-3/4 ounces) condensed cream of celery soup (10-3/4 ounces undiluted)
1-1/2 cups french-fried onions (divided)
1 cup shredded mozzarella cheese (divided)
Instructions
While pasta is cooking preheat oven to 375F.
Cook pasta according to package directions for al dente; drain.
In a large nonstick skillet brown sausage over medium heat for about 5 minutes.
In a large bowl mix together the soup, milk, ½ cup French-fried onions, and ½ cup cheese until well combined and then fold the sausage and pasta into the mixture.
Place the mixture into a 13 x 9 casserole dish, cover, and bake for 25 – 30 minutes or until mixture is hot and bubbly. Uncover and sprinkle the remaining cheese and onion over the top. Bake for an additional 5 minutes or until cheese is melted.
Adapted from
TasteofHome