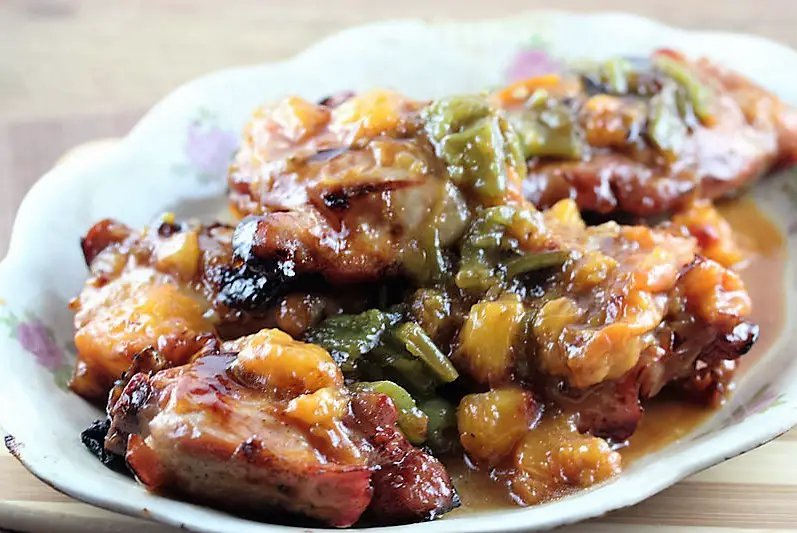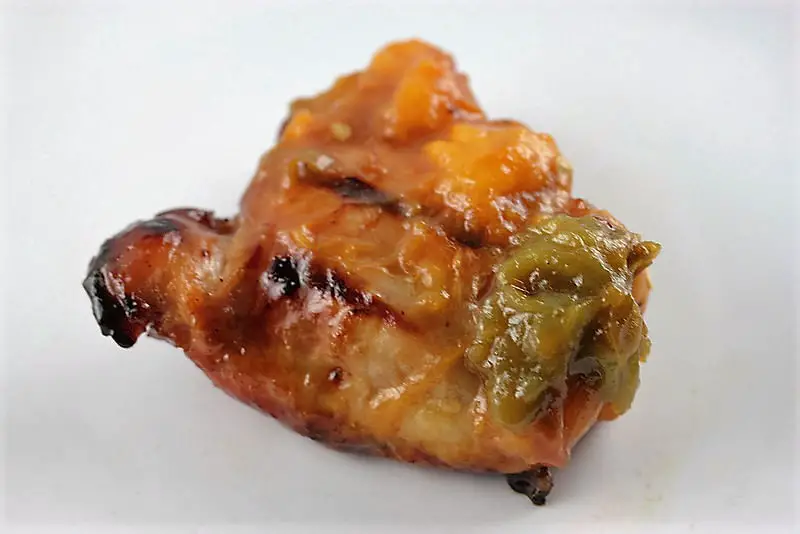 When I first looked at this recipe I thought, It looks OK, but it was much better than that. The peach preserves, fresh peach, along with a little heat from a jalapeno and cayenne pepper turned this dish into a delicious combination of flavors. It does take a little time to prepare because of the brine time, but it is well worth the effort.
Fire up the grill and give this one a try – it's really good!
Peach-Glazed Grilled Chicken Thighs
Ingredients
3 pounds bone-in chicken thighs (skin removed) Removing the skin is optional.
Salt and pepper
1 cup wood chips
1 cup peach preserves
⅛ teaspoon cayenne pepper
1 (13 by 9-inch) disposable aluminum pan
1 peach, halved and pitted
1 jalapeno chili
2 tablespoons cider vinegar
Instructions
Trim chicken and pat dry with paper toweling. Place chicken in a large bowl and season with 2 teaspoons salt and ⅛ teaspoon of black pepper. Cover bowl with plastic wrap and refrigerate for 1 – 24 hours.
While chicken is in the brine, place wood chips in a pan with cold water and let them soak; at least 15 minutes.
Place wood chips on a large piece of heavy duty aluminum foil folding to form a packet. Cut strips in the top of the foil to release the smoke. Place the packet between the grates and primary burner.
Preheat and prepare grill for high heat; oil grates. Continue heating on high covered until foil packet starts to smoke.
While grill is preheating in a small bowl mix together the peach preserves and cayenne pepper. Spray the disposable pan lightly with cooking spray and spread the preserves mixture over the bottom. Arrange the chicken thighs (skin side down if keeping skin on), jalapeno pepper, and peach halves (cut side up) in the pan.
Reduce heat to medium and place the pan on the grill opposite the wood chip packet; cook covered for 10 minutes. Flip chicken and turn pan 180 degrees, cover, and continue cooking until thighs reach 170F.
Roll the chicken, jalapeno, and peach peach halves in glaze to coat and then place them on the grill grates. Leave the pan on the grill for a few minutes to caramelize the glaze (if needed).
Grill chicken, peach halves, and jalapeno on one side until nicely browned, flip, and continue grilling until peach halves, jalapeno, and chicken are nicely browned and chicken is 175F. Place chicken back in the pan with the peach glaze, tent with aluminum foil, and let rest for 10 minutes.9. Remove any loosened skin from the peaches and chop up the peach. Remove the seeds and any loose skin from the jalapeno and cut it into small pieces. Place the cut up peach and jalapeno in a small bowl. Place the chicken on a serving platter and pour the glaze from the pan into the bowl and stir in the vinegar.
Pour glaze over chicken and serve hot.
Adapted from
Cooks Country