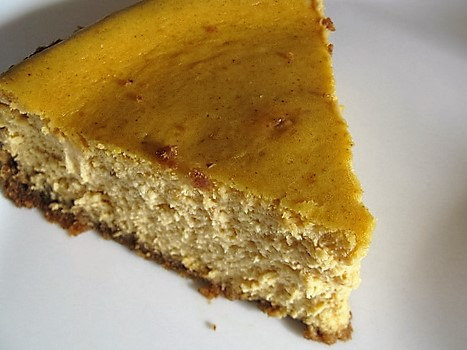 Even though most of the Holidays are over for this year, it's never too late for pumpkin cheesecake. Pumpkin cheesecake is basically a pumpkin pie with cream cheese. If you enjoy cheesecake and pumpkin pie, this is the perfect recipe for you. The cheesecake gets most of its flavor from spices such as nutmeg and allspice. Serve with whipped cream.


Pumpkin Cheesecake Recipe
Ingredients
1½ cups graham cracker crumbs
5 tablespoons butter (melted)
1 cup sugar, plus
1 tablespoon sugar
3 (8 ounce) packages cream cheese
1 teaspoon vanilla
1 cup canned pumpkin
3 eggs
½ teaspoon cinnamon
¼ teaspoon nutmeg
¼ teaspoon allspice
whipped cream (to serve)
Instructions
Pre-heat oven to 350 degrees.
Make the crust by combining graham cracker crumbs, butter and 1 tablespoon of sugar in a large bowl. Stir well to coat the crumbs with the butter. Put foil half way up the outside of an 8" spingform pan. Press the crumbs onto the bottom and ⅔ of the way up the sides of the springform pan. Bake the crust for 5 minutes, remove from oven and set aside until you are ready to fill it.
In a mixing bowl combine cream cheese, 1 cup sugar and vanilla extract. Beat with an electric mixer until smooth. Add the pumpkin, eggs, cinnamon, nutmeg and allspice. Continue beating until smooth. Pour the filling into the springform pan over the crust.
Bake for 60-70 minutes. Remove from the oven and allow to cool.