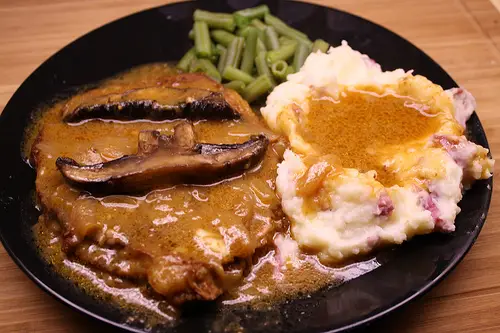 Steak, A-1 Steak Sauce, Mushrooms and Mashed Potatoes and gravy. A meal fit for a king. I am one of those people. I am always looking for the meat. I guess it's a family thing. It just has always been that way. This chuck steak recipe is just delicious. The steak is so tender it just melts in your mouth. And what a superb tasting gravy. Add Mashed Potatoes and sautéed mushrooms and Enjoy!
A-1 Steak Sauce Chuck Steak Recipe
Ingredients
1 tablespoon salad oil or olive oil
1 medium onion sliced
2 lbs beef chuck steak, about one-inch thick
½ cup bottled steak sauce
2 cups beef broth
3 tablespoons brown sugar
2 tablespoons prepared mustard
1 teaspoon lemon juice
Instructions
In a large fry pan or Dutch over medium-high heat in hot oil, cook chuck steak until well browned on both sides.
Meanwhile, combine steak sauce, beef broth, brown sugar, mustard and lemon juice in a bowl until blended.
Pour mixture over steak.
Add sliced onion.
Heat to boiling.
Reduce heat to low; cover and simmer steak for 2 to 2½ hours (or even a little more depending on the thickness of the steak), or until fork-tender, turning steak once.
Remove the steak from the sauce to a platter.
Thicken the sauce to the desired gravy texture you desire. ( I use 2 T Flour to ¼ cup water) if sauce is a little too thick add some water.
Serve with Mashed Potatoes and sautéed Mushrooms.