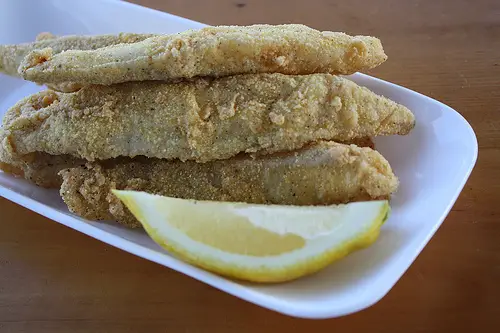 My Family likes fish anytime of the year. With Easter approaching and the Lent season being here we serve it at least every Friday. This Deep Fried Catfish Strips Recipe is really good. If you want something a little different, and on the spicy side, give this Catfish Recipe a try. You won't be disappointed. 
Enjoy
Deep Fried Catfish Strips Recipe
Ingredients
2 large eggs
4 tablespoons hot sauce
2½ lbs catfish fillets, cut diagonally into ½ inch-wide strips
1 cup flour
1 cup yellow cornmeal (not coarse)
2 teaspoon salt
2 tablespoon Cajun seasoning
Instructions
Prepare fish: Whisk together egg and hot sauce in a wide shallow dish.
Stir in fish strips and let stand at room temperature at least 10 and up to 30 minutes.
Pour enough oil into a 4 to 5 quart heavy pot to measure 2 inches and heat over medium heat until thermometer registers 350°F or use a deep fryer.
Stir flour, cornmeal, salt and Cajun seasoning in another wide shallow dish.
Dredge one fourth of fish in flour mixture shaking off excess flour, then fry in oil, stirring occasionally with a slotted spoon, until golden brown. Or until fish flakes easily with a fork.
Drain fish and place on paper towing to absorb the excess oil.
Repeat until all fish is fried.
Serve hot with tartar sauce and lemon wedges.