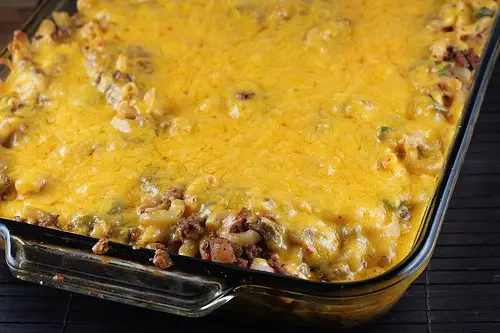 As in the rest of the country the heat wave continues here in upper Michigan. I was a little reluctant to prepare this Beef Macaroni and Cheese Recipe, but decided to turn on the air conditioner, and do it anyway. It doesn't require much baking time, so it didn't heat thinks up to badly. This recipe reminds of another recipe on this blog called macaroni and tomatoes- except it is seasoned a little differently. It defiantly was worth putting up with a little extra heat; I love preparing one dish meals and as it turns out the family cleaned this one up big time. So much for the left over's. Enjoy
Beef Macaroni and Cheese Recipe
Ingredients
1 pound box elbow macaroni
2 tablespoons vegetable oil
2 cups chopped green bell pepper
2 cups chopped onion
1 tablespoon chopped garlic
2 pounds lean ground beef
3 cups canned crushed tomatoes
Salt and pepper
1 teaspoon each dried basil, ground cumin, and dried oregano
3 cups grated Cheddar
Instructions
Cook the macaroni according to package directions; drain and set aside. Heat the oil in a skillet; add the peppers, onion, and garlic, and sauté until soft.
Add the ground beef and sauté until browned.
Add the tomatoes, salt and pepper to taste, and the
Basil, cumin, and oregano.
In a large bowl, combine the macaroni and the beef mixture.
Spread this mixture into a 9 by 13-inch baking dish. Top with the cheese and bake for 20 to 25 minutes or until the cheese is lightly browned and bubbly.