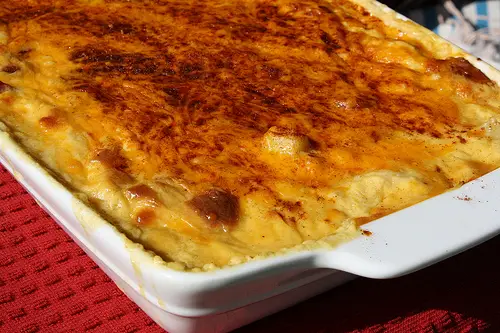 I was looking for a dish to go with some shrimp we were cooking on the grill. We have some big eaters in the family and the shrimp was just not going to be enough. We all love cheese. This Cheese Potato & Smoked Sausage Casserole Recipe really appealed to me. After asking the rest of the Family what they thought.  I decided to give this simple recipe a try. The blend of cheese with the smoked sausage is delicious. Give this recipe a try. You'll Love IT!
Cheese Potato & Smoked Sausage Casserole Recipe
Ingredients
3 cups red potatoes, peeled, boiled and cut into cubes ( about 1 pound )
4 tablespoons butter or margarine
4 tablespoons flour
2 cups milk
½ teaspoon salt
¼ teaspoon pepper
½ lb Velveeta cheese- cut into chunks
½ cup sharp cheddar cheese, shredded
1 lb skinless smoked sausage – I used natural casing hotdogs
¼ teaspoon paprika
Instructions
Cut smoked sausage in half, lengthwise, and then chop into ½ to 1 to inch pieces.
Cook in a frying pan for about 15 minutes, turning frequently to lightly brown.
Place cooked diced potatoes in 2 quart casserole.
Add the smoked sausage and gently mix it.
Mix all remaining ingredients (except for shredded cheddar cheese & the paprika) in a saucepan over medium heat until warm, melted and smooth. Stirring constantly.
Pour white/cheese sauce over potatoes and meat. Sprinkle shredded sharp cheddar cheese on top, and then sprinkle paprika evenly over the top.
Bake in preheated oven at 350°F for 35-45 minutes until golden brown.
Enjoy!