It's not entirely true that pizza cutters are one-trick ponies. In addition to being the ideal tool for the job when you need to slice a fresh, homemade pizza, they are also helpful for cutting pastry dough, tortillas, biscuit dough, quesadillas, pasta dough, and thin loaves of bread like focaccia. You might also find other uses for the cutter, such as cutting sheet cakes, brownies, or fudge. Beyond pizza, there are other cooking and baking uses for pizza cutters. For instance, a pizza cutter to quickly slice tiny slices of rolled-out dough can assist pie makers in producing beautiful latticework. You can use a pizza cutter instead of a mezzaluna to chop herbs finely.
Although a pizza cutter may not seem like a necessary kitchen appliance, anyone who enjoys preparing pizza should own one. That's because cutting hot, crispy products straight from the pizza stone or the oven with a knife just doesn't cut it (pun intended). A good pizza cutter will quickly slice through your sizzling product, whether you prefer the traditional pepperoni or like to get creative with your toppings.
What is Exactly Pizza Cutter?
A sort of kitchen tool used to cut pizza is a pizza cutter. The pizza wheel and the mezzaluna are the two most popular kinds of pizza cutters. Pizza cutters are frequently chosen over knives for cutting pizza because they can be used quickly and effortlessly to create crisp-edged pieces.
For several reasons, consumers favor using pizza cutters when cutting pizza. Making a precise, clean cut is the fundamental advantage of slicing pizza with a pizza cutter. Pizza slices sliced with an ordinary knife frequently have rough edges. When using a regular knife, the toppings on the pizza may unintentionally be scraped off.
Best Pizza Cutter for Cutting Pizza
Here are some of the best pizza cutters for cutting pizza:
Kitchy Pizza Cutter 

Features:
This pizza cutter will shock you with how easy it is to get an excellent, clean cut through your pizza. With its ergonomic handle and flawless finish, you won't have to cut back and forth, and you get to keep your toppings where they belong – on your pizza.

Why waste money on bulky pizza rockers that don't even fit in your kitchen cabinet when you can get this unique design that easily fits your hand and your cutlery drawer.

This pizza knife comes with a blade guard to keep your cutter securely stored away when you're not using it.

You can take it apart in 3 simple steps and put it in the dishwasher for thorough cleaning (look at the product images to see how it works). Please be careful when handling the steel blade; it is sharp.

We're so confident you'll love the kitchen pizza cutter that we'll refund every penny if you don't like it! Most customers like it so much they buy more than one and give it to their friends and family!
Dreamfarm Scizza

Features:
What happens when scissors meet pizza? The best thing since sliced bread, that's what! Perfectly cut-through piping hot deep-dish pizza and flatbread with no mess or fuss.

No matter the pizza's size, it'll be in perfect bite-sized slices in no time. The kitchen scissors glide through thick crusts thanks to the sharp edges and easy slicing action. It has a safety lock and is dishwasher safe.

The Scizza is designed with long-lasting, 5.9-inch stainless-steel blades that come apart for easy sharpening. Don't worry about scuffing your expensive non-stick pizza pans or pizza stone – the protective server leaves them scratch-free

Pizza wheels don't dream big enough. The Scizza comes with a unique spatula shoe that also acts as a pizza server. Just slide it under your pizza, slice, pinch, pull and serve. Heat resistant to 400°F

At Dreamfarm, we dream up functional kitchenware and home accessories as creative solutions to everyday problems. Find a great gift or product from our funky collection to complete your home and kitchen.
Star Trek: The Original Series USS Enterprise NCC 1701 Pizza Cutter Utensil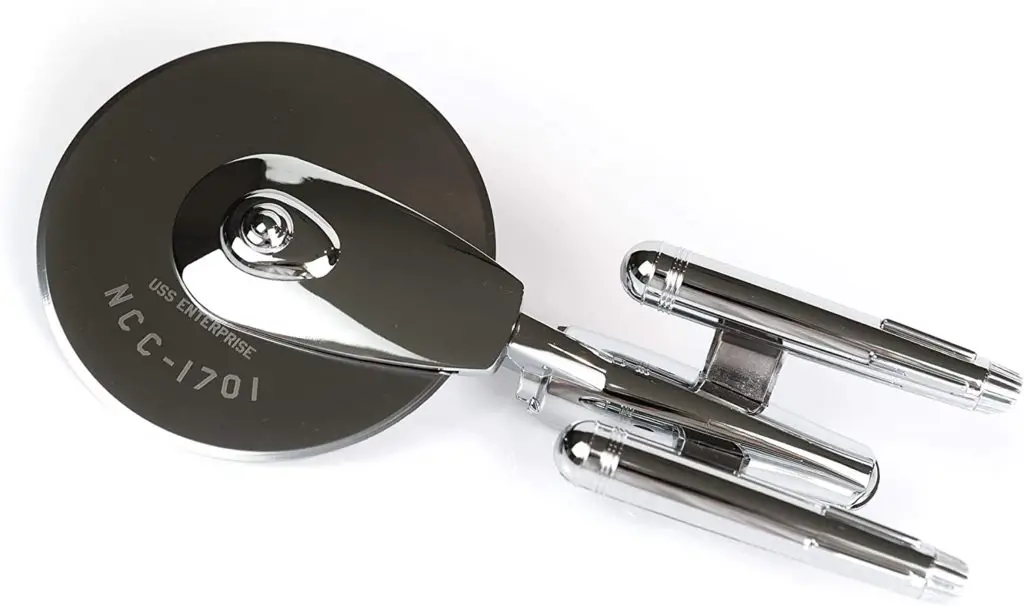 Features:
Kitchen Essentials: This collectible Star Trek USS Enterprise Pizza Cutter is a must-have addition to any cooking space. Flaunt your fandom while upgrading kitchen accessories with this professional pizza slicer.

Interstellar Design: Inspired by the USS Enterprise NCC 1701 ship from Star Trek: The Original Series. Specially designed with fans in mind, the ship designation is laser-etched on the wheel of the stainless steel blade.

High Starfleet Standards: This Trek pizza cutter features a sleek finish and solid metal construction. The saucer section of the USS Enterprise functions as the blade while you hold the starship, making it easy to slice and handle.

Ship Specs: Measures approximately 9 inches, including the blade. Perfect for everyday use, this collectible Star Trek pizza cutter is a fan-centric kitchen utensil that allows Trekkies to show off their fandom.

Great Gift Idea: Purchase this USS Enterprise Pizza Cutter for yourself or gift it to the Star Trek fan in your life. Always cut the perfect slice with this ultimate fandom-themed pizza slicer.
Checkered Chef Premium Pizza Cutter and Cutting Board Set

Features:
No more arguments about who got the most significant slice! Follow the guides on this pizza cutting board to get eight identical pieces.

Checkered Chef's top-rated pizza cutter rocker easily slices through the pizza board. They were never pushing toppings off as roller cutters do.

The wooden surface is kind to the pizza rocker blade keeping it sharper for longer. These cutter and rocker sets make great cooking, kitchen, and housewarming gifts.

The possibilities are endless for your new rocker pizza cutter; from cutting herbs to slicing up bars and brownies, you'll find many uses.

The reversible design gives you one side with pizza cutting grooves while the other side is flat – use it like any other round cutting board – great for cheese platters.
KitchenAid Classic Pizza Wheel

Features:
Pizza restaurants use a roller cutter like this one. The sharp blade makes a clean cut in any crust and, unlike using a knife, actually presses the crust and toppings together, keeping the toppings on your pizza.

The wheel is crafted from high-quality, premium 430 stainless steel that will stay sharp and resist rust. It is perfect for slicing pizza, waffles, pies, or cookie dough.

The angled wheel allows optimal comfort and performance when slicing hot pizza straight out of the oven. The built-in finger guard protects your hands from the blade and the heat. The sleek design of the handle gives it a premium feel as well. The glossy ABS handle features a debossed logo and an ABS chrome plated bolster and endcap.

No more worrying about how to clean stuck food from your pizza cutter, and place it in the dishwasher for a thorough, complete cleanup.

This pizza wheel comes with a 1-year Hassle-Free replacement and a lifetime limit.
What to Look for in a Pizza Cutter?
Here are some essential things to remember while purchasing a pizza cutter:
Size
The sizes of pizza cutters range from small rollers to long, thin rockers. An edge will spend most of its time in storage, so it's a good idea to consider where it will be kept and how it will fit with the other kitchen items.
Versatility
A single-use pizza cutter will be enough in the kitchen if pizza is eaten once a week to justify the space required. The tool's other capabilities are crucial if pizza is only a rare treat, and they might even make the difference. Your new pizza cutter might be the ideal tool for one of those tasks, cutting pasta or neatly separating brownies.
Sharpening Ability
Every cutting tool eventually becomes dull, regardless of the material being sliced. Additionally, if you frequently cut pizza on a baking stone, the pizza cutter will quickly become monotonous. Your pizza cutter will last longer and make neater slices every time, whether you're cutting hot pizza or excellent pie crust if you know how to keep it sharp.
Ease of Cleaning
This function has a bit of a catch because the pizza cutters that can be cleaned the most thoroughly need to be disassembled. Most knives can be cleaned relatively quickly, but those that need to be disassembled may take a little longer.
Why do we Use Pizza Cutters?
Because cutting through hot cheese and toppings with a knife could result in a significant mess, we use pizza cutters. Pizza cutters, on the other hand, cut through the pie, forcing the sauce and cheese onto the dough. The surface of the knife would be covered in several toppings and cheese strings if you used a knife and pulled it back up after cutting.
Pizza can be cut with a big knife if you don't have a pizza cutter. Use the giant knife you have to avoid cheese and toppings sticking to the blade and save yourself the time of making multiple slices along each portion. It would be best to wait a few minutes for the pizza to cool before cutting it, unlike when using a cutter, which is safe immediately after the pizza comes out of the
oven
. This will help avoid the toppings from adhering to the knife. Rock the blade back and forth to avoid spending too much time in one place.
How do you Sharpen a Pizza Cutter?
The sort of cutter you buy will determine the solution. Sharpening rocker models is comparable to sharpening a knife, and rocker blades can be sharpened using portable honing steel since you can adjust the angle.
Due to the revolving motion, you must take caution when using a pizza wheel. If your knife sharpener sharpens as you slide the blade through, you can drag the wheel through a few times until it is pointed by grasping it by the flat part. You prevented your fingers from slipping when sharpening requires significant care and attention. It's challenging to use a sharpener because of the revolving blade.
Another instrument used to sharpen blades is a whetstone. Whetstones can be used the same way as knife sharpeners, except that you must follow the manufacturer's recommendations for soaking the stone. The same problems that sharpeners do will arise from the circular edge of the wheel.
The belt grinder is a good alternative if you want something more potent. Belt grinders are used for sharpening and polishing blades but are also pricey. Given that they contain rotating edges, caution is advised. Most pizza cutters aren't that expensive, so you might be better off just buying a replacement cutter if it feels risky to sharpen the blade on your own.
Conclusion
Nobody likes to wait too long for hot, fresh pizza, but it can be challenging to cut through the dough that has just been baked, molten hot sauce, and boiling melting cheese. Unfortunately, a disproportionate number of pizza cutters on the market are unable to quickly slice without sacrificing treasured toppings like melting mozzarella along the way, pulling them under their worn-out blades and into a disorganized mound of once-perfect pizza. Cutting clean, uniform slices ready to serve requires nothing more than using the proper equipment—a sharp pizza cutter made with chefs in mind.