Cooking is usually more enjoyable when you have the necessary tools. Consider using all four of your stove's burners to prepare food for a dinner gathering. Portable stoves have a variety of functions, from backyard recreation to camping trips, aside from giving you extra room to cook in your kitchen. However, with so many portable burners on the market, finding one that meets your demands might be challenging.
You can cook meals and hot beverages on the portable stove throughout the journey. Additionally, it can be utilized as an emergency backup for your house or place of business in the event of a power loss. Because they are so light, portable stoves are simple to transport while traveling. They are simple to set up and operate, and most types have an adjustable flame that lets you choose the degree of heat.
What is Exactly Portable Stove?
An easily transportable method of cooking or heating is required when camping, picnicking, backpacking, or in other isolated settings. A portable burner is a cooking appliance specifically made to be mobile and lightweight. Portable stoves can be utilized in various locations, including field hospitals and outdoor catering.
Numerous designs and models have been used in multiple applications since the portable stove was created in the 19th century. Depending on the fuel type and stove design, portable stoves can be divided into several broad categories. These include gravity-fed "spirit" stoves, pressurized stoves that use volatile liquid fuel, bottled gas stoves, and unpressurized stoves that use solid or liquid fuel placed on the burner before ignition.
Some Best Portable Stove for Cooking
Here are some of the best portable stoves for cooking:
Cusimax Portable Electric Stove

Features:
Compatible with pots and pans with a maximum size of 7.1 inches. Works with glass, copper, frying pans, Cast-iron, and aluminum and heats cookware efficiently with minimal heat loss. All CUSIMAX products are covered by Product Liability Insurance of the United States.
Compared to a hot plate burner, which takes minutes to heat up, Infrared burners take a few seconds to heat up. Powered by 120V and 900-Watts (left plate) + 900-Watts (suitable container), add up to 1800W. Cook food including warm sauces, scrambled eggs, grilled cheese, boil water, make soup, cook pasta and vegetables, and do much more. Please cover your cookware with a lid when boiling water.
Its small scale in size makes it very portable. Ideal for dorm rooms, offices, camping, or even your RV. Great for everyday use or as an extra cooking appliance in a busy kitchen. No stovetop is required. Wipe with a clean damp cloth when cool.

 No Radiation our infrared cooktop works by far-infrared heating and has no electromagnetic radiation; therefore, it is harmless to the human body. Automatic safety shutoff function with temperature regulated by a thermostat. It is expected when the indicator turns on and off automatically. Black Stainless steel body built to withstand frequent use. Durable ceramic cooktop.

30-Day Money-Back Guarantee. 18-Month warranty by registering with us. Customer Satisfaction is our goal, and the Cusimax brand stands behind its products. With free Lifetime Customer Service, don't hesitate to contact us with any issues so we can resolve them or replace your product. Get Yours Now, Risk-Free!
Chef Master 90019 Portable Butane Stove

Features:
The Chef Master 15,000 BTU Portable Camping Stove is designed with a Piezo electric ignition. This makes the stove super easy to start and adjust the heat output, and no need for a lighter as the burner ignites automatically.

The 90019 Butane Burner is designed to output up to 15,000 BTU, and the heat can easily be controlled by a dial next to the piezo electric ignition button. This butane stove is powerful enough to cook anything you may need on a camping or backpacking trip.

The Chef Master 15,000 BTU Portable Butane Camping Stove is essential for any camping or backpacking trip. This butane stove has a hard-shell carrying case which means that this unit is extra portable! The stove is small enough to fit in a hiking backpack or camping bag easily.
This Butane Stove is packed with many essential safety features. It comes with an In-Line Regulator with Pressure-Sensing Shut-Off. The regulator will shut off flow if the pressure gets too high to prevent dangerous flashbacks. The Butane Burner has a wind-guard to protect the flame from breeze or A/C.

Each Butane Stove comes with a hard-shell carrying case to make the unit even more portable! It is easy to take this stove with you on every camping or hiking trip
Martin Outdoor Heavy Duty Portable Butane Stove Burner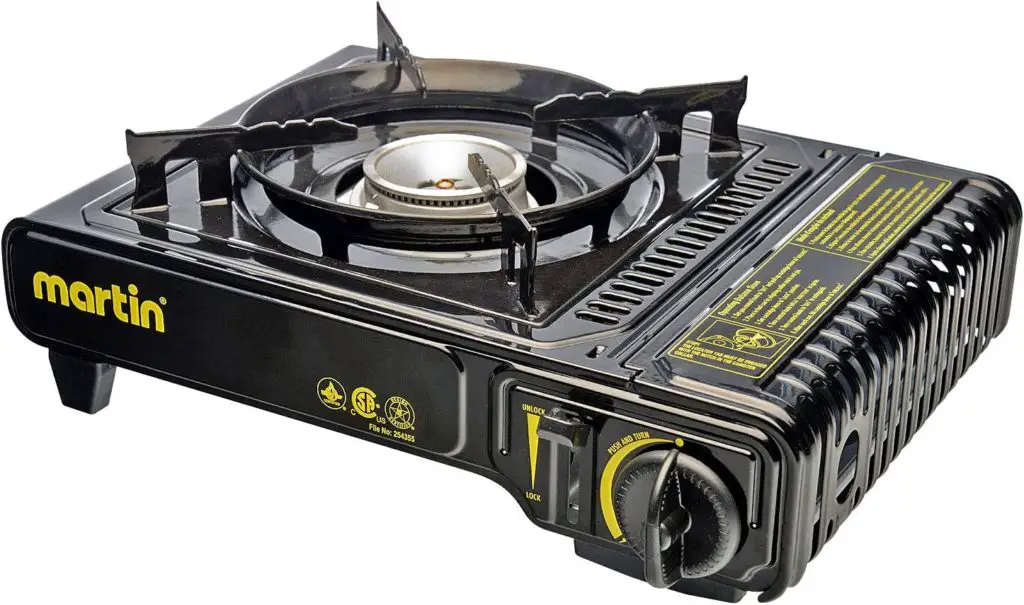 Features:
Exclusive Air cooling design

A large circular block attachment built-in windshield protects the flame as the butane stove heats your food for optimal heat protection and efficiency – no wasted time and effort with this cooker.
Push and Turn a two-step control knob featuring a fully-adjustable flame, and an 8,000 BTU burner will have liquids boiling in a flash or foods heated rapidly for cooking.

Built-in overpressure shutoff device (cartridge ejection mechanism)

Spend less time fighting the meal preparation battle and more time enjoying nature and the company of your companions. Just say "NO" to inferior camp stoves
GasOne GS-8300 – Camp Stove Compact Butane Stove

Features:
 A portable butane stove with versatility and easy portability in mind, Gas One's new Spyder Stove is the perfect fit for campers and backpackers alike. Roughly the size of a 32 oz water bottle, Gas One's Spyder Stove utilizes its sleek, compact design without sacrificing the firepower of a large-size portable stove at 8000 BTU
The Spyder Stove has a durable brass burner head, an easy-to-clean enamel coating, and ventilation holes to keep the user's stove safe and reliable. Its thoughtful design allows for the furnace to fold into a small space for storage and portability while being able to support pots and stoves when fully extended outwards

Gas One's Spyder Stove can be easily set up (directions with pictures on the box) with minimal movements: first, open the cover and rotate the body to a 90-degree angle. Pull the middle grate outwards, extending the grates to their ready position. Insert a butane canister in the empty butane compartment and close the cover

Gas One's Butane stove has an electric piezo auto-ignition along with a durable push and turns control knob so users can fully manage their cooking experience

Easily fitted in any bag and easily stored in small spaces, the Spyder Stove is the ideal portable cooker for both those who are away from home and those looking to have a quick cookout without taking up too much space
GasOne Emergency Gear Camping Mini Butane Portable Gas Stove with Carrying Case

Features:
Extremely small and easy to carry around, Power with tiny size, Comes with the case for convenience of portability

7,650 BTU Powerful and easy heat with comfort of portability, Lots of Power with small and light stove

With Piezo-Electric Starter, No matches or lighters are required. No need to bring lighting material with this stove

White and stainless steel body, Straightforward to clean, Has a slick appearance and is fitting for any outdoor setting.
What to Look for When Picking Out the Best Portable Stove?
Here are some factors to consider while picking out the best portable stove:
Size: The size of the product is essential if you're always on the go or hiking/camping often. Generally, more significant stoves tend to have more burners and a greater cooking surface area; conversely, smaller stoves are more compact and lightweight.
Weight: The weight of the stove is also essential to consider if you're looking for something to take on your travels with you. Again, more significant stoves tend to be heavier, while smaller stoves are generally lighter.
Ease of use: Consider how easy the stove is to operate before purchasing. Are any knobs or dials confusing? Some stoves are difficult to ignite, so keep that in mind when shopping around.
Type of gas connection: If you're using your stove in different parts of the world, it's essential to make sure that you can easily find a canister in whatever country you decide to visit. Look for a stove with a standard connection and a compatible gas cartridge.
Burners: Stoves come in all shapes and styles, from small single burner ones on your tabletop to multi-burner camping stoves or even the camping grill that fits over an open fire. Generally speaking, more burners means more heat output and faster cooking times – which is why larger stoves tend to have several burners. Heat distribution depends on how hot the burners get and at what angle they're positioned.
What to Avoid When Choosing a Portable Stove?
Just like anything else in life, there are a few things you should avoid when shopping for a portable stove:
Do not buy a cheap model: You get what you pay for, which applies to portable stoves. If you go for an ultra-cheap option, you'll be disappointed with the result.
Do not buy a too large stove: This may seem common sense, but make sure you pick the right stove for your needs. A giant stove might be great for a family reunion, but it's probably unnecessary if you cook for one.
Do not choose a stove with complicated controls: If you can't figure out how to use the stove, it will do you no good in the kitchen. Ensure all the knobs and dials are easy to understand before purchasing.
Do not forget about portability: One of the main benefits of a portable stove is its small, lightweight design. Please make sure the furnace you choose is easy to transport so you can take it with you on your travels.
Conclusion
Having a portable Stove comes in handy when you prefer camping trips or cooking a quick supper by the lake or on the beach. Choosing the ideal portable cooking stove for your requirements typically starts with figuring out how you plan to use the appliance. One of the single burner types should be adequate if the portable gas stove is intended to supplement cooking done over an open flame or grill. However, choosing larger models with two to four burners is probably better if the intention is to use the stove for most of the cooking.