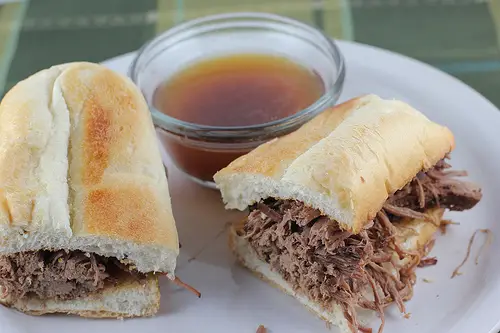 My son was going back to College, and I asked him if he would like to have steaks on the grill before he left? To my surprise he said no. French Beef Dips was his answer. So this French Beef Dip Recipe is what he got. This is a very simple recipe, but takes a lot of time-due to the time required for the slow cooker. The great thing about this recipe is you can put it on, let it go, getting on with other things. The French onion soup mix flavors combine very well with the beef flavor, and beer. Enjoy
b
Ingredients
4 pounds rump roast
1 (10.5 ounce) can beef broth
1 (10.5 ounce) can condensed French onion soup-or 1 package Lipton onion soup mix
1 (12 fluid ounce) can or bottle beer
6 French rolls
2 tablespoons butter
Instructions
Trim excess fat from the rump roast, and place in a slow cooker. Add the beef broth, onion soup and beer. Cook on Low setting for 7 hours or until tender.
Preheat oven to 350 degrees F
Split French rolls, and spread with butter. Bake 10 minutes, or until heated through-these brown fast so watch them carefully.
Part the meat with a fork, and place on the rolls. Serve with the sauce for dipping.