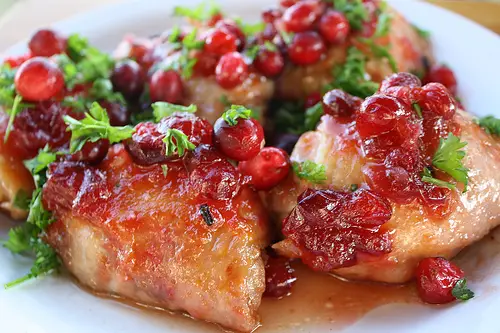 Fresh Cranberries! My Family just loves them. When I saw them in the store I just had to make this recipe. The recipe calls for canned whole Cranberries. But the fresh are so much better. With Thanksgiving coming keep that in mind. They are so easy to prepare and so worth the extra effort. This Glazed Cranberry Chicken Recipe is just delicious. Easy to prepare, and is not very expensive. Try it once and it will become a favorite. Enjoy!
Glazed Cranberry Chicken Thigh Recipe
Ingredients
1 tablespoon butter
1 small onion chopped
3 pounds chicken thighs
⅔ cup ketchup
⅓ cup brown sugar
1 tablespoon apple cider vinegar
1 teaspoon dry mustard powder 1
1 (8 ounce) can whole berry cranberry sauce (or a 12 oz package of fresh Cranberries)
If you are using fresh Cranberries here are the directions for fresh Cranberry Sauce.
3 Cups fresh Cranberries
1 ½ cups sugar
¾ cup water
1. Mix the cranberries, water and sugar.
2. Over medium heat bring to a boil.
3. Simmer for 10 minutes. Stirring frequently
4. Let cool.
Instructions
Preheat an oven to 400 degrees F (200 degrees C).
Place the butter and onion in a 9x13 inch baking dish, and bake in the preheated oven, stirring occasionally, until the onion is translucent, about 15 minutes.
Remove the dish from the oven, push the onion over to one end, and place the chicken thighs in the dish in a single layer.
Return to the oven and bake for about 25 minutes.
Stir together the ketchup, brown sugar, vinegar, mustard powder, and cranberry sauce in a bowl.
Remove the chicken from the oven, and scoop the cooked onions into the cranberry mixture. Spoon the mixture over the chicken thighs, and return to the oven.
Bake until the cranberry mixture is slightly caramelized and the chicken is done, about 20 more minutes. An instant-read thermometer inserted near the center should read 165 degrees F (74 degrees C).