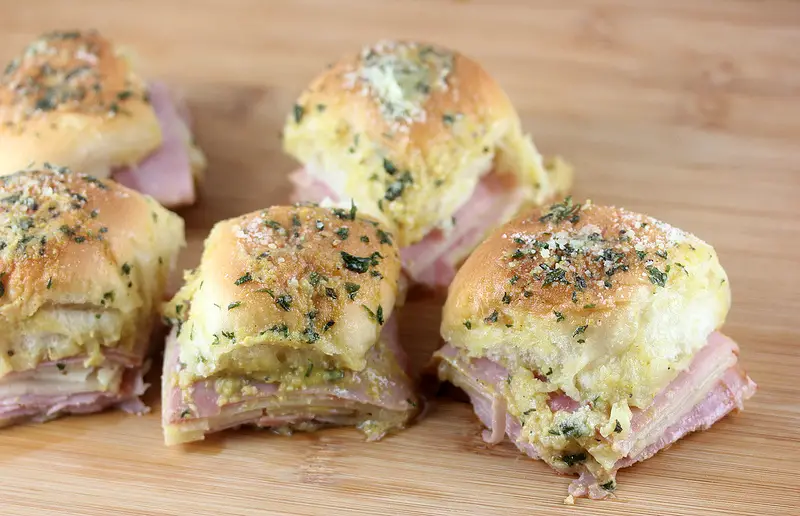 Ham and swiss sliders are not only a great game day or party food, but make a simple and delicious meal for the family, as well. They are easy to throw together and pack a lot of flavor with a soft yet crusty texture. These sliders are a hit with both adults and kids in our house! From Cully's Kitchen to yours!
Ham and Swiss Sliders Recipe
Print
Ham and Swiss Sliders Recipe
1

package Hawaiian Rolls (qty 12)

16

slices thin deli ham

12

slices Swiss cheese

8 tbsp

butter (

1

stick)

1 tbsp

yellow mustard

½ tbsp

Worcestershire sauce

½ tbsp

dried minced onion or onion powder

¼ tsp

salt

¼ tsp

ground black pepper

1/8 cup

parmesan cheese

1 tbsp

dried parsley
Instructions
Preheat oven to 350 degrees F. Line a 9×13 baking pan or casserole dish with tin foil and spray with cooking spray.
Remove rolls and cut evenly through the middle so there are a top half and bottom half. Place the bottom half of the rolls into the baking pan/casserole dish.
Evenly distribute half of the ham (8 pieces) on the bottom half of the rolls, then layer on the swiss cheese. Top with the remaining 8 pieces of ham and place the top half of the rolls on top.
Melt the butter and mix in yellow mustard, Worcestershire sauce, minced onion/onion powder, salt, and pepper. Stir well until completely combined. Pour evenly over the rolls.
Cover the rolls with tin foil for about 10 minutes, then place in the oven (covered) for 20 minutes. Uncover and place back into the oven for another 5 minutes.
Sprinkle the top of the sliders with parmesan cheese and dried parsley and cut into individual sliders.