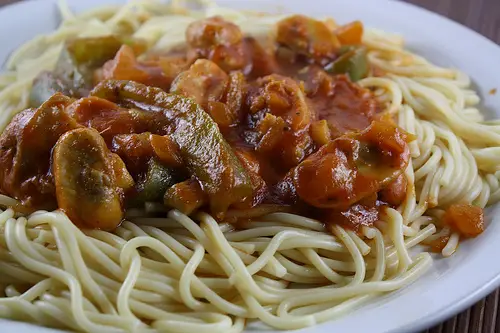 If you like spaghetti and you are in the mood for something a little different this Italian Chicken and Peppers Spaghetti Recipe is for you. The combination of peppers, mushrooms and onions along with the chicken is delicious. This is a simple recipe and is fairly quick to prepare. As far as the chicken you can use either boneless skinless chicken breasts or thighs. I chose the thighs because they are a little moister when cooked compared to the breasts. Whenever I make something a little different I wonder what the outcome is going to be with the family-they loved it. Enjoy
Italian Chicken and Peppers Spaghetti Recipe
Ingredients
1 tablespoon vegetable oil
1¾ pounds skinless, boneless chicken breast halves and/or thighs, cut into 1-inch cubes
2 medium green peppers, cut into 2-inch-long strips (about 3 cups)
2 medium onions, chopped (about 2 cups)
6 cloves garlic, minced or 1 teaspoon garlic powder or to taste
1 jar or can Traditional spaghetti Sauce or your favorite
1- 8 oz package fresh sliced mushrooms (or canned)
1-pound package spaghetti, cooked and drained
Instructions
Heat the oil in a large skillet over medium-high heat. Add the chicken, and cook until well browned, stirring often.
Reduce the heat to medium. Stir the peppers, onions, mushrooms, and garlic and cook until the chicken is cooked through and the vegetables are tender.
Stir in the sauce and cook until the mixture is hot and bubbling.
Serve the chicken mixture over the spaghetti.