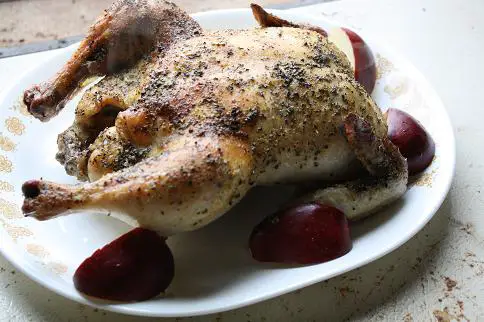 Quick, easy and delicious. This simple recipe is one that will make your day. Your company and family will love it. Served with mash potatoes and your choice of vegetable -will create a great supper. Enjoy.
Italian Roast Chicken Recipe
Ingredients
5-6 pound roasting chicken
1 teaspoon olive oil
2 teaspoons seasoning salt
1 teaspoon garlic powder
2 teaspoons dried thyme
1 teaspoon dried Italian seasoning
½ teaspoon black pepper
½ cup butter melted
Instructions
Rinse chicken and cavity with cold water and pat dry with a paper towel.
Rub the olive oil on the outside of the chicken.
Sprinkle with seasoning salt inside and out.
Place in a shallow roasting pan with ½ inch of water in the bottom of the pan.
Sprinkle with the rest of the spices and herbs evenly on the outside of the chicken.
Roast uncovered at 350 F for about 2 hours or until done. Basting every 30 minutes with melted butter and juice from the chicken.
Let the chicken set for about 30 minutes before serving.