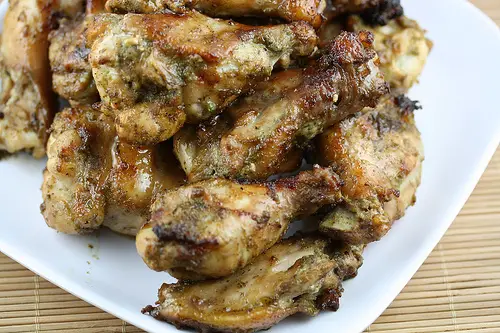 Fire up the grill for Super Bowl Sunday; these Jerk chicken wings are delicious. This is one of those recipes that smell so good you can't wait to get your hands on them, even before they are cooked. There is very little prep work involved, but they do take some time because of the marinating time required. I would recommend getting them into the marinade the night before the super bowl. This is an Asian type recipe, so I served these chicken wings with a rice dish, but I think they would go great with any type of cold pasta salad. Super Bowl Sunday I will be serving this Jerk Chicken Wings recipe with a cold shrimp pasta salad. Enjoy
Jerk Chicken Wings Recipe
Ingredients
3-4 lbs chicken wings
6 green onions (chopped)
1 onion (chopped)
1 jalapeno pepper (seeded and minced)
¾ cup soy sauce
½ cup distilled white vinegar
¼ cup vegetable oil
2 tablespoons brown sugar
1 tablespoon fresh thyme (chopped)
½ teaspoon ground cloves
½ teaspoon ground nutmeg
½ teaspoon ground allspice
Instructions
In a food processor combine green onions, onion, jalapeño pepper, soy sauce, vinegar, vegetable oil, brown sugar, thyme, ground cloves, ground nutmeg and ground allspice. Blend until smooth.
Place chicken wings into a bowl and pour the marinade over the wings. Toss to coat. Cover and refrigerate for 4 hours to overnight.
Lightly grease grill grate. Place chicken wings onto the grill and cook turning as needed until chicken wings are fully cooked (the internal temperature has reached 165 degrees).