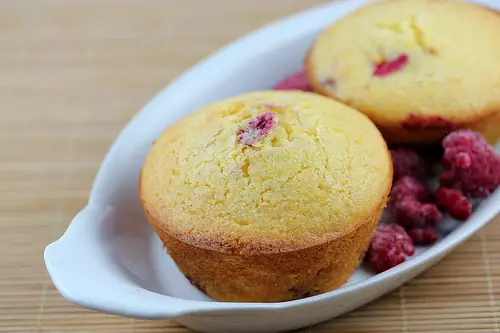 The last time I made corn muffins they came out a lot better than I expected, so I decided to try it again.  When I saw the list of ingredients that goes into this Raspberry Corn Muffins Recipe, my first thought was, "how can it not be good." The apricot, raspberries, and orange zest were a delicious combination of flavors, and if you serve them hot with melted butter they are delicious. This is another simple recipe that you can put together very quickly so you can have hot muffins on the table in less than an hour. This recipe calls for frozen raspberries but with the berry season approaching, fresh would be the best; when they become available.
The next time you're in the mood to do some baking give this Low Fat Raspberry Corn Muffins Recipe a try; you and your family will love them. Adapted from Food Network.
Low Fat Raspberry Corn Muffins Recipe
Ingredients
1½ cups all-purpose flour
2½ cups yellow cornmeal
1½ cups sugar
1 tablespoon baking powder
¾ teaspoon salt
2 cups low-fat buttermilk
½ cup apricot nectar
3 tablespoons grape seed oil
2 teaspoons vanilla extract
1 teaspoon grated orange zest
4 large egg whites
2 cups frozen raspberries
Instructions
Preheat oven to 375F.
In a large bowl whisk all the dry ingredients together.
In a medium size bowl mix together the buttermilk, apricot nectar, grape seed oil, vanilla, and orange zest.
In a separate bowl beat the egg whites until peaks form.
Gradually mix the buttermilk mixture into the dry ingredients, and then gently fold in the egg whites, followed with the raspberries. (Just mix until combined so as not to break up the berries.)
Spray 12 large muffin cups with cooking spray and divide the batter between the 12 cups. (If you use a cupcake tin this recipe will make 24.) Bake for 30 minutes or until a tooth pick inserted in the center comes out clean. Let cool for a few minutes, remove the muffins to a wire rack for cooling.