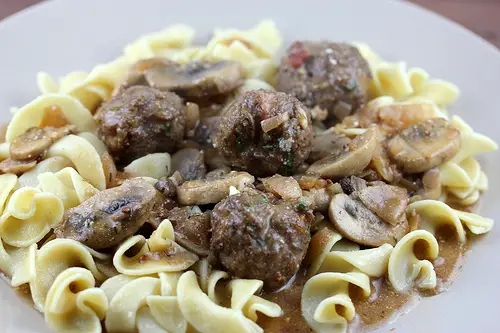 Beef Stroganoff is usually a pretty good dish so when I saw this Meatball Stroganoff Recipe I decided to give it a try. It is a little time consuming because of having to make the meatballs but it was well worth the effort. Because of the dill in the recipe, which is a prominent flavor, this Stroganoff Recipe is a little different than what you would expect. The meatballs have bacon added to them, and they are delicious. The whole recipe is a good combination of flavors, the only thing I changed, was I used my homemade berry wine in place of the white wine. The directions for the meatballs call for cooking them in the oven for 10 minutes-watch them closely they are small and cook very quickly.
The next time you want to put something a little different on the menu give this Meatball Stroganoff Recipe a try; it's really good.
Meatball Ingredients
1 small onion (finely chopped)
4 cloves garlic (minced)
1/2 pound lean ground beef
1/4 cup dry bread crumbs
2 tablespoons fresh parsley (finely chopped)
1/2 tablespoon paprika
1/2 teaspoon kosher salt
1/2 teaspoon black pepper
1 egg (beaten)
2 strips bacon
Ingredients for Stroganoff
4 cups dry egg noodles
8 ounces fresh mushrooms (sliced)
2 tablespoons olive oil
1 medium onion (chopped)
1/2 teaspoon paprika
1/4 teaspoon cayenne pepper (or to taste)
1 tablespoon unsalted butter
1/4 cup dry white wine
2 tablespoons all-purpose flour
2 cups chicken broth
1 tablespoon lemon juice
2 tablespoons stone ground mustard
1/4 cup sour cream
1 teaspoon dill weed (or to taste)
Meatballs from recipe above.
Directions for meatballs
Preheat oven to 400F
1. In a large skillet cook bacon until crispy-let cool on paper towels and crumble. Leave bacon fat in the pan
2. in the same skillet cook the onions until they start to brown, add the garlic and cook for 1 more minute.
3. Combine all the ingredients in a large bowl and mix until thoroughly combined. (Hands work best for this)
4. Roll into 1 inch meatballs and place on a baking dish or broiler pan lightly sprayed with cooking spray. Cook meatballs in the oven until fully cooked-about 10 minutes. Remove from the oven and set aside.
Directions for Stroganoff
1. Cook noodles according to package directions for al dente. Drain and mix in butter. Set aside.
2.  While the noodles are cooking sauté the mushrooms in 1 tablespoon of oil until tender, remove them from the pan and set aside. Using the same skillet mix together the onion, paprika, and cayenne pepper. Add 1 tablespoon of oil if necessary and cook until the onion is tender. Add the wine, stirring to scrape any dripping from the bottom of the pan. Cook until most of the wine is evaporated and then sprinkle the flour over the top of the onion mixture.
3. Stir in the broth, lemon juice, dill, stone ground mustard and cook until the mixture starts to thicken. Mix in the mushrooms, sour cream, and then the meatballs, continue cooking until the meatballs are heated through.
Serve over noodles