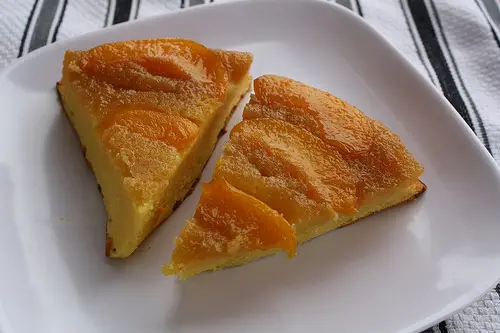 I have made Upside Down Cakes for years. It has been a favorite of mine and my Family's. As almost a tradition my Mothers has made one on my Birthday. When I saw this recipe for Peach Upside Down Pudding Cake I had to give it a try. The end product was very moist. With the pudding giving it a smooth texture. Absolutely Delicious. A big hit with the whole Family. Give it a try – enjoy!
Peach Upside-Down Pudding Cake
Ingredients
¼ cup butter or margarine, melted
⅓ cup packed light brown sugar
1 (29 ounce) can sliced yellow cling peaches, drained
1 package yellow cake mix
1 package vanilla instant pudding mix
4 eggs
1 cup sour cream
¼ cup oil
½ teaspoon vanilla extract
Instructions
Combine butter and brown sugar and pour into 13x9-inch pan.
Arrange peaches on top.
Combine remaining ingredients in large bowl.
Beat at medium speed 4 minutes.
Spoon into pan and bake at 350 degrees for 50-55 minutes or until cake springs back when touched.
Cool in pan 5 minutes.
Invert onto platter, and cool completely.
Garnish with whipped topping, if desired.