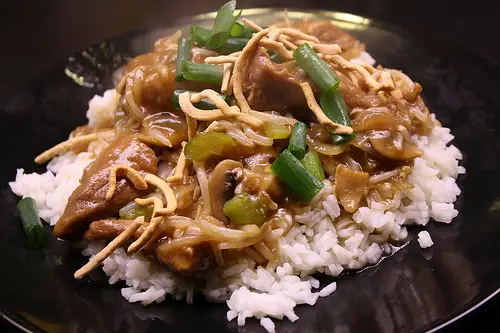 We live a long way from any type of Chinese Restaurant. Unless we are planning a shopping trip and want to eat out – If we want it, we have to cook it. 99% of the time it is better anyway. This Chinese Pork Chow Mein Recipe is excellent. The pork is so tender it melts in your mouth. It's a little time consuming but well worth the effort. The next time you plan on ordering out give this Recipe a try. You'll Love It!
Chinese Pork Chow Mein Recipe
Ingredients
1½ lbs lean pork, thinly sliced
3 garlic cloves, chopped (optional)
¼ cup cornstarch
2 teaspoons sugar
5 tablespoons soy sauce (divided, more is desired)
2 tablespoons vegetable oil
2 tablespoons shortening
1¾ cups water, divided
2 stalks celery, diced
1 large onion, chopped
1 tablespoon molasses (do NOT omit)
1 (8 ounce) can sliced water chestnuts
1 lb bean sprouts (or more)
1 (4 ounce) can mushrooms, drained
salt and pepper
1 bunch green onion (optional)
blanched almonds, lightly toasted
Instructions
Cut meat into thin strips.
Combine 2 tbsp cornstarch with sugar, blend in 1 tbsp soy sauce and 2 tbsp oil; mix to blend.
Pour over pork strips; toss well to coat, marinade in mixture for 20 minutes.
In a wok or large sauté pan heat 2 tablespoons shortening; brown the meat lightly on all sides in hot shortening, add in the chopped garlic and sauté for 2 minutes.
Add remaining 4 tbsp soy sauce and 1-1/2 cups water; simmer, covered on low heat for 45 minutes.
Add in the celery and onions; simmer for 15 minutes more.
In a small bowl, blend in remaining cornstarch with ¼ cup water; stir into meat mixture.
Add molasses, water chestnuts, bean sprouts and mushrooms and heat thoroughly.
Season with salt and pepper.
Garnish with chopped green onions and toasted almonds
Chow Mein Noodles.