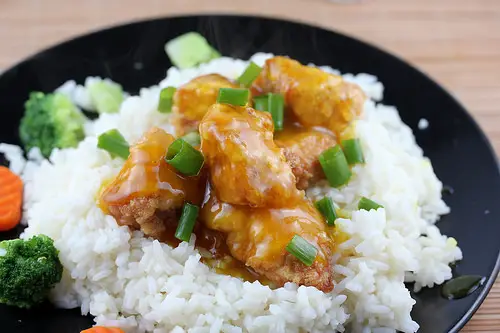 It has been quite a while that I have prepared a Chinese Recipe.  It doesn't seem like I am able to get into an area very often that has Asian restaurants, so more often than not, it is homemade Chinese food for us.
This Chinese Lemon Chicken Recipe is real simple to put together, doesn't require many ingredients, and doesn't take long to prepare. You can have homemade Chinese Lemon Chicken on the table in less than an hour. The next time you're in the mood for Chinese food, give this Chinese Lemon Chicken Recipe a try; you and your family will love it. Adapted from blochef.net
Chinese Lemon Chicken Recipe
Ingredients
2½ pounds boneless-skinless chicken breasts (cut into bite size pieces)
2 tablespoons soy sauce
½ teaspoon salt
2 large eggs
¼ cup cornstarch
½ teaspoon baking powder
⅛ teaspoon white pepper
oil (for deep frying)
⅓ cup sugar
1 cup chicken broth
1½ tablespoons cornstarch
2 tablespoons lemon juice
¾ teaspoon salt
3 slices of lemon
2 tablespoons olive oil
Yellow food coloring (optional)
Cooked rice (optional)
Instructions
In a medium size bowl mix together the soy sauce and ½ teaspoon salt. Add the chicken pieces and toss to coat. Marinate in the refrigerator for 30 minutes. Re-toss the chicken about have way through the marinating cycle.
While the chicken is marinating prepare the batter in a medium size bowl by whisking together the eggs with the ¼ cup cornstarch, white pepper, and baking powder. Preheat your deep fryer to 350F.
Dip pieces of chicken one at a time in the batter mix; deep fry chicken in batches being careful not to over crowd the pieces, fry until golden brown and chicken is no longer pink inside. Drain on paper towels.
Prepare the sauce in a large skillet or Wok by mixing together the olive oil, chicken broth, 1 1/ 2 tablespoons cornstarch, salt, sugar, lemon juice, and food coloring. Place the lemon slices on top and cook over medium heat, stirring occasionally, until sauce thickens and becomes clear.
Remove the lemon slices and serve the sauce hot over chicken and rice with your choice of a vegetable.