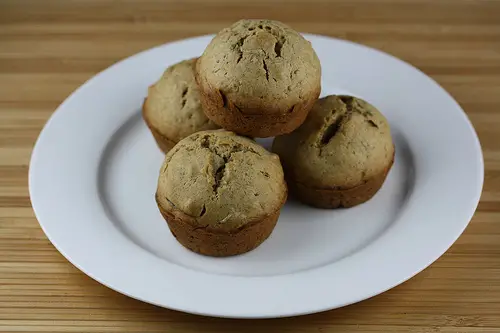 In many parts of the country the gardening season is under way. Here in Upper Michigan it is just getting started so I decided this would be a great time to post this Simple Zucchini Muffins Recipe. You can have moist warm muffins on your table within 30 minutes. This recipe is very simple and not very time consuming. The recipe makes 24 regular size muffins if this is a little much just cut the recipe in half.  So the next time you have some extra Zucchini on hand give this Simple Zucchini Muffins Recipe a try; it's very good. Enjoy
Simple Zucchini Muffins Recipe
Ingredients
3 eggs (beaten)
1 cup oil
1⅔ cups sugar
⅓ cup brown sugar
2 cups zucchini, grated
3 cups flour, sifted
1 teaspoon baking soda
¼ teaspoon baking powder
3 teaspoons cinnamon
1 teaspoon salt
½ cup chopped walnuts or raisins (optional)
Instructions
Beat the eggs until they are light and foamy.
Add the sugar, oil and zucchini, and blend well with a spoon.
Mix together the dry ingredients and add the egg mixture; blend well.
Add the nuts or raisins, and spoon into greased muffin tins.
Bake at 325°F for 20 minutes.
These are excellent served hot with butter.