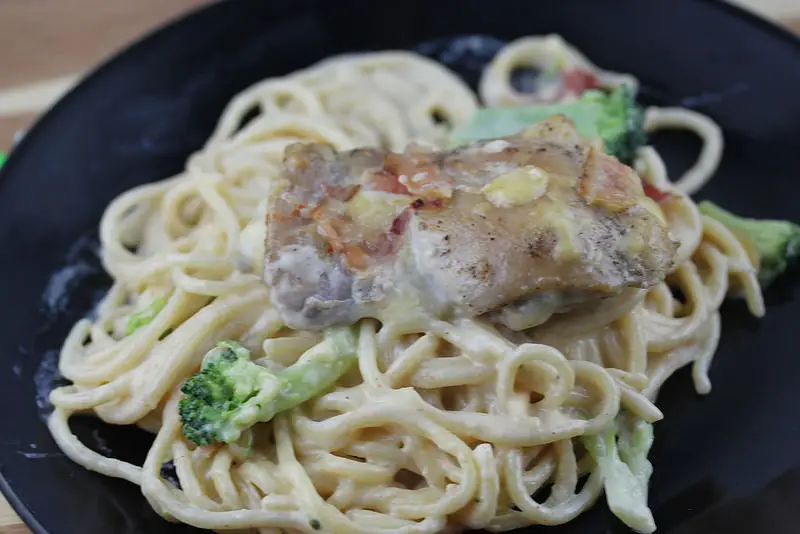 Here's another simple and good one dish recipe. I thought this recipe was pretty good for being a one dish recipe; but my wife thought it was great. Because I was cooking for just the 2 of us we had left overs, which reheated very well making for a nice lunch the following day.
If you're looking for a simple and good one dish casserole recipe, give this one a try – it doesn't take that long to prepare, and it's really good.

Smothered Chicken Casserole
Ingredients
1 tablespoon oil
4 boneless skinless chicken thighs
½ teaspoon garlic salt
¼ teaspoon pepper
6 ounces uncooked thin spaghetti
1 can condensed cream of chicken soup (10¾ ounces)
1¼ cups half-and-half
½ teaspoon smoked paprika
2 cups frozen or fresh broccoli florets (cut into smaller pieces)
3 slices cooked bacon (crispy) if you want to save some time purchase the precooked.
Instructions
Preheat oven to 350F.
Season chicken with pepper and garlic salt. In a large skillet over medium high using the oil cook chicken on both sides until nicely browned and juices run clear; set aside on a plate.
While chicken is cooking, cook pasta according to package directions; drain.
In a large bowl mix together the soup, half-and-half, smoked paprika until thoroughly combined; reserve ¾ cup of the sauce and then fold in the spaghetti and broccoli.
Lightly spray a 2 ½ quart casserole dish with cooking spray and layer the spaghetti mixture over the bottom. Arrange the chicken thighs on top and spoon the reserved sauce over the chicken; sprinkle the bacon over the top.
Bake covered for 20 minutes, uncover and continue cooking until mixture is bubbly about 10 – 15 minutes longer.
Serve Hot
Adapted from Betty Crocker
Adapted from
Betty Crocker