I love doing barbecued pork ribs on the grill. I can safely say next to beef steak they are my favorite.
This Country-Style Pork Ribs recipe is very simple to prepare, and they are delicious.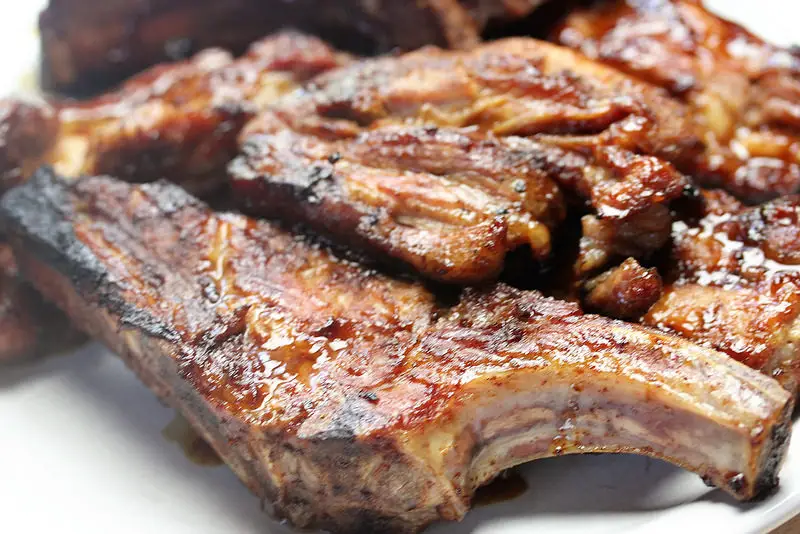 Sweet and Tangy Country-Style Pork Ribs
Ingredients
4 teaspoons brown sugar (packed)
1 tablespoon kosher salt
1 tablespoon chili powder
⅛ teaspoon cayenne pepper
4 pounds country style bone-in ribs
½ cup barbeque sauce (plus extra for serving)
Instructions
In a small bowl mix together the brown sugar, salt, chili powder, and cayenne pepper.
Rub the spice mixture into the ribs on all sides. Cover with plastic wrap and refrigerate for 1 – 24 hours.
Prepare grill and preheat grill for 15 minutes or until grill is hot. Leave main burner on and shut off all other burners; trying to maintain a temperature of 350F. Grill ribs on hot side of grill until nicely browned, move ribs to cooler side of the grill, and coat with ¼ cup of the barbeque sauce. Cook for 6 minutes and flip ribs; coat with the remaining sauce.
Grill to an internal temperature of 350F, remove to serving platter and let rest 10 minutes before serving.
Note: if using a small grill you may need to leave both burners on low to maintain the temperature.
Adapted from
Cooks Country