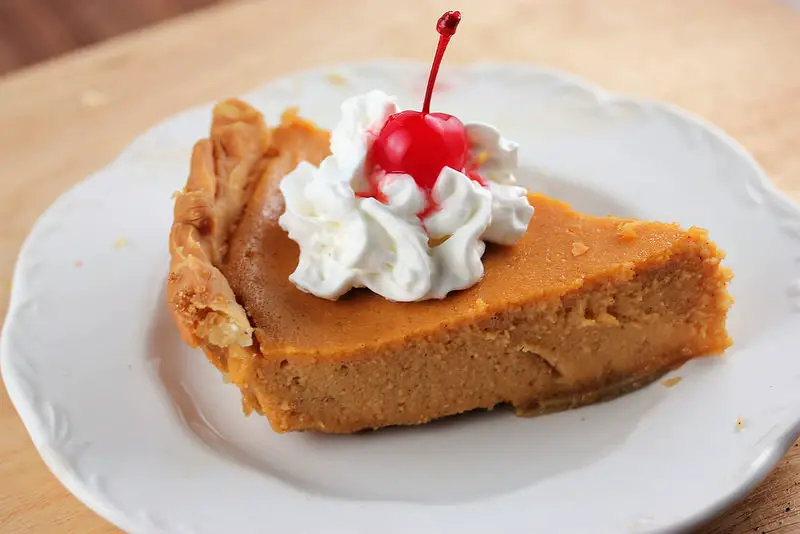 This Sweet Potato pie is rich, smooth, and delicious because the filling is cooked to perfection.
In the past over the holidays I have always prepared pumpkin pie, but because I have never had sweet potato pie I decided to give it a try.
This pie was no disappointment; it's delicious. If you have never had sweet potato pie, and are looking for a change, give this Sweet Potato Pie Recipe a try for the holidays.

Sweet Potato Pie Recipe
Ingredients
1 pie crust (9 inch)
1 ¼ cups dark brown sugar (packed)
1 ¾ pounds sweet potatoes (try to get potatoes about the same size so they get done at the same time)
½ teaspoon salt
4 tablespoons unsalted butter
½ teaspoon cinnamon
¼ teaspoon nutmeg
8 ounces sour cream
3 large eggs plus 2 egg yolks
1 teaspoon vanilla
Instructions
Preheat oven to 425F.
Place crust in pie plate and sprinkle ¼ cup brown sugar over the bottom; set aside.
Pick sweet potatoes with a fork and microwave until tender flipping half way through the cooking process. (About 15 to 20 minutes – these can be done ahead of time. Just place the flesh in a bowl and refrigerate). Immediacy slice potatoes in half lengthwise, allowing some of the moisture to escape, and the potatoes to cool. Once the potatoes have cooled enough to handle using a spoon scoop out the flesh into the bowl of a food processor and then add the remaining sugar and salt, process until smooth.
In a small bowl melt the butter along with the cinnamon and nutmeg in a microwave (about 30 seconds).
Add the melted butter, egg and egg yolks, sour cream, and vanilla; mix until smooth. Pour mixture into pie crust.
Bake at 425 for 15 minutes, reduce heat to 350 and continue baking for 35 to 40 minutes or until edges firm up and center jiggles slightly when shaken. (center should be 165F)
Cool on wire rack for 2 hours before serving.
Adapted from Cooks Country