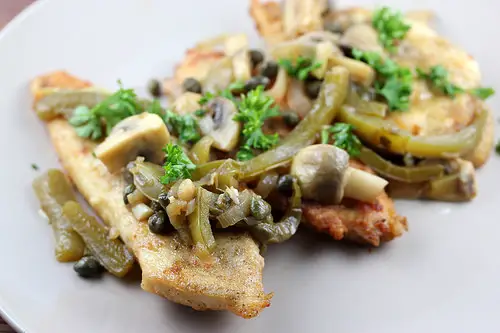 This Chicken Scaloppini with Peppers and Mushrooms Recipe just turned out to be a great combination of flavors. Basically this recipe consists of chicken cutlets, green pepper complemented with white wine and some shallots. It does take some time to put it all together but it's well worth the effort. The amount of time it takes to cook the chicken will be determined by how well you pound the cutlets down; the thinner they are the quicker they will be ready for the table. The original recipe provided a time for cooking the chicken but I like rely on an instant read thermometer for safety purposes. (165 for the chicken breasts) if you want to put a dish on the menu that's a little different, but very good, give this Chicken Scaloppini with Peppers and Mushrooms Recipe a try. Enjoy
Chicken Scaloppini with Peppers and Mushrooms Recipe
Ingredients
3 boneless skinless chicken breasts
Vegetable oil
8 ounces fresh mushrooms (quartered)
1 green bell pepper (cleaned and cut into strips)
1 shallot (thinly sliced)
1/ 4 cup capers (drained and rinsed)
4 garlic cloves (minced)
1¼ cups chicken broth
3/ 4 cups white wine
1/ 4 cup all-purpose flour
1 tablespoon fresh parsley (chopped)
3 tablespoons of butter (cut into pieces)
1 tablespoon fresh parsley (chopped)
Instructions
Prepare all the vegetables on a cutting board and set aside.
Cut each chicken breast in half horizontally. Sandwich the chicken cutlets in plastic wrap and pound them down to about a ½ inch in thickness. Set them aside on a platter and lightly sprinkle them with salt and pepper.
In a large skillet over medium high heat using 2 tablespoons of vegetable oil cook the mushrooms, green pepper, and shallot seasoned with ¼ teaspoon of salt until liquid is evaporated and vegetables start to brown. Add the garlic and capers, cook until fragrant, and then mix in the chicken broth and wine. Bring the mixture to a boil and then reduce heat to a high simmer and continue cooking until reduced to about 2 cups. Remove from the skillet and set aside. Wipe out the skillet with paper towels.
Place the flour in a shallow dish large enough to roll the cutlets in. Coat the cutlets with flour shaking off any excess. In the same skillet using 2 tablespoons of cooking oil over medium high heat cook the cutlets 3 at a time until cutlets are done (165F). Add additional oil if necessary. Place the cutlets on a serving platter lightly tented with aluminum foil to keep them warm.
Drain the skillet of any leftover oil and return the vegetable mixture to the skillet. Bring the mixture to a boil and then stir in the butter along with any accumulated juices from the platter of chicken. Serve the sauce and vegetables over the chicken garnished with parsley.
 adapted from cooks country magazine