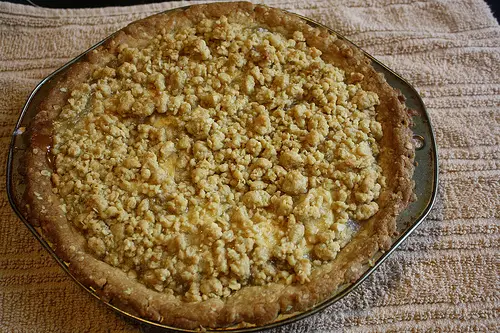 If you are tight on time and want to bake a quick pie for desert. This Dutch Apple Pie recipe is a good one. I never made this type of apple pie before and had to give it a try. It is very basic. There is a good chance you will have everything on hand for this recipe. For a simple recipe it tastes good without the mess you can create while making a standard pie crust. Add a little ice cream or whip cream and your family will love it.
Dutch Apple Pie Recipe
Ingredients
2 cups flour
1 cup brown sugar, packed
¾ cup butter or margarine, melted
½ cup quick-cooking oat
⅔ cup sugar
3 tablespoons cornstarch
1¼ cups water
3 cups tart apples, peeled and sliced (I use Granny Smith)
1 teaspoon vanilla extract
Instructions
Combine flour, brown sugar, butter/margarine and oats; set aside 1 cup for the topping.
Press remaining crumb mixture into an 9 inch pie plate; set aside.
For the pie filling: combine sugar, cornstarch and water in a saucepan until smooth, bring to a boil.
Cook and stir for 1 minute or until thickened.
Remove from heat and stir in apples and vanilla.
Pour filling mixture into crust and top with the 1 cup crumb mixture.
Bake at 350 degrees for 45 minutes or until crust is golden brown.