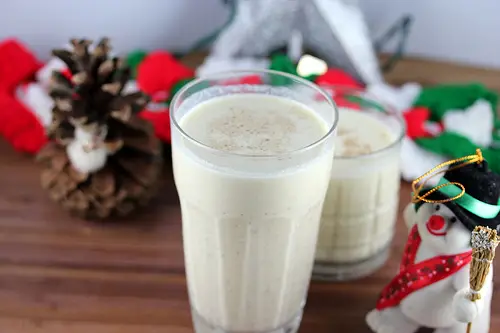 With the holiday season coming up I always look forward  to the great sweet treats that follow along with it. One of my favorites is this Homemade Holiday Eggnog Recipe. This recipe is a non alcoholic version, but you can change that real fast if you wish to do so. Just add one teaspoon of Dark Rum per adult serving.
This Homemade Holiday Eggnog Recipe is a very simple recipe; it has very little prep time, but does have to sit quite awhile before serving. The good part is you can make this up ahead of time because it will keep up to 3 weeks in the refrigerator.
In my younger years we used to make this recipe without paying a lot of attention to the temperature.  I think it is a good idea to pay attention to this step, being sure the temp does reach 175F., which will kill any bacteria in the eggs.
If you're looking for a Holiday Treat, give this Homemade Holiday Eggnog Recipe a try-and enjoy.

Homemade Holiday Eggnog Recipe
Ingredients
1 cup sugar (or artificial sweetener)
1 tablespoon cornstarch
1 teaspoon ground nutmeg
7 egg yolks
4 cups whole milk
2 cups half and half
2 tablespoons vanilla extract
Instructions
In a large bowl mix sugar, cornstarch and nutmeg until well blended.
In a separate bowl mix together the egg yolks until smooth.
Add the egg yolks to the sugar mixture and mix thoroughly; add the milk stirring constantly.
Using a medium size saucepan and candy thermometer on low heat, stirring constantly, heat the eggnog until temperature reaches 175F. Remove from the heat and stir in the 2 cups of half and half, and vanilla.