If you're wondering what chicken katsu is, you might be surprised. It is a healthier alternative to tonkatsu, but it lacks the flavor of pork loin. Try both and decide which you prefer. In a Japanese restaurant, order the correct dish in either case! Make sure you order the chicken katsu meal correctly if you want to enjoy it. You'll understand why this dish is so popular once you've tried it.

You can also call it panko chicken or tori katsu. Regardless of the name, it's fried chicken covered in panko bread crumbs. This dish is popular in Japan, Hawaii, California, and Australia. Here are some basic facts about chicken katsu. Let's dig in! What is chicken katsu? What are some of the benefits of chicken katsu?
Clean chicken breasts to remove tenders before making chicken katsu (the strips of meat on the underside of the breasts). Then, on a slight diagonal, cut a crosswise slice across the chicken breast parallel to the cutting board. The finished chicken piece should be about 1/3-inch thick and irregular in shape. Serve the chicken with rice or shredded cabbage after it has been fried.
Chicken Nutrition Facts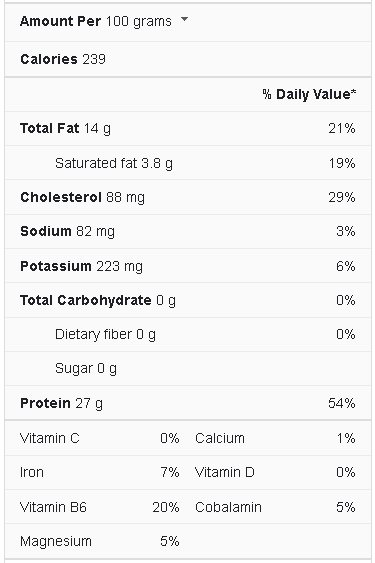 What is Exactly Chicken Katsu?
It, also known as panko chicken or tori katsu, is a fried chicken dish popular in Australia, Hawaii, London, California, and other parts of the world made using panko bread crumbs.
As part of Hawaiian mixed plate lunch, chicken katsu is usually served with tonkatsu sauce, a thick Japanese vegetarian pureed fruit-based brown sauce, or well-seasoned ketchup. As part of a two- or three-item combo, it's usually served with shredded cabbage, rice, or miso soup, or as a meal with rice and veggies.
It is as famous as tonkatsu in Hawaii (pork cutlets). In both local plate-lunch restaurants and fine-dining Japanese places, it is used in place of tonkatsu in katsu curry and katsu don. It's frequently served as a sandwich with "tonkatsu sauce."
It is a fried dish made from a thinly sliced chicken breast. Tonkatsu is similar to chicken katsu, but the two dishes are not the same. Chicken katsu is made with chicken breasts, while tonkatsu uses pork loin. Both are fried in panko, a particular white bread type. Panko is used extensively in Japanese cooking for its light breading.
What is it Made of?
Many folks may already have a few ingredients to make Japanese breaded chicken. The chicken is seasoned with garlic powder, salt, and pepper. I like to marinate the chicken in the seasoning for approximately 15 minutes to add flavor, but this also gives me time to prepare the katsu sauce and deep-fries the chicken.
A primary dredging method of all-purpose flour, beaten egg, and a brief dip in panko is used to create an exceptionally crispy and thick outer coating. Place the chicken thighs on a wire rack to cool while the oil heats up to 350 degrees Fahrenheit.
Thanks to its seasoning and breaded surface, chicken katsu has a savory and fried flavor, but the katsu sauce has a tangy and slightly sweet flavor due to the ketchup and Worcestershire sauce.
What are the Different Types of Katsu?
Here are the different types of katsu:
Tonkatsu
When most people think of katsu, they think of tonkatsu or pork katsu. It's possible to make it with either thinner hire pig tenderloin or fattier rosu pork loin. Kurobuta, or Japanese black Berkshire pork, is used to make the greatest tonkatsu.
Menchikatsu
Menchikatsu is a deep-fried patty made of minced meat breaded in panko crumbs. It's usually cooked with ground beef, but it can also be made with ground pork or a combination of both beef and pork.
Chicken Katsu
It is boneless chicken that has been panko-crusted and deep-fried to perfection. Many people prefer chicken katsu cooked with tender chicken breast as a healthier alternative to tonkatsu, but a juicier version can also be made with butterflied chicken thighs.
Gyukatsu
While pig and chicken katsu are the most common, gyukatsu is a more indulgent choice that includes steak that has been breaded in panko and fried katsu way. It's a Japanese version of chicken fried steak.
Salmon Katsu
Salmon katsu is a panko-breaded salmon steak prepared in the katsu style. In Japan, it's also known as "salmon fry." Because of the richness of salmon, it's an excellent katsu choice, similar to gyukatsu.
Katsu Sauce
It's made with applesauce, onion, tomato paste, carrots, and Kikkoman Soy Sauce, which is traditionally brewed and tastes like meat and fowl. Kikkoman Katsu can be used as a low-calorie dipping sauce for breaded pork cutlets and chops, country-fried steak, and chicken. The simplicity of the ingredients contributes to the convenience of this katsu curry sauce. While some recipes call for coconut milk, This one has a lot of garlic and chicken stock, as well as a beautiful onion and carrot flavor. Honey and soy sauce are drizzled over the top. That's it – there's nothing else to say! You'll never go back once you've tried it at home. It's zesty, sweet, and tasty. Brown sauce, a Japanese variant of Worcestershire sauce, is thicker than tonkatsu sauce. Although Worcestershire sauce usually is exceptionally sophisticated, combining it with ketchup and soy sauce is an excellent method to make it at home.
What does Katsu Curry Sauce Taste like?
Despite its name, katsu has nothing in common with its Indian or Thai cousins. It has a deeper, fruitier flavor due to the caramelized onion, garlic, and carrot. It's then seasoned with soy sauce and mild curry powder before being sweetened with sugar or honey.
Conclusion
Because skinless and boneless chicken thighs are so juicy and tasty, they're ideal for making chicken katsu. To make things easier, purchase them already skinned and deboned. When you get them home, make sure they're all the same thickness so they all cook simultaneously.
If one side of the filet is thicker, produce a butterflied filet to level out the thickness. Place the skin side down on the chicken thigh. Make a shallow cut towards the middle of the thicker part of the meat and open it up like a book.
Chicken katsu is versatile and adaptable, in addition to being tasty. It goes well with rice, donburi, sandwiches, and curries. An excellent fried chicken piece coated in panko breadcrumbs and fried to perfection is known as chicken katsu. Use chicken breast instead of pork to make the chicken katsu more genuine. Any Japanese meal will benefit from the addition of chicken katsu!