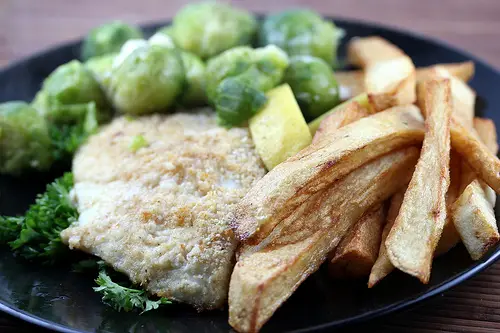 For some reason up until know it has been very hard to purchase Haddock in this area, so it was I pleasant surprise to see it show up here in the market. This Baked Haddock Recipe probably could be used with any good quality white fish-this is another one of those recipes that is simple to put together and is really good. There is very little prep time involved and the fish cooks very quickly. You could probably spice this dish up a little more if you wanted to but I thought the recipe was real good as written. If you like fish give this Baked Haddock Recipe a try; it's really good.
Baked Haddock Recipe
Ingredients
¾ cup milk
2 teaspoons salt
¾ cup bread crumbs
¼ cup grated Parmesan cheese
¼ teaspoon ground dried thyme
4 haddock fillets (about 1 pound)
¼ cup butter (melted)
Preheat oven to 500F.
Instructions
In a shallow dish whisk together the breadcrumbs, grated Parmesan cheese and thyme. (Pie dish works great for this)
Pour the milk into a medium size bowl and mix in the salt.
Pat the fish dry with paper toweling, dip in the milk mixture, and then roll in the bread crumbs putting a little pressure on the fillets to coat the fish.
Place the fillets in a baking dish lightly coated with cooking spray-melt the butter and drizzle it over the top of the fish. Bake until the fish is done and flakes easily. (15-20 minutes-Haddock is pretty thick so I used an instant read thermometer for a temp. of 145F.)