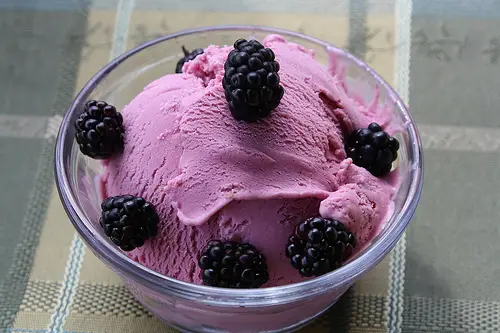 We have had a great year for berries here in Upper Michigan. Hot weather for most days and rain about one day a week. Our blueberry, raspberry and blackberry plants producing just an unreal amount of berries. I love homemade ice cream. This Blackberry Ice Cream Recipe was a great way to use some of the fresh berries. A beautiful color with a fresh delicious blackberry flavor. It is a simple recipe. Most of the time is used letting the ice cream mixture cool before putting it in the ice cream machine.
I have a small ice cream machine. My only regret was it was not big enough to double the recipe. Enjoy
Blackberry Ice Cream Recipe
Ingredients
2 cups fresh blackberries, rinsed
1 cup sugar, divided
1 egg yolk
1 cup half-and-half
1 cup whipping cream
⅛ teaspoon cinnamon
Instructions
1. Mix blackberries and ½ cup sugar in small saucepan. Bring to low boil, simmer 5 minutes to dissolve sugar and break up berries. Cool slightly.
Puree berry mixture in blender.
Press puree through fine sieve to remove seeds. Discard seeds. Set puree aside.
Mix egg yolk, remaining ½ cup sugar, and ½ cup half and half in a small saucepan. Cook over low heat, stirring constantly, until mixture comes to a boil and thickens slightly (about 5 min).
Whisk remaining half and half, all of cream and cinnamon and vanilla into cooked mixture.
Whisk in blackberry puree.
Cool and chill the ice cream base mixture for 1-2 hours or overnight.
Pour cold mixture into electric ice cream machine and process according to manufacturer's directions
Serve garnished with fresh Blackberries if desired.