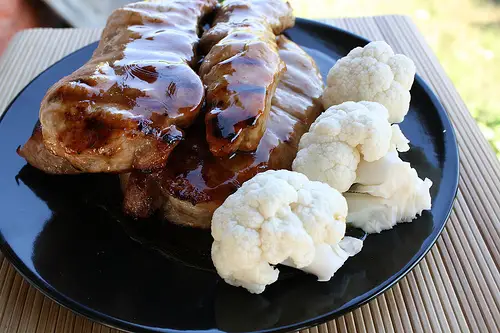 Move over BBQ sauce. This Glazed Grilled Pork Chop Recipe is just delicious. The combination of apple juice and the rest of the ingredients is excellent. I used 4 boneless chops for this recipe. I am sure there is enough glaze to do about 8 to 10 if you wanted to. What a great recipe for a Labor Day cook out.
Enjoy

Glazed Grilled Pork Chop Recipe
Ingredients
½ cup brown sugar, firmly packed
½ cup apple juice
4 tablespoons vegetable oil
1 tablespoon soy sauce
½ teaspoon ground ginger
salt and pepper to taste
1 tablespoon cornstarch
½ cup water
4 boneless pork chops
Instructions
Preheat an outdoor grill for high heat.
In a small saucepan, combine brown sugar, apple juice, oil, soy sauce, ginger, salt , and pepper. Bring to boil. Combine water and cornstarch in small bowl, and mix into brown sugar mixture. Stir until thick.
Brush grate lightly with oil before placing pork chops on the grill. Cook for 10 to 12 minutes, turning once. Brush with sauce while cooking. Serve with remaining sauce.