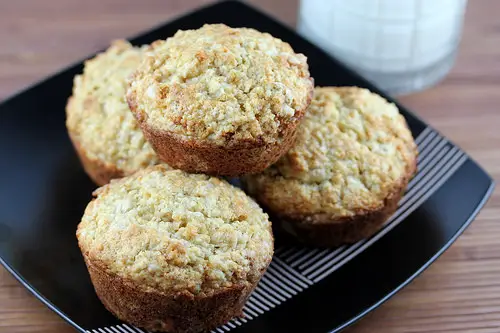 If you need a recipe that is simple and quick for breakfast give this Buttermilk Oatmeal Muffins Recipe a try. I have quite a few oatmeal muffin recipes on this blog but this is one of the best. The recipe is quick to put together and doesn't require much time in the oven. The muffins turn out moist and hold the moisture very well if you want to keep the leftovers for a couple of days.
Serve warm with butter melting on top – Delicious
Buttermilk Oatmeal Muffins Recipe
Ingredients
1 cup quick rolled oats
1 cup buttermilk
1 cup all-purpose flour
1 teaspoon baking powder
½ teaspoon baking soda
½ teaspoon salt
1 large egg (lightly beaten)
⅓ cup brown sugar (packed)
⅓ cup vegetable oil
Instructions
Place oatmeal in a large bowl. Mix in the buttermilk and let the mixture soak for 15-30 minutes.
Preheat oven to 400F
In a medium bowl sift together the flour, baking soda, baking powder, and salt. Mix the flour mixture into the oat mixture and then add the sugar, egg and oil and mix until thoroughly combined.
Spray 6 jumbo muffin cups with cooking spray and fill the cups about 3/ 4's full. Bake for 20-25 minutes or until a tooth pick in the center comes out clean.
Serve warm with butter.