Have you been curious about the nutritional value of pediasure grow and gain? Luckily, the pediasure nutrition shakes are clinically proven to help kids grow and develop. They are packed with 27 essential vitamins and minerals, 7g of protein, and 32mg of DHA omega-3, a crucial fatty acid for the eye and brain development. Plus, they come in six great flavours! Whether you are looking for a great-tasting shake or an everyday meal replacement, there's a pediasure drink for the whole family.
This nutritional supplement for kids is milk-based and contains a balanced fat, protein, and carbohydrates ratio. This is important because it helps your child's body absorb the nutrients. It also contains DHA Omega-3, which supports eye and brain development, and antioxidants. These ingredients are essential for your child's health, and you can feel good knowing that your kids are getting the nutrients they need to grow.
Pediasure Grow and Gain Nutrition Facts
What is Pediasure?
Pediasure is a line of nutritional supplements for kids and teens aged 2 to 15 who have trouble meeting their nutritional and development requirements. Abbott, a worldwide healthcare corporation, created Pediasure. Since 1988, this popular dietary supplement has been available in the United States.
The business says that by consuming two bottles of Pediasure every day, youngsters would begin to gain weight in just eight weeks. Pediasure comes in a variety of tastes, shapes, and sizes.
The supplements provide an average of 230 calories and 7 grams of protein per serving. In addition, most kinds provide 27 vitamins and minerals per serving. Pediasure makes gluten-free, kosher, and halal goods.
Types of Pediasure
There are five main types of Pediasure:
Pediasure Grow and Gain- The most popular Pediasure supplement is Grow and Gain, and it's designed to help children increase height and weight. There's also a Grow & Gain variety with more fibre to aid digestion.
It is available in two forms: ready-to-drink and powdered, the latter of which must be mixed with water. DHA and lutein are incorporated, which may aid in the prevention of eye illness.
Pediasure Sidekicks- This type is intended to assist children in catching up on their growth and filling nutritional gaps caused by vitamin and mineral deficiencies. Sidekicks provide 40 percent more protein and 25 percent fewer calories than Grow & Gain.
Pediasure Pro- It's Abbott's newest Pediasure product, and it helps kids from 9 to 15 years old with their nutrition. Many vitamins, minerals, and nutrients are included in the shakes for immune support, bone growth, and muscle building.
Organic- This Pediasure range is comparable to the others, but it is organically certified.
Specialty- Pediasure specialty products are for people who can't eat enough food by mouth and need tube feedings to achieve their nutritional requirements. Pediasure Enteral, Pediasure Harvest, and Pediasure Peptide are three specialist nutritional supplements.
What are the Health Benefits of Pediasure?
Here are some of the benefits said to accrue on the consumption of PediaSure.
Supports Growth and Development
PediaSure is a high-protein, calcium, and vitamin-D3 supplement. Together with a well-balanced, healthy diet, this drink could help you grow weight and height in just 24 weeks. This benefit, according to PediaSure, has been clinically verified in children aged three to four years.
Immune Support
PediaSure is believed to be high in antioxidants, including vitamins C and E and selenium. A study found that giving nutritionally at-risk oral nutritional supplements like PediaSure to children with upper respiratory tract infections helped them maintain their weight during the illness.
Apart from the above nutritional benefits, some other general benefits of PediaSure are:
Sugar Content
Total natural sugar is present in supplements in simple sugar, corn syrup, and maize maltodextrin, all of which have a high glycemic index (GI). Thus, nutritional supplements may increase weight and cause complications such as dental cavities in a healthy youngster.
Gastrointestinal Issues
When high amounts of components like fiber and soy protein isolate are ingested, they might cause gastrointestinal problems like constipation, bloating, and nausea. It is most likely to occur in youngsters who take fiber from various foods.
Might Replace Normal Food
After drinking the beverage, a youngster may feel full and refuse to eat their next meal. Additionally, there is a possibility that the child would favor high-sugar diets in the long run. Excessive drinking without visiting a pediatrician, for example, increases the risk of this occurrence.
PediaSure Grow & Gain with 2'-FL HMO Prebiotic, Kids nutrition Shake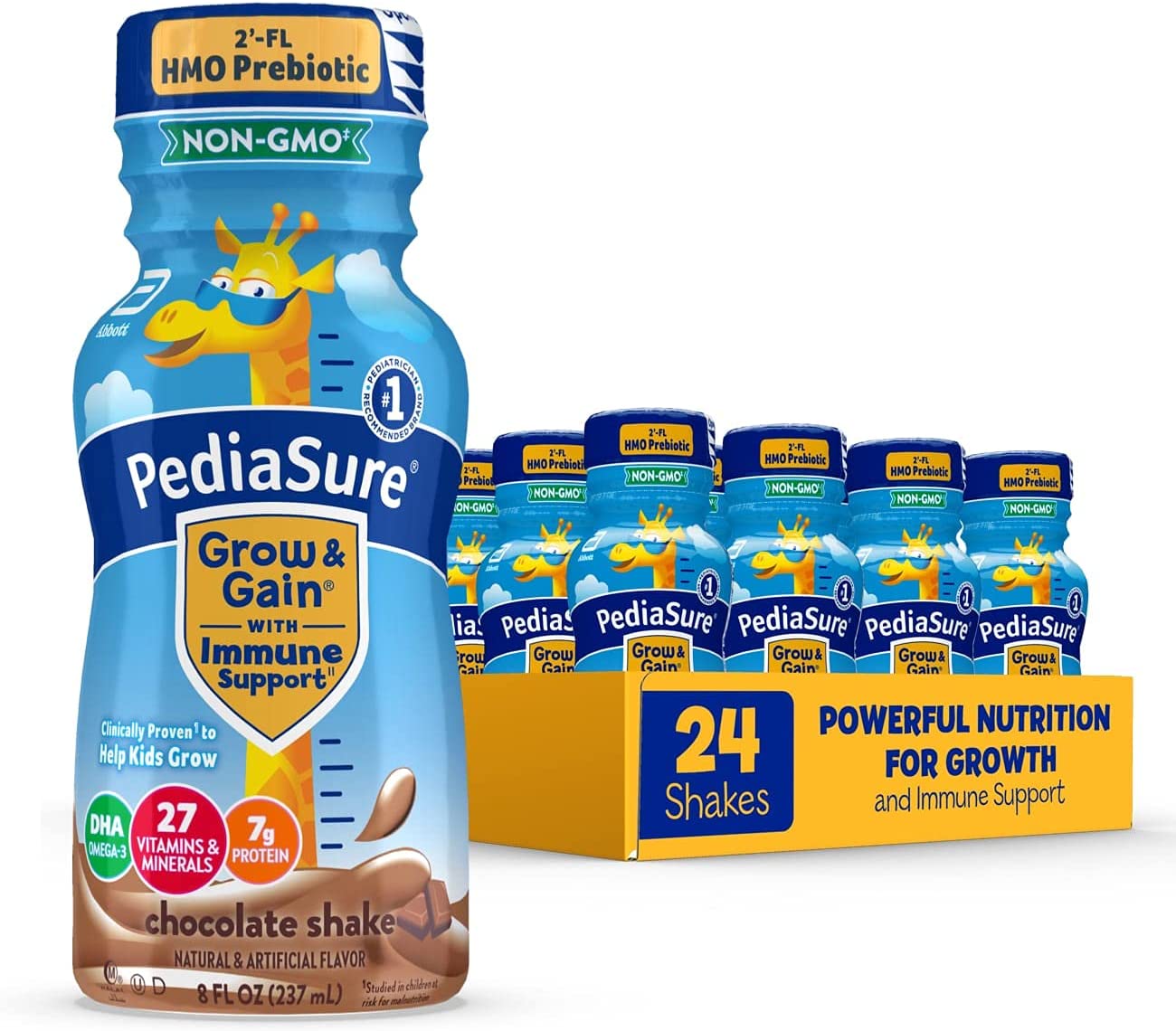 Features:
It also contains more vitamin C to promote cell health, vitamin E to support cell membranes, and vitamin B1 & B2 for energy metabolism than regular PediaSure Grow & Gain

Designed to complement a diet for kids who are behind on growth and need to gain weight

Nutrition to help support kids' immune systems with protein, zinc, vitamins A & D, and antioxidants (vitamins C & E and selenium)

A kid's nutritional shake with 27 essential vitamins & minerals and 7g protein; it's also non-GMO, gluten-free, has no artificial growth hormones, and has 32mg of DHA omega-3.

PediaSure Grow & Gain helps kids grow out of at-risk weight percentiles in eight weeks with two bottles of PediaSure a day.
How Much PediaSure can Children Drink Per Day?
According to PediaSure, there is no safe intake limit in general. The brand suggests seeing a pediatrician to establish the number of appropriate supplements for your child. If the youngster is already eating well and drinking other liquids, seeing a pediatrician is even more necessary. The dosage will also be determined by the PediaSure version that the pediatrician recommends. As a result, each child's daily serving may differ.
How to Give PediaSure to your Child?
The method of preparing and serving PediaSure depends on its variant. For instance,
PediaSure Grow and Gain Shakes are ready-to-drink shakes that do not require preparation.
It is a powder that needs to be mixed with water to prepare the drink.
The company also suggests parents try recipes with Grow & Gain shakes or powder mix as an ingredient.
However, check the other ingredients in a recipe to ensure your child's safety. PediaSure is recommended for children aged two to thirteen years old, according to the manufacturer. If your child is under two, the brand recommends seeking medical advice before using it. PediaSure is not suggested for babies under the age of one year.
Conclusion
Pediasure Grow & Gain is one of the most common Pediasure supplements available. It is a complete, balanced meal replacement recommended for children between two and 13 years of age. Studies have proven that the Pediasure shake can help children grow, especially those who have fallen behind in their growth and are at risk for malnutrition. It's no wonder this nutritional supplement is the #1 brand recommended by pediatricians.
Unlike many other nutritional supplements, Pediasure has a lot of added sugars. Adults might be tempted to choose Pediasure instead of other alternatives, but that might not be good. Added sugar isn't good for your health and may not be appropriate for people trying to lose weight or avoid processed foods. And because of this, it can be challenging to balance your child's nutritional needs and your budget.