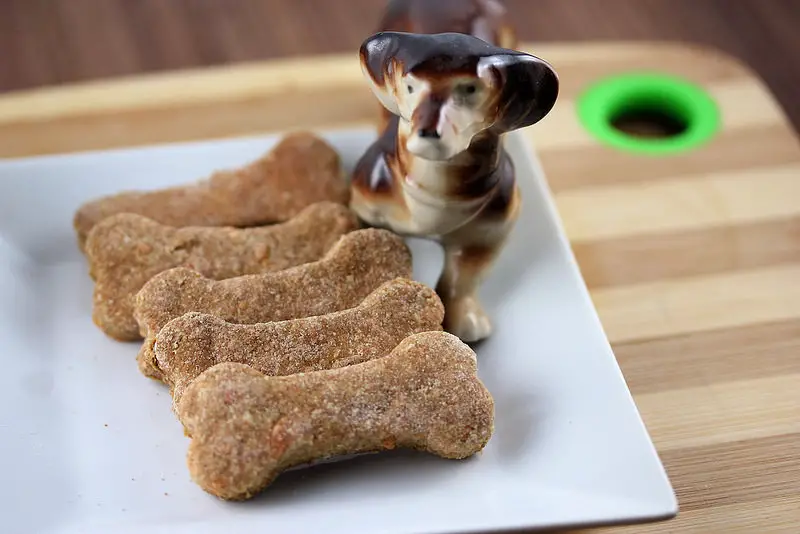 Chicken and cheese; how good can it get, your dog will love these Homemade Cheesy Dog Treats.
The best part is you'll know whats in them, because you made them.
This recipe takes a little time, but its a simple recipe to put together.
I would recommend putting them in a food grade zip lock and storing them in the fridge until they are gone.

Homemade Cheesy Dog Treats Recipe
Ingredients
1 cup old fashion rolled oats
⅓ cup margarine
1 cup low fat chicken broth
¾ cup cornmeal
1 tablespoon sugar
½ cup milk
1 cup shredded cheddar cheese
1 egg (lightly beaten)
2 ½ cups whole wheat flour
Instructions
Preheat oven to 325F. And line a baking sheet with parchment paper. (or lightly spray with cooking spray)
Place the chicken broth and margarine in a small sauce pan and bring the mixture to a boil. . Place the rolled oats in a large bowl and mix in the chicken broth and margarine; set aside and let rest for 10 minutes.
In another bowl whisk together the cornmeal and sugar, and mix it into the rolled oats mixture. Add the egg and milk and mix until smooth, and then fold in the cheese.
Add in the flour ¼ cup at a time, mix, and knead until dough is formed and not too sticky to handle. (use extra flour if needed)
Place the dough on a lightly floured surface and roll out to ½ inch thick, cut into desired shapes, and place 1 inch apart on the baking sheet.
Bake for 35 to 40 minutes or until browned.
Cool and serve to you favorite Dog.
Adapted from
Allrecipes.com