These Homemade Pumpkin and Peanut Butter Dog Treats are simple to put together, only require a few ingredients, and have a combination of flavors your dog will love. This is a healthy alternative to many of the dog treats you buy in the store.
If you done believe me, just ask Hunter, our 8 month old English Setter.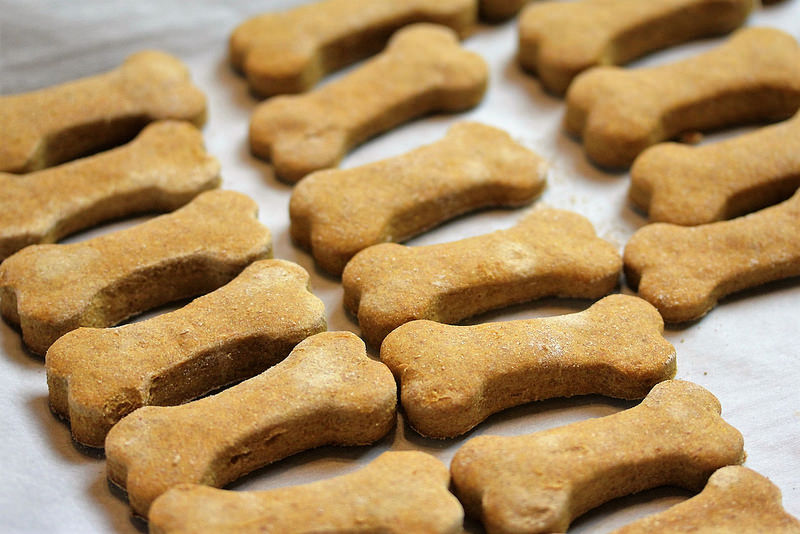 Homemade Pumpkin and Peanut Butter Dog Treats Recipe
Recipe type:
Homemade Dog Treats
Ingredients
¼ cup peanut butter
⅔ cup pumpkin puree
2 large eggs
3 cups whole wheat flour (plus ¼ extra on standby if needed)
Instructions
Preheat oven to 350F.
Line a large baking sheet with parchment paper. (I used a 16x12 baking sheet - a little bigger would be better)
Place the eggs, peanut butter, and pumpkin in a stand mixer bowl fitted with the paddle attachment. Mix on high speed until well combined (about 2-3 minutes). Reduce mixer speed to low and add the flour a ¼ cup at a time until dough is no longer sticky-add more flour if needed. Dough will separate from the sides of the bowl when ready.
Place dough on a lightly floured surface and need by hand until dough comes together (my dough was still a little sticky so I added a little more flour at this time).
Using a rolling pin roll dough out to a ¼ inch thickness and cut using a cookie cutter into the shapes you want; place on baking sheet.
Bake for 25 minutes or until edges start to brown. (baking time will vary depending on size and thickness)
Let cool – and give your dog a treat!!
Adapted from 
damndelicious.net