Have you ever had overcooked food on one side but undercooked on the other? A melting or grilling dome might be the answer to your problem. This deceptively simple device traps steam, smoke, and heat to suffocate the food. Instead of traveling into the air, heat rises and does not cover the top portion of the dish. This means you'll get food that's been partially baked. The Best Grilling Dome will evenly melt cheese, smoked meat and cook meals.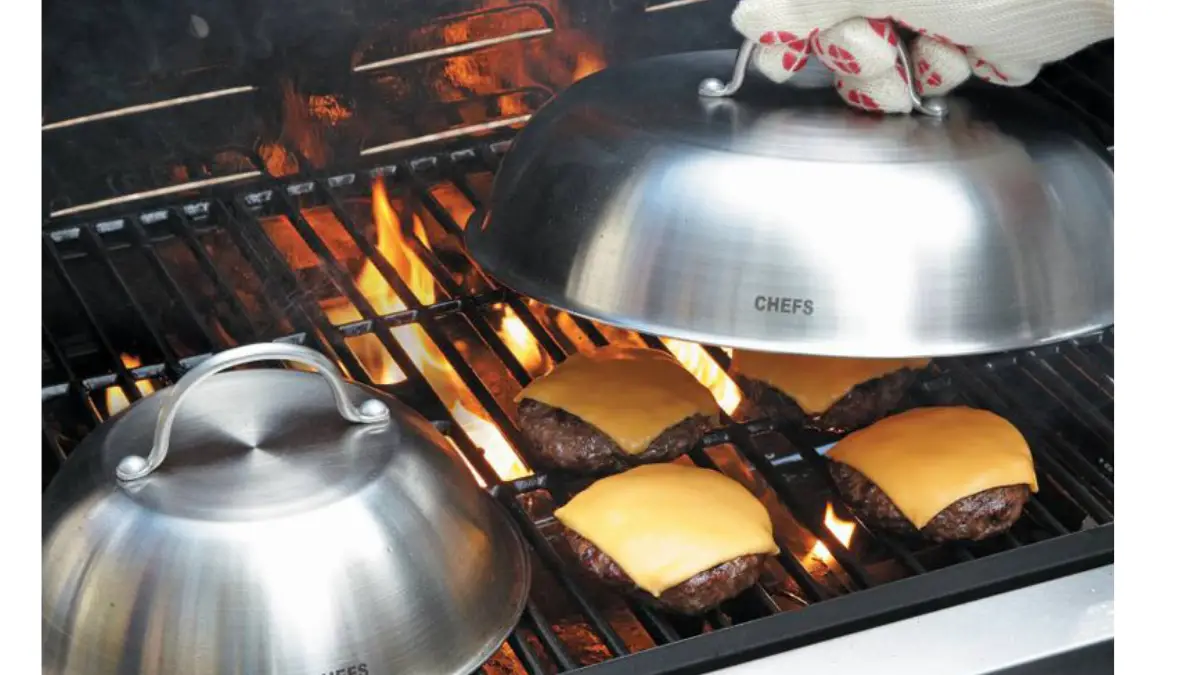 How to Use A Cooking Dome?
To make the most of these domes, you must first determine the size of the dish and how it will be cooked. Consider a chicken breast. I recommend covering it as soon as it hits the pan, whether you're grilling or just pan-frying. The top should be partially cooked when it's time to flip it, and all that's left is to brown the top section. After the flip, though, do not cover it. The crispy skin will get soggy if you do so.
Increase the heat and add oil to make a Sunny Side-up egg. When the pan is heated, crack one egg and cover it. The sides of the egg should be bubbling and crispy, while the top should be cooked if done correctly. There's no need to flip it or do anything fancy with it. If the bottom of the dish is done, but the top is just partially cooked. Cover with water and close the lid. The resultant steam should finish cooking it.
To melt cheese, all you have to do is set it on top and cover it. This should only be done at the end of the cooking process, and it's impossible to grill the cheese side down.
How Does A Melting Or Grilling Dome Work?
Heat is transferred via conduction when cooking on a grill or stovetop. Only that section will be cooked because the heat source is only on the bottom. While you can and should flip food for equal cooking, you can't always manage the stove's overall heat. As a result, the outside is overcooked while the inside is undercooked. Radiant heat is now confined beneath the dome with a Melting Dome. Both the bottom and the top will be cooked at this point. This explains why these domes work so well for melting cheese on burgers.
Best Cooking Dome For Griddle
On the market, there are many types of Melting and Grilling Dome. You won't be disappointed with any of them because they all work reasonably well. They do, however, have a significantly different layout. Choose the one that best meets your requirements.
Nordic Ware Dome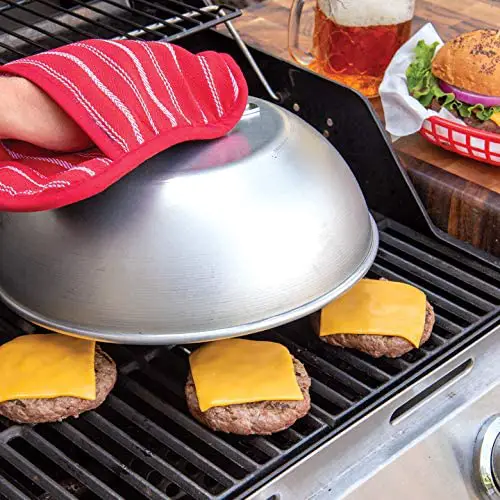 Feautres:
Made of Natural Formed Aluminum

It can be used on electric, gas, and ceramic stovetops

PFOA-free nonstick coating. Oven safe up to 400 degrees

Five years. Hand washes with warm, soapy water.

Made in the USA
Cuisinart CMD-112 Melting Dome

Features:
The melting dome has a 12.25-inch diameter, covering a large grill area. The dome's rolled edge sits comfortably on any flat surface, including skillets.

It's made from hard-working stainless steel for years of use—a great addition to the grill kitchen.

The shape of the dome traps heat to cook food more quickly and evenly and melt cheeses to perfection.

Traps the smoke of a grill so that foods are infused with delicious smoky flavors. Perfect for those who love cheeseburgers.
Heavy-duty Cheese Melting Dome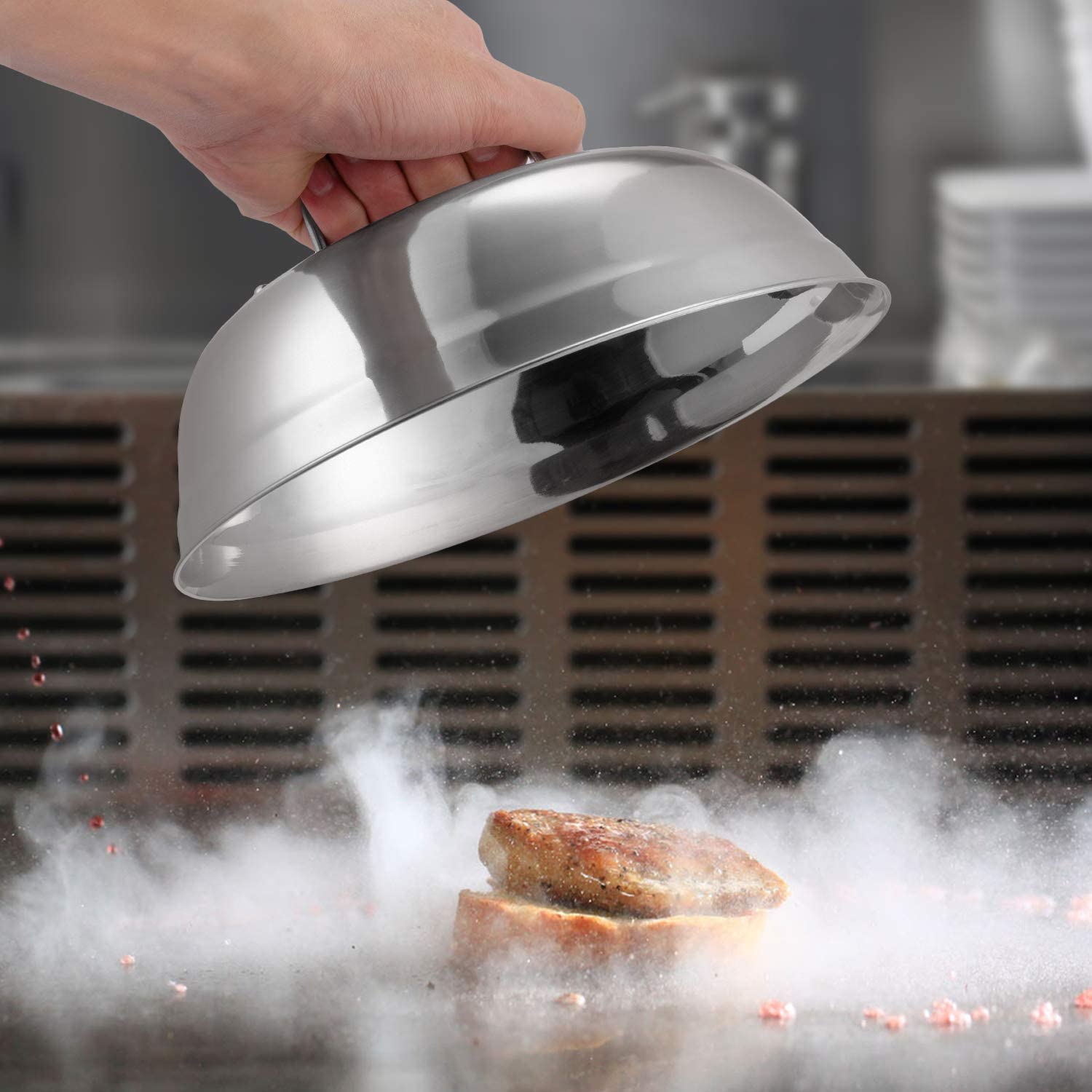 Features:
2.5mm thick 304 stainless steel makes it more vital for extended use. Robust structure and premium components ensure perfect performance regardless of scrapes, bumps, or drops. (The Dimension: 9inch diameter and 4.5inch height)

Round dome and suitable size perfect for concentrating heat to cook evenly, melt cheese, steam vegetables, or roast. Create an oven-like environment to save your time, and you can get a better flavor—no more splatter and melt the cheese quickly to avoid overcooking the meat.

 The handle is coated with silicone and riveted tightly on the flat top. It is a little bit higher than usual for ease of use. Heat-resistant design protects your hand, and Stain-resistant polished stainless steel is easy to clean.

Practical for your backyard kitchen, indoor and outdoor uses. Compatible multiple griddle and grills. Perfect for bacon, beef, burgers, poultry, flatbreads, grilled sandwiches, quesadillas, paninis. Cookouts, barbecue, caterers, tailgaters, campers, and much more.
HaSteeL Cheese Melting Dome

Features:
HaSteel 12 inch griddle dome set of 2 is large enough to cover a couple of burgers and a big pile of veggies, Making cooking more efficiently, Easy to clean, and dishwasher safe

Cheese melting domes are made of professional-grade stainless steel to ensure healthy and durability for long term use, Lightweight for easy use, yet sturdy construction anti dent

Round steam covers can help to trap heat and storage smoke without a vent to cook food evenly, Melt cheese quickly and steam vegetables perfectly, Help to keep warm and tasty food

The handle is made of heatproof plastic to protect your skin from burning, and a smooth edge won't cut your fingers; an ample enclosed space can maximum reduce splatter and flare-up
2 Sets BBQ Accessories 12 Inch Round Stainless Steel Basting Cover

Features:
With a lightweight yet durable stainless steel build, this dome is suitable for the finest of chefs or the most casual of home enthusiasts.

Ideal for concentrating heat to cook the meat evenly, melt cheese, or steam vegetables. Create an oven-like environment to reduce cooking time. Plus, it helps reduce splatter and helps food retain its flavor.

Cover multiple hamburger patties and large portions of food with this larger than standard 12″ diameter

The durable plastic handle is heat resistant allowing you to grab the handle bare-handed. Plus, this high-quality stainless steel construction can handle high heat, resists odors/stains, and is dishwasher safe.
Conclusion
A cooking dome can be used for grilling and barbecue. It will make your burgers more tender and juicy, and it can also melt and hold the cheese. Most restaurants use basting dome covers to lock in moisture inside a burger. Using one of these can help you cook your burgers perfectly. They are perfect for barbecues and other outdoor grilling activities. These types of grills can be used for a variety of purposes.