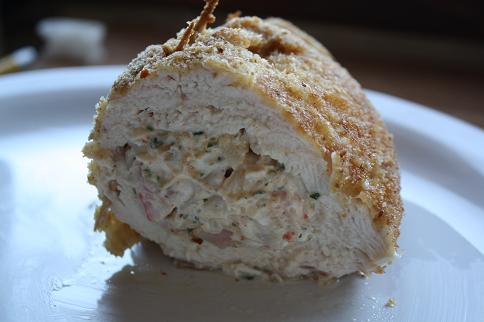 This Crab Stuffed Chicken Recipe is unique and very delicious. If you are looking to cook something special. Look no further. This recipe is quick and simple. You could do no better at a fine restaurant. You and your guests are sure to Enjoy!
Crab Stuffed Chicken Recipe
Ingredients
4 Boneless chicken breasts.
¼ cup flour
2 eggs-beaten
¾ cups plain bread crumbs
3 tablespoons olive oil
1 ½ Tablespoon butter
Tooth picks
Instructions
Mix together the cream cheese, crab meat and the soup mix and set on the side.
Cut a pocket in the side of each chicken breast-being careful as not to cut though the back.
Fill each pocket with the cream cheese, crab stuffing mix. Seal the opening with tooth picks.
Roll the stuffed chicken breasts in flour, then dip them in the eggs, then coat them with bread crumbs.
In a large skillet brown the stuffed chicken breasts to a golden brown.
Bake the chicken in a 13 x 9 inch baking pan at 350 degrees for 15 minutes to ½ hour, or until done.