Black pudding is a fantastic source of zinc, potassium, calcium, magnesium, iron, and protein. It's also straightforward, entertaining, and economical to cook at home. It has been scientifically shown to eliminate 9 out of 10 hangovers when served with bacon (note: this has not been medically proven). You can use ordinary hog casings (or larger) ones that you would typically use when making sausages instead of the synthetic black.
The ingredient black pudding is nothing new; it has been used for ages. When nothing was ever wasted, the pudding was created as a method to use up the blood used to kill the pig. Black pudding has endured throughout the ages and saw a decline in popularity in the 1960s, but it is currently enjoying a renaissance among British cooks. It can be found on the menus of both traditional and modern restaurants.
Black Pudding Nutrition Facts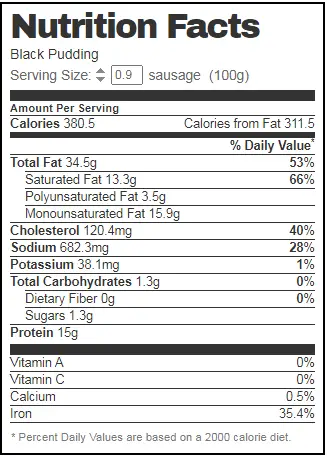 What is Exactly Black Pudding?
A sort of sausage cooked with animal blood is referred to as "blood pudding" or "black pudding" in some circles. Even though there are numerous varieties, it is well known worldwide in the setting of a traditional Irish or Scottish breakfast. Although the ingredients, flavour, and eventual application of blood sausage can differ significantly from place to place, it is a common culinary tradition in most civilizations.
Animal blood plus d of grain, typically oats, wheat, or rice, are all a sausage must consider. Casings are typical but unnecessary, and dried fruit and other spices are also frequently included. A lot relies on the cook's culture and the kinds of materials that are easily accessible.
Basic Concept
Blood pudding is not a "pudding" at all, despite its name. Most food experts think the name derives from the grains usually continuously used to absorb the blood that binds everything together, like how cooks make a thick pudding that congeals and solidifies inside the sausage casing.
This description is frequently somewhat unsettling to people unfamiliar with the meal or not accustomed to eating animal blood, and the sausage can occasionally take some getting used to. People who grew up eating it or who reside in societies where it is frequently presently viewed it as a delicacy.
How to Make Black Pudding?
Here is the best homemade black pudding recipe:
Ingredients
2 litres of Pigs Blood – keep chilled
24 feet Sausage Casing
4 ounces of Leaf Fat
6 ounces Onion
1 ounces Garlic
6 ounces of Green Onion
1-ounce Chadon beni
3-4 Spanish Thyme leaves
6 Seasoning Peppers
1 Teaspoon Salt
1 Teaspoon Onion Powder
1 Teaspoon Garlic Powder
1 Teaspoon Turmeric Powder
1 Teaspoon Paprika Powder
1/2 Teaspoon Cumin powder
1/2 Teaspoon Black Pepper
3-4 Hops Buns – stale at least one day old
Instructions
Prepare the Sausage Casings according to the directions on the package.
To your preference, chop, mince or purée the Onion, Garlic, Green Onion, Chandon Beni, Spanish Thyme, and Seasoning peppers; mix and set aside.
Mince the Leaf Fat and set it aside.
Crumble the stale hops bread and set it aside.
Mix the dry seasonings and set them aside.
Strain the blood into one large bowl to remove any particles. If the blood has started to clot and turn into lumps, gently break them up and push through the filter's mesh.
Add the leaf fat, fresh seasonings, and dried seasonings and stir to combine.
Add the bread crumbles to the blood, and using your gloves or sanitized hands, thoroughly mix all the ingredients until everything is fully incorporated.
Cover and place the bowl in a cool place or the fridge on the bottom shelf for 30 minutes and let the mixture marinate. This will help infuse the flavours and break the bread down some more.
Prepare a clean and sanitized sausage-making area with your wide-mouth funnel, a large bowl, or baking tray.
To secure the end of the sausage casing, prepare a long (24-inch) length of the butcher's string. To begin, knot the butcher's series with the case. Adjacent, twist the butcher's twine onto the casing next to the initial knot.
Now fit the casing onto the end of the funnel and feed some containers onto the shaft, so it will hold more securely as you add the blood mixture and fill the casing.
After the blood has finished marinating, mix it one more time to ensure the mixture is flowing.
Hold the funnel in one hand, place the casing into a large bowl or on a baking tray and begin to scoop the blood mixture into the funnel and allow it to flow into the container.
Remember you have to tie off the end of the casing, so DO NOT OVERFILL!
Continue to spoon the blood mixture into the casing until it's finished, then tie off the end the same as you did before with the other end of the butcher's s.tring
Prepare a large stockpot with water and bring it to 160 – 180 °F or a steady heat that is hot but not boiling.
Once the water is ready, gently place the pudding links into the water and POACH them for 30 minutes or until they are firm to the touch. You can also poke the sausage to see if any blood leaks out.
Remove from the poaching water and let cool until it's warm to the touch.
Slice the sausages into bite-sized pieces. Now they are ready to eat.
Alternatively, sauté the pieces in a pan with oil, onions, and seasoning peppers and have fresh hops as a sandwich or eat as is or your choice of side dishes.
How to Serve Black Pudding?
Here are the ways to serve black pudding:
Serve it in the Mash: If you don't want to eat thick slices of black pudding, mix some crumbled black pudding into some mashed potatoes instead. You can alter this decadent Tom Kerridge recipe if you don't want to use nearly as much black pudding.
In Potato Cakes: The combination of black pudding and potatoes is fantastic, and these mouthwatering patties come with a tart chutney. For the ultimate brunch treat, add a fried egg on top.
As Stuffing: Black pudding can be cut from its casing and moulded anyway you like, just like other types of sausage. Using the meaty recipe, you can use it in the middle of a pork fillet parcel. Rhubarb is added to the dinner party-friendly dish to balance its richness.
In Stew: This filling dish is a twist on Lancashire hotpot. Lamb, wholegrain mustard, an excellent gravy, and sliced potatoes are combined with the black pudding. There isn't much more hearty food than this.
In Place of Sausages: In place of the sausages in this hearty salad of apples, red cabbage, hazelnuts, and a dash of sharp cider vinegar and honey vinaigrette, thick slices of black pudding are used.
Go Traditional: Black pudding is frequently used in fry-ups, according to some people. By substituting asparagus for the sausages in the traditional full English, this one-pan breakfast is (somewhat) lighter. To liven up the typical combo of eggs, bacon, and black pudding, you may substitute mushrooms or tomatoes for them if the spears are not in season.
Different Types of Methods of Cooking Black Pudding
Here are different types of methods of cooking black pudding:
Fry Black Pudding
A slice of black pudding can be fried, which is about as easy as it gets and is probably how you'd find it in any respectable breakfast establishment. Slice your black pudding into approximately a centimeter and a half thick pieces. Then, get out your frying pan and warm it up with oil. Put the black pudding in the pan once the oil is heated and cook it for around 3 minutes on each side. Verify that your black pudding has changed color throughout and is centrally hot.
Grill Black Pudding
We advise you to proceed as follows because it is the Grant household's favoured technique of preparing black pudding. Since black pudding may be prepared using this method pretty quickly, turn your grill to a high heat first. Afterward, cut your black pudding into 1.5-cm-thick slices and line your grill pan with foil.
Put the black pudding on the tray and place it as close to the grill as you desire. Give it two minutes on each side, then take it out and plate it! You'll discover that our black pudding's fats have given you a gorgeously moist slice. As a result, making you want to eat more and more of it! Once more, take a short temperature before enjoying.
Microwave Black Pudding
If you've seen us at any trade events, sampling days, or The Royal Highland Show in Edinburgh, you may have had some of the delectable samples of our black pudding that we give out on little oatcakes for free. We use a microwave for cooking the samples because of the demand swiftly. There is no issue with using the microwave to prepare black pudding, even though it is not a standard method. Place your slices on a microwave-safe dish, then cook them for about 45 seconds on high power. Before serving, make sure it's hot all the way through.
Black Pudding on a BBQ
Once you sample black pudding as part of a BBQ will unavoidably become a mainstay of all future barbecues. Once cooked, the black pudding has a gorgeous crust on the exterior and a deliciously smooth and moist inside. Wrap your slices in aluminum foil and turn your BBQ to its highest setting to accomplish this. Give it about eight minutes bending at the halfway mark making sure it's cooked through before serving. Try it with anything else you've barbecued that day, and it's delicious!
Conclusion
A grain (often oatmeal) and pork or beef suet are combined to make black pudding, which is then stuffed into a casing. The sausage is frequently included in an Irish morning staple like white pudding and is served fried, grilled, or boiling. Because sausage contains iron-rich blood, Masterclass observes that it may taste a little metallic, and Irish Expressions indicates that it can be spiced and seasoned with onion.
Like other blood puddings, black pudding develops a dark crimson or brownish hue. When eaten at breakfast, black pudding is often cut into slices and fried. However, the pudding is sometimes crumbled and added to other meals like mashed potatoes, bubble & squeak, and gravy. The pudding enriches and enhances the dish by being added to other foods.