This recipe for chicken enchiladas has all the elements of a traditional Mexican dish. You can easily make it at home with a little research and preparation. To prepare this dish, choose the type of chicken you like and purchase the sauce from a local supermarket. You can also use shredded chicken or rotisserie chicken for the filling. Once the chicken is shredded, you can add it to the enchilada filling. Once you are finished assembling the enchiladas, you can either bake them or put them in the oven.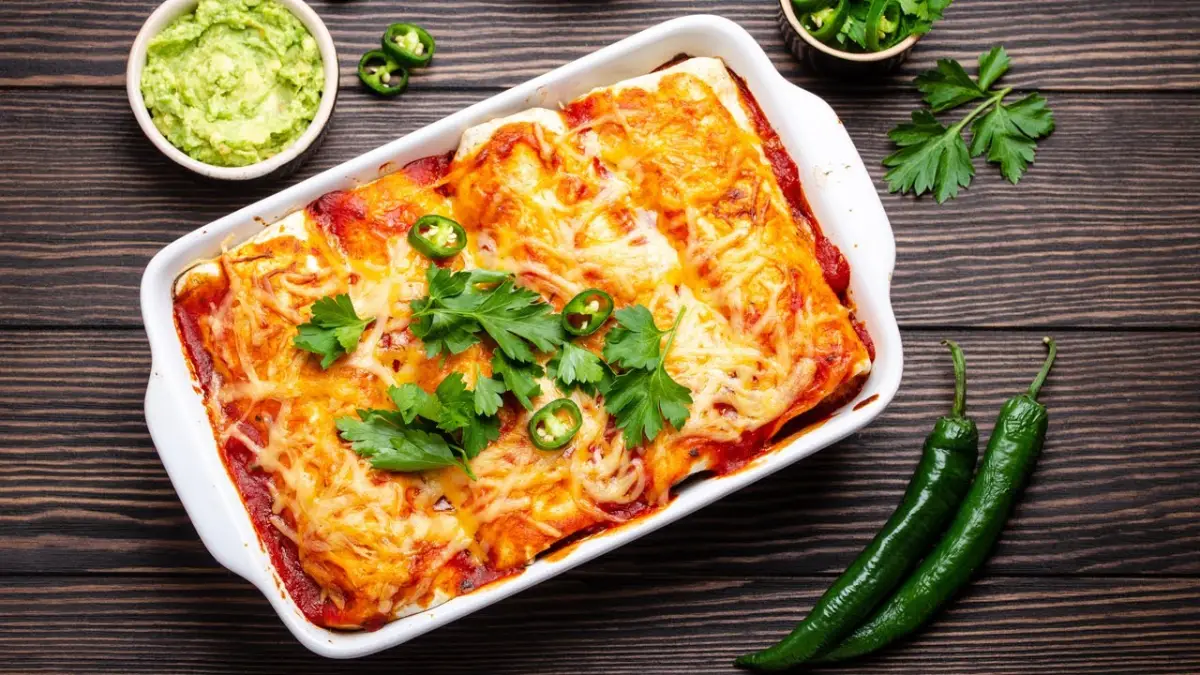 To prepare the filling for the enchiladas, you should first prepare the chicken. You can buy it already shredded or use a Tex-Mex blend and add taco seasoning and sour cream to the chicken. To prepare the filling, you need to make sure that you use the shredded chicken, and you can use either a regular or a block of non-fat cheese. Then, prepare the ingredients by placing them in a baking dish.
Chicken Enchiladas Nutrition Facts
What are Chicken Enchiladas?
Undoubtedly a classic, chicken enchiladas. One of the BEST meal dishes available is this one. They always satisfy the crowd and strike the spot! A pan of chicken enchiladas is a recipe for success. Chicken, a ton of cheese, and our homemade enchilada sauce are all wrapped up in corn tortillas. In essence, the ideal dinner! The best thing, though? They are quite simple to create.
This recipe should be included in everyone's regular dinner rotation. Both children and adults enjoy chicken enchiladas. They are delicious for a quick weeknight meal and nice enough to serve a large group.
You have the option of making one pan or two pans by doubling the recipe! The enchiladas may be frozen, which is a bonus! This dish is successful on every level!
How to Make Chicken Enchiladas?
Here is the best method of making chicken enchiladas:
Ingredients
Ten

 corn tortillas, 

6-inch

1/3

 

cup

 

vegetable oil

One

 

tablespoon

of olive oil or avocado oil

1/2

 yellow onion, 

diced

2

 

cups

 

shredded rotisserie chicken

4

 

ounces

 

mild green chiles

2

 

cups

 

enchilada sauce

 

(homemade or store-bought)

3

 

cups

 shredded Mexican blend cheese, 

divided

Optional Toppings: sour cream, avocado, cilantro, shredded lettuce, jalapeno slices, cotija cheese, salsa or pico de gallo
Steps to Follow
Here are the steps to follow:
Heat vegetable oil in a medium skillet over medium-high heat. Working one at a time, fry the tortilla, turning once, about 5 to 7 seconds per side, just enough to warm the tortilla. You don't want the tortillas to get crispy. Transfer the tortilla to a paper towel-lined plate to drain. Repeat with remaining tortillas.

In a separate medium skillet, heat the

olive oil

over medium-high heat and cook the onion until translucent, about 5 minutes. Remove from heat. Stir in the shredded chicken, green chiles, and ½ cup of enchilada sauce.

Pour a ⅓ cup of enchilada sauce into a 9×13-inch baking dish and spread around to coat the bottom of the dish lightly.

To assemble the enchiladas, lay the tortilla flat on a clean work surface. Fill each tortilla evenly with the shredded chicken mixture and 1 ½ cups of the shredded cheese. Roll the tortillas tightly and place them in the baking dish, seam side down.

Pour the enchilada sauce over the tortillas and top with the remaining 1 ½ cups of shredded cheese.

Bake for 20 to 25 minutes or until the cheese is melted and bubbly. Remove from

oven

and serve warm with desired toppings.
Notes
The maize tortillas are less likely to rip and are simpler to roll after they have been gently fried in oil. The tortillas can be heated in the microwave for 1 minute, rotating them halfway through until they are warm and malleable if you don't want to cook them.
You don't have to fry flour tortillas in oil if you want to use them. When they are all heated and malleable, microwave for 1 minute, flipping them halfway through. You can cook and shred your chicken or use previously cooked chicken instead of the rotisserie chicken we use. Although store-bought enchilada sauce will also work, we prefer to use our own.
Enchilada Toppings
Although the enchiladas will still be flavorful if served plain, we always like to add extra toppings because more is always better! Consider some of these toppings!
Can this be Made Ahead of Time?
Yes. Fill and roll the enchiladas, then place them in the baking dish if you prepare this up to a day in advance. Place the dish in the refrigerator with a cover on it. Make the sour cream sauce and keep it in the fridge in a different, airtight container. When preparing, uncover the baking dish and allow it to warm up while the oven is preheating. Spread the sauce equally throughout the enchiladas after spooning it over them.
After that, bake after adding cheese. It could need an additional 5–10 minutes to heat it fully. Don't roll up the enchiladas if you're making this 2-3 days ahead because the tortillas can get soggy. Both the filling and the sour cream sauce can be made. The enchiladas should not be rolled up until they are ready to bake them.
Why is My Chicken Enchiladas Soggy?
The easiest way to make a chicken enchilada when preparing for a large group is to buy a rotisserie chicken. This choice is practical because the chicken is prepared before entering the kitchen. Additionally, it is economical because a cooked rotisserie chicken costs roughly 70% less than a fresh one. Additionally, a single chicken will suffice to serve up to four people.
The unfortunate outcome of the tortillas absorbing too much enchilada sauce while baking is soggy enchiladas. Using flour tortillas, put the enchiladas on the plate after spreading a thin layer of sauce over the bottom. The edges of the tortillas should be uncovered so they can slightly crisp up during baking, and the enchiladas should only be lightly covered with sauce. Before assembling, rapidly frying maize tortillas in oil forms a moisture barrier that keeps them from getting soggy and crumbling. Check out these enchilada recipes for extra inspiration.
How to Store & Freeze Enchiladas?
Enchiladas can be kept in the refrigerator for up to four days once cooled and placed in an airtight container. Use the microwave or oven to reheat.
Freezing Uncooked Enchiladas
Line your baking pan with parchment paper. Be sure to take the parchment paper up the sides of the pan to make removing the enchiladas much easier.
Assemble the enchiladas in the lined baking dish as the recipe instructs.
Cover the pan with foil, then freeze until completely firm (this could take up to 3 hours). This is called flash freezing.
Once firm, lift the enchiladas out of the pan using the parchment paper.
Transfer the frozen enchiladas to a vacuum seal bag, label, and freeze.
Freezing Cooked Enchiladas
Line a baking dish with parchment paper, leaving an overhang.
Assemble and bake the enchiladas as instructed.
Let the enchiladas cool completely, then cover with foil and freeze until firm.
Once firm, lift the enchiladas out of the pan using the parchment paper.
Transfer the frozen enchiladas to a vacuum seal bag, label, and freeze.
Freezing Individual Enchiladas
Assemble and bake the enchiladas as instructed.
Let the pan of enchiladas cool completely, then slice into individual servings.
Transfer each enchilada to a freezer bag or container. I use individual glass containers that are freezer- and microwave-safe.
OR, wrap each slice in plastic and then in foil before sealing it inside a freezer bag.
Label and freeze.
Health Benefits
Small maize tortillas filled with meat or beans and covered in cheese and chili pepper sauce are the typical ingredients for enchiladas. Vegetables, seafood, potatoes, or mixtures can be added as additional fillings. When you make enchiladas at home, you can pick corn tortillas, whole beans rather than refried beans, the amount of cheese, the number of vegetables, and the salsas and sauces. Avoid eating fast food or professionally made enchiladas as much as possible because they can be calorie-dense, rich in sodium and saturated fat, and deficient in vitamins and minerals.
Enchiladas are a high source of 7 vitamins and minerals and a good source of another 10! (high source: 20% or more of Daily Value (DV) and good source: 10-19% of DV)
One of the most nutritious parts of enchiladas is their calcium content; 1/5 of all the calcium you need in a day is in one serving. Calcium is known for building and maintaining healthy bones by lengthening, strengthening and slowing age-related losses. Additionally, calcium is used to help the muscles in your body contract, including your heartbeat! Smaller amounts of calcium also play a role in blood clotting and nerve function.
Manganese is also found in large amounts in enchiladas. Your body uses this mineral as part of food's enzymatic functions, bone formation, and energy.
Enchiladas are also a high source of copper. Copper is a trace mineral that helps your body make hemoglobin and is a part of many body enzymes. Copper helps your body produce energy in cells and helps develop connective tissue.
Riboflavin is used by your body to help produce energy, and it also helps change amino acids into niacin. Niacin is important for preventing plaque accumulation in the arteries and enabling your body to use insulin efficiently. This helps to control blood sugar levels.
Conclusion
You can add garnishes like sliced ripe olives and minced cilantro. Any guest will be impressed by this tasty meal because it is quick and simple to prepare. Make sure to use a fresh tortilla because homemade tortillas are much simpler to roll. These enchiladas will disappear from the plate when it's time to serve them. They are wonderful and make a great supper when given to a large group.
Enchiladas can be prepared up to a day ahead of time and kept in the refrigerator to be frozen and eaten later. The enchiladas can be thawed overnight or reheated in the oven or microwave after being frozen. Additionally, you may store them for up to two months by freezing them before baking. They can be utilized as leftovers as well.