Recipe for Garlic Trout Simple and delicious way to prepare fish, especially if you're in a hurry! Lemon Butter Herb Sauce It only takes 30 minutes to complete the recipe. The fish is flavored with Italian herb spice, chopped fresh parsley, and garlic. Lean protein and omega-3 fatty acids are abundant in this low-carb supper.
Trout fillets are typically thin, making them ideal for cooking in a skillet on the stovetop. One of the tastiest fish recipes is simply frying the trout in olive oil in a skillet, then adding garlic, lemon juice, white wine, fresh parsley, and butter. That concludes our discussion. Simple but delectable.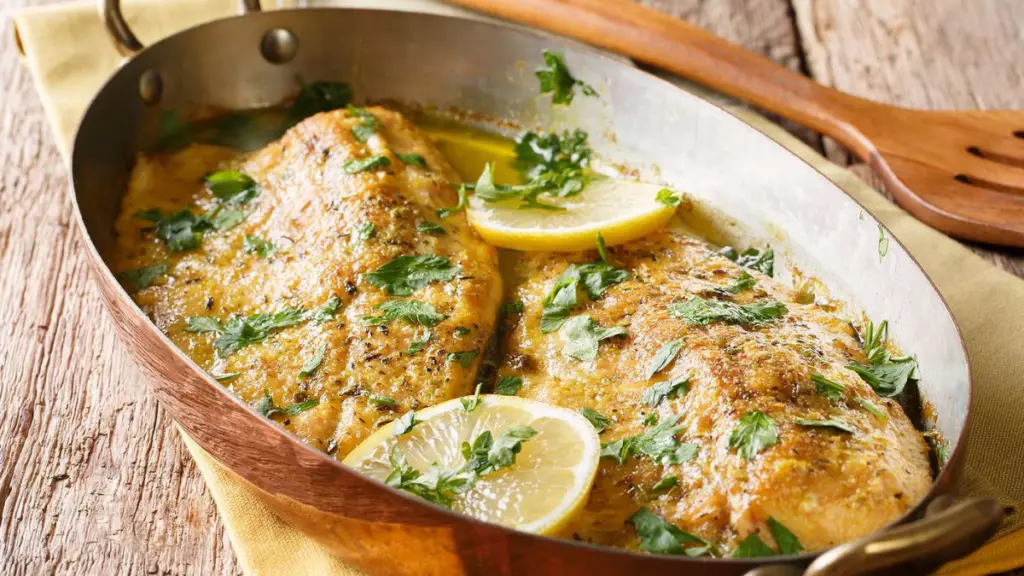 How to Make Trout with Garlic Lemon Butter?
This trout recipe has a brief and easy ingredient list. Because trout is such a delicate fish with such a distinctive flavor, it doesn't require many ingredients or unique techniques to improve it.
So cook it on the stovetop with olive oil and butter, garlic, lemon, lemon juice, white wine, and fresh parsley. Because trout fillets are typically tiny, cooking times are short, and from start to finish, this trout meal takes only 30 minutes.
Ingredients:
1.5-pound trout, salmon, or arctic char – 2 large fish fillets with skin on
Two tablespoons of extra virgin olive oil, if needed.
One tablespoon of Italian seasoning (dried thyme, oregano, parsley, combined)
A quarter teaspoon of salt, to taste
Four minced garlic cloves
Three tablespoons of freshly squeezed lemon juice
white wine, two teaspoons
Two teaspoons of softened butter
Two teaspoons of chopped parsley
Instructions:
Season the tops of the fish fillets with salt and Italian herb spice (generously). Skins will be on the bottom of the fish fillets; there is no need to season the skins.
Heat 2 tablespoons olive oil in a big skillet (large enough to hold two fish fillets) over medium heat until hot but not smoking. Place the fish fillets skin side up, meat side down, in a heated skillet with olive oil. Cook the flesh side of the fish for roughly 3-5 minutes on medium heat, until gently browned, making sure the oil does not smoke.
Turn the fillets over, skin side down, to the other side (add more oil, if needed). On medium heat, cook for another 2-4 minutes (to prevent oil from burning).
Remove the skillet from the heat, cover, and allow the fish to sit in the skillet for 5-10 minutes until flaky and cooked through.
After the fish is cooked through, remove the fillets to a dish with a spatula, carefully detaching the fish from the skin. Remove the salmon skin from the bottom of the pan with care, keeping all of the cooking oils in the pan.
Add the diced garlic, lemon juice, and white wine to the same pan with the oil. Cook for 1 minute on medium-low heat or until garlic softens a little. Remove the pan from the heat. Remove the sauce from the heat and toss in 1 tablespoon chopped parsley and two tablespoons butter until the butter melts and makes a creamy mixture.
Serve by placing the fish in the pan, spooning the sauce over it, and finishing with the remaining one tablespoon of parsley.
How to Soak Trout Before Cooking?
Soak a 1/2 teaspoon of baking powder in a quart of water for 30 minutes. Remove the fish from the pan and rinse it under cool water. Soak your Lake trout for one hour in buttermilk. After that, could you give it a good rinse with cold water? It is not required to soak the fish in brine or water before cooking to remove any dirty flavor.
We never wash or soak whole or filleted fish in the water or any other solution (except a marinade) before cooking because it changes the texture and, as a result, the flavor. Soaking fish in vinegar for any time will drastically alter its texture and overpower its mild flavor. Typically, you'll want the fish to marinate for 20 to 30 minutes, or even less if it's a thin piece of fish.
How do you Cook Rainbow Trout Jamie Oliver?
Preheat a big frying pan to medium. Season the trout with a touch of salt and pepper on both sides. Pour in a generous amount of olive oil and toss in the thyme tips, followed by the trout, skin-side down (you may have to do this in 2 batches). To help the skin crisp up, press down on the fish with a fish slice. Rainbow trout has a moderate, slightly sweet flavor that is not as "fishy" as other fish.
The skin of rainbow trout is crisped to perfection when pan-fried. Heat the olive oil in a big nonstick pan over medium heat until it is hot. When the oil is hot, place the seabass skin side down in the pan, season with salt and pepper, and cook for 2 minutes. Cook for another minute on the other side. Cook the pasta for 1 minute in salted boiling water, then drain and combine with half the sauce.
Is it Possible to Prepare Trout in the Same Way as Salmon?
The trout flavors are typically light and gamey, with a delicate flesh texture. Cooking methods for trout and salmon are similar, including baking, grilling, pan-searing, poaching, and frying. While trout and salmon are closely related and can often be used interchangeably in recipes, their flavors differ significantly. Salmon has a more robust flavor than most trout, commonly referred to as sweeter. While trout and salmon have a similar appearance and flavor, they are two different fish species.
The main distinction is that Trout is a freshwater fish, while Salmon is a saltwater species. Salmon has a higher fat content and is usually more significant in size than trout, and Steelhead trout are smaller and more delicate than salmon. Despite their differences, steelhead trout and salmon can be used interchangeably in most recipes, and they have similar flavors and textures. You may need to cook the salmon for a few minutes longer if you're using it.
Is it Necessary to Remove the Skin From the Fish Before Cooking?
If you prefer to eat your fish without the skin, remove it before cooking and follow the rest of the instructions. Turn the fish over and finish cooking on the other side when golden brown. There are many sides to fish, but some simple buttered new potatoes and samphire work well. If you cook the fish skin-side down first, it will be easier to remove the skin. Cooking loosens the fat layer that binds the meat to the skin, allowing it to be easily peeled away.
The fish skin's vital proteins make it simpler to turn and move around in the pan. He points out that a skin-on fish fillet will curl up during cooking as the skin shrinks, but that if you use a spatula to press the fillet into the hot skillet as soon as you place it in the pan, it will stay flat. When fried till crisp, salmon, branzino, sea bass, snapper, flounder, and mackerel skin are all wonderful.
Conclusion
One of the tastiest fish recipes is simply frying the trout in olive oil in a skillet, then adding garlic, lemon juice, white wine, fresh parsley, and butter. Gluten-free, healthful, simple to prepare, and delectable! Dinner with lean protein and omega-3 fatty acids that is low in carbs. This is a family favorite! Trout is a fantastic fish that can be prepared in various ways.