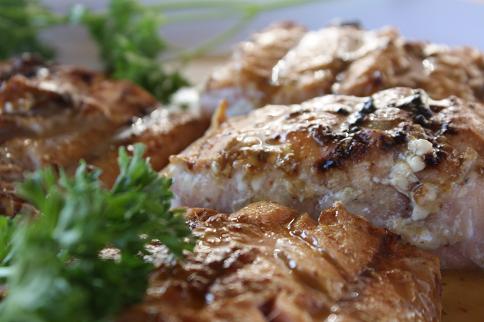 This is a great recipe for grilling fresh fish. This glazed salmon recipe is simple and quick to prepare.
What a great time of year. Even here in Upper Michigan the days are warming up. I just love getting the grill going on these nice spring days. It is time for the steelhead to run here so the salmon are coming close to the shore line. This is a great recipe for grilling fresh fish. I hope you enjoy.

Simple Glazed Grilled Salmon Recipe
Ingredients
3 tablespoons dark brown sugar
4 teaspoons prepared Dijon mustard
1 tablespoon soy sauce
1 teaspoon rice vinegar
2 salmon steaks about 8 ounces ¾ to 1 inch thick
Instructions
Mix together the brown sugar, mustard and soy sauce.
Set aside 1 tablespoon of the glaze mixed with the rice vinegar.
Brush one side of the salmon fillets with half of the glaze.
Place on the grill glazed side down. Brush the top side of the salmon steaks with the rest of the glaze.
Grill until slightly charred about 4 minutes-flip the steaks and cook about 5 minutes longer or until done.
Drizzle the glaze mixed with the vinegar over the salmon and enjoy.