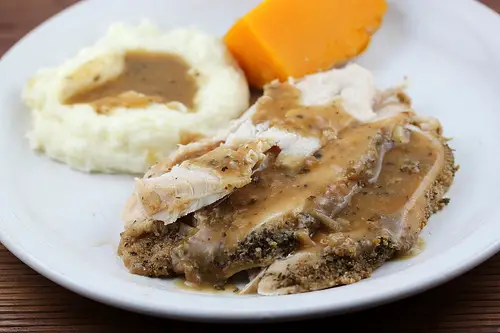 The next time you need to save some time give this Slow Cooker Turkey Breast Recipe a try. I was a little skeptical because it was so heavily spiced, but it turned out to be a delicious combination of flavors. Like most slow cooker recipes the meat was so tender it melts in your mouth. I served this Slow Cooker Turkey Breast dish over mashed potatoes, and used the juice in the slow cooker to make a gray.
Enjoy
 Ingredients
1 5-6 pound turkey breast
1 package dried onion soup mix
1/3 cup water
1 tablespoon garlic powder
1 tablespoon onion powder
1 1/2 teaspoons dried parsley
1 1/2 teaspoons season salt
1 1/2 teaspoons dried basil
1 1/2 teaspoons dried oregano
Directions
1. In a bowl mix together the onion soup mix and water. Place the turkey breast in the slow cooker. Pour the mixture over the turkey, using your hands well pouring, work the soup mixture under the skin wherever you can.
2. In another bowl whisk all the dry spices together and sprinkle over the top of the turkey.
3. Cook on low for 5-6 hours or until turkey is done. (165F)