Chicken breast can be dressed in a variety of ways. If you don't like chicken skin, use low-carb sauces or seasonings instead. Black pepper chicken is a delicious keto chicken breast meal. This recipe tastes just like takeout, but it's far healthier. This dish uses arrowroot starch instead of soy sauce, giving it a Keto-friendly alternative. Following meals are Keto-friendly in addition to being delicious.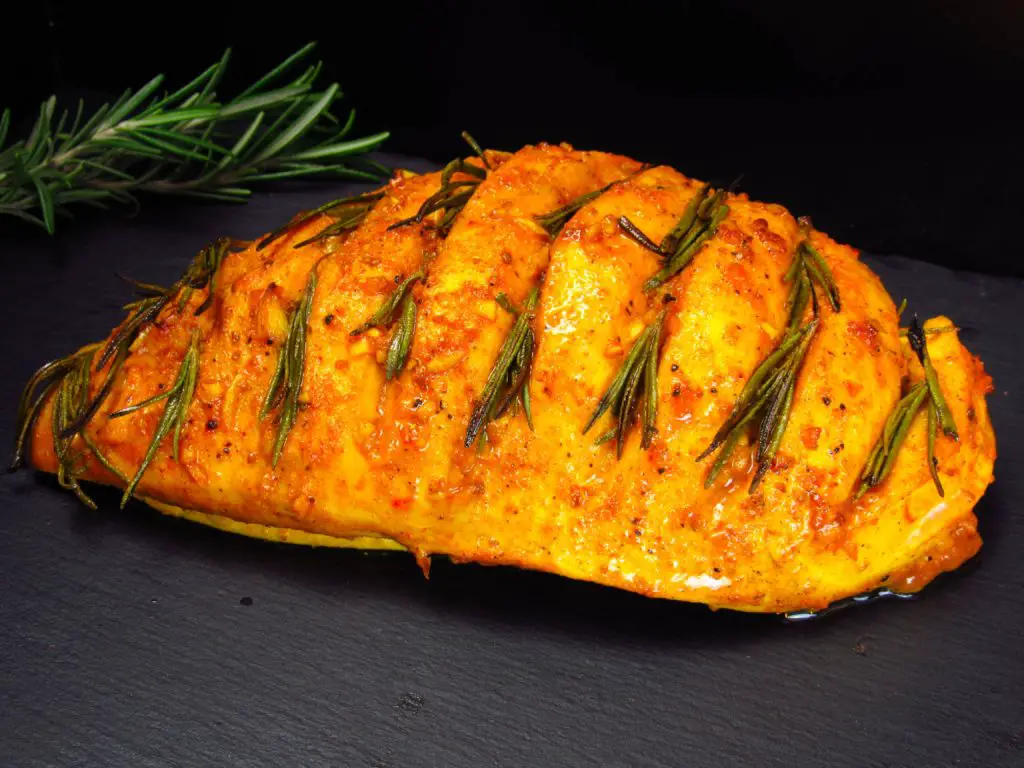 Some Best Keto Chicken Breast Recipes
Chicken Fajita Bake
The original stovetop fajitas are transformed into an easy oven-baked dinner that cooks in 40 minutes. Layer the toppings, cheese, and seasoning over chicken breasts for a quick meal any night of the week. The low-carb, gluten-free, keto-friendly chicken fajitas casserole is baked. Leave out the cheese and sour cream topping to make this recipe paleo and dairy-free.
Chicken fajitas are one of the most popular meals in our house, and we make them frequently, generally in a skillet. However, we decided to try something new, making an oven-baked chicken fajitas casserole out of our family favorite.
Keto Chicken Cordon Bleu Bake
The ease, simplicity, and flavor of Keto chicken cordon bleu will wow you! We'll start with some delicious parmesan-crusted chicken, then cover it with ham and Swiss cheese before baking. The final step in making your low-carb chicken cordon bleu is to cover it with a creamy dijon sauce that will bring all the flavors together.
Like many best chicken recipes, traditional chicken cordon bleu is high in carbs. While this may work for many people, it is generally off-limits for others with dietary requirements. But no longer! With keto chicken cordon bleu, you can enjoy all of your favorite flavors without the carbs or other things you don't want. Furthermore, the low-carb chicken cordon bleu is quicker and easier to prepare because we are not filling chicken breasts.
Keto Parmesan Chicken
We strive for healthy eating in our house, but traditional recipes don't always meet today's requirements. There are, thankfully, workarounds, and today's dish is no exception! We'll start with our keto parmesan coated chicken, seasoned with Italian seasoning and fresh parmesan cheese, and then top it with marinara and mozzarella to make a keto chicken parmesan that will satisfy even the most adamant low-carb detractors. We're going to make a keto parmesan chicken meal that's gluten-free, low-carb, and even suitable for people on a strict keto diet by omitting the breading of regular chicken parmesan.
Keto Chicken Enchiladas
Low carb and keto chicken enchiladas are a delicious Mexican-inspired supper that no one will suspect is low carb. Onn a keto diet, keto enchiladas with low-carb tortillas allow you to enjoy enchilada.s With cauliflower rice, riced broccoli, or a simple salad, serve the keto chicken enchiladas. You may also serve quick Spanish rice or refried beans on the side for your non-low-carb friends and family. If you enjoy Mexican-inspired dishes, you'll want to try our famous crustless taco pie,low-carbs taco soup, keto taco salad, chicken fajita bake, and chicken green chili casserole recipes.
Keto Chicken Noodle Soup
Chicken noodle soup is a straightforward recipe, but it won't work if you attempt to keep to a low-carb diet. Our homemade keto-friendly chicken noodle soup with zucchini is the perfect option with a few quick and easy swaps! The key to making this delicious low-carb chicken soup (or any chicken noodle soup) is to roast the chicken before combining it with the broth and vegetables. So many recipes call for simmering raw chicken till it's done….boring! That leaves you with flavorless chicken, which you must then taste with other seasonings.
Keto Chicken Broccoli Casserole
The low-carb chicken divan is the perfect addition to your weeknight dinner rotation! The ultimate comfort dish is cheese and broccoli casserole, made with pre-cooked chicken, broccoli, cream of chicken soup (homemade or canned), cheddar cheese, and curry spice even fussy eaters will enjoy. Choose a casserole dish that you like. Now have a tasty and easy keto chicken casserole with cheese and broccoli to eat after removing some of the carbs from the chicken divan dish. It also creates the most acceptable chicken divan casserole, and each dish only has seven net carbohydrates!
Easy Chicken Green Chili Casserole
Although our green chili chicken casserole is low-carb and keto-friendly, carbohydrates can be found in unexpected places. Make sure you're using a low-carb taco seasoning (or make a sugar-free taco seasoning using our 5-minute recipe). In addition, keep an eye out for added sugars in your salsa. Low-fat dairy products and pre-shredded cheese are sometimes high in hidden carbohydrates. To make your chicken green chili casserole in under 30 minutes, start with pre-cooked chicken. Then mix the seasoning, salsa, and cottage cheese before topping it with additional cheese and baking it.
Boil Chicken Breast
The most excellent way to acquire tasty chicken for shredding, sandwiches, casseroles, and more is to boil it! We'll show you how to make the ideal poached chicken in less than 30 minutes. Boiled chicken breasts are a fantastic technique to make tender, juicy chicken breasts full of flavor. It can be used in any recipe for pre-cooked chicken, such as Chicken Chili Casserole, chicken salad, Keto Chicken Casserole, and soups and sandwiches.
Caprese Chicken Bake
This Caprese chicken bake is a flavorful low-carb dinner that comes together quickly! This Caprese chicken recipe, which features pan-seared chicken, seasoned tomatoes, fresh mozzarella, and basil, will become a weekly favorite. Caprese chicken bake incorporates all the flavors of Italy and prepares them in under 30 minutes, similar to a Caprese salad.d The Caprese chicken recipe is based on a fresh Caprese salad with mozzarella, tomato slices, and basil in Caprese, Italy.
A similar principle is used in our Caprese chicken recipe, except the chicken is cooked alongside melted fresh mozzarella and roasted grape tomatoes. Thee flavors come together in a balsamic pan sauce, which we drizzle over the finished chicken dish right before serving.
Keto White Chicken Chili
This keto chicken chili is a stovetop version of our keto chili without beans, with chicken instead of beef, green salsa instead of red sauce, and cream and cheese added. It's almost like a hybrid of our beef keto chili and green chile chicken dish. The original goal was to stick with the original keto chili recipe and change the meat and sauce, but traditional chili includes bell peppers, which we didn't have in the fridge or freezer. We took advantage of the fact that it was 2020 and opened the pantry. We used canned green chilis instead of bell peppers because we had them on hand. Mild green chilis were an excellent complement, if
Is It Okay To Eat Chicken Breasts On A Keto Diet?
Because chicken breasts are substantially lower in fat and not quite as filling as chicken thighs, they are not ideal for keto. They also lack flavor and require other ingredients to make a delicious dinner Protein should make up around one-fifth of your meal. High-protein meats like skinless chicken breasts or fish should be consumed in moderation if you do the math. Because chicken breasts are substantially lower in fat and not quite as filling as chicken thighs, they are not ideal for keto. They also lack flavor and require some other ingredients to make a delicious dinner.
What Kind Of Chicken Can You Eat On A Keto Diet?
Chicken. Chicken is keto-friendly because it has no carbohydrates, and dark meat contains more fat and iron. According to the USDA, one roasted chicken thigh with the skin on has 10 grams of fat meat and poultry are two types of meat. On the keto diet, meat and poultry are considered staple foods. Fresh meat and poultry have no carbohydrates and are high in B vitamins and minerals. The overall calorie intake of one serving size of 1⁄2 kg chicken is roughly 390-400 grams, based on the daily values of a 2000 calorie diet. The total carbohydrate content is 8g, the fat level is 19g, and the protein value is 45g. As a result, it's best ingested as part of a ketogenic diet.
Is it Okay To Eat Chicken Wings On A keto Diet?
Chicken wings are keto-friendly! Wings have a low carb content by nature, so you may eat them frequently on keto if you cook them properly. Is it Bad to Eat Chicken Skin? Due to its high-fat content, chicken skin has a negative name. On the other hand, fat is our keto friend because it is what the body uses for fuel in ketosis. On a keto diet, fat is required. Keto dieters will appreciate chicken thighs as an entree. They're substantial in protein but have more fat than their slimmer breast cousins. This makes them more suitable for keto macros, in which low-carbohydrate dieters ingest 60 to 80 percent of their calories from fat.
The most extraordinary keto chicken breast recipes can assist you in preparing an excellent low-carb chicken supper. If you prefer to eat the skin of the chicken, the most extraordinary keto chicken breast recipes are for you. The skin of the chicken is used in some of these recipes, whereas the skin is removed in others. If you seek the most delectable keto chicken breast dishes, roasted or grilled chicken is good.
Keto chicken breast recipes are a terrific way to prepare a low-carb supper. You can cook frozen chicken breasts or entire chicken breast, and they can also be frozen and served like shredded chicken. Keto chicken can be prepared in various ways, and you may prepare keto chicken salads or casseroles. To keep the dinner low-carb, use any leftovers from your freezer, and it's an excellent option for a weeknight meal!
Conclusion
A cranberry-apple sauce is one of the best keto chicken breast recipes, and olive oil and cranberry jam are used. If you can't locate apple jam, use sugar-free pear or orange jam instead. In any case, the end product will be a delectable meal. Whether you're looking for a simple keto-friendly chicken meal or something more elaborate, you'll find something to your liking.
A wonderful bacon-and-apple butter sauce is included in another keto chicken breast meal, and it also has a beautiful ranch dressing and cream cheese mixture. This isn't your average parmesan chicken recipe, but it's still tasty. You'll only need four ingredients and a short time to prepare the dish, and you can feed your family your favorite low-carb chicken dinner in approximately 16 minutes of preparation time.