You can use any meat for blackened chicken, but chicken is the most popular. The process is simple and depends on your taste. Before starting, heat vegetable oil to a deep-frying temperature. Next, add a half teaspoon of blackened seasoning mix to the chicken. Allow the chicken to sit for a few minutes before removing it from a plate. Afterward, cover the chicken with foil or a plate lined with a paper towel to prevent drying out.
If you're using the seasoning, mix the seasoning with two tablespoons of vegetable oil in a microwave-safe bowl. Next, dip the chicken breast in the mixture and cook over medium heat. The cooking time depends on the size of the chicken, but it is generally about 5 minutes per side. If you're looking for an easier method, you can coat the meat in olive oil and sprinkle it with blackening seasoning.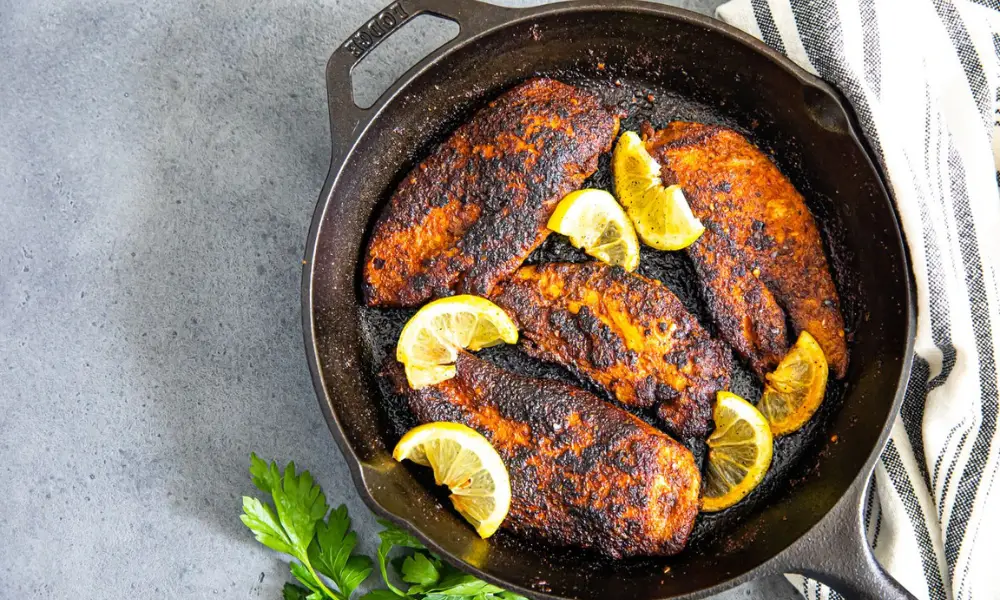 What is Blackened Chicken?
Fish and other meats like chicken are prepared using the blackening cooking method. This method, which is frequently connected to Cajun food, was made well-known by chef Paul Prudhomme.
Melted butter is applied to the cuisine before being dusted with a blend of herbs and spices, typically thyme, oregano, chili pepper, peppercorns, salt, garlic powder, and onion powder oregano flavor. An extremely hot cast-iron skillet is then used for frying it.
The browned milk solids from the butter and the burnt spices give the crust its distinctive brown-black hue. The same cooking method can be used for various fish species and other protein sources, such as steak, chicken cutlets, or tofu, even though the original recipe asks for redfish (Red drum)[3].
What Components Make Up Blackened Chicken?
A hot, dry rub known as "blackened chicken" gives simple chicken tonnes of flavor. The chicken is then roasted over extremely high heat, producing an exterior that is blackened and a juicy and tender interior. This filling, the protein-rich dish, is made with skinless chicken breasts, dried herbs, onion powder, garlic powder, and cayenne pepper. Your chicken being burned, overcooked, or sticking to the pan does not result in blackened chicken.
The chicken is "blackened" by cooking a mixture of spices, typically Cajun, over high heat until the outside of the chicken develops a beautiful blackened crust. To top salads, add to spaghetti, or grab and go, this gluten-free, low-carb, keto-friendly chicken is a fantastic nutritious alternative that can be kept in the refrigerator all week.
What Sets Blackened Chicken Apart from Grilled Chicken?
As a full cooking technique, blackening meat rose to prominence in the 1980s. While blackening your heart takes it to another level, grilling it means cooking it over high heat to seal the fluids. The secret is to apply the rub to the meat after superheating butter, which burns at a lower temperature than oil. A delicious blackened crust is produced from the heat searing the meat and the butter charring the spices.
The grilled meal doesn't need seasoning, at the very least some salt and pepper, unlike traditional blackened meat, which is seasoned with hot spices like cayenne pepper or Cajun spice to give it a sip and savor your bite. Although the blackening heart is more difficult than grilling it, if you're up for the challenge, you can start making Cajun-inspired dishes in your kitchen.
However, because of the intense heat, ensure the meat has reached the correct internal temperature before serving because it may appear black all over. Check it by cutting it or inserting your reliable instant-read thermometer into the center of the meat.
How to Store your Blackened Chicken?
Now that you've created the tastiest blackened chicken, eaten it, and loved it, you need to keep the leftovers. After the chicken has been cooked, you may keep it in the refrigerator for up to 4 days in an airtight container or sealable bag.
Additionally, you can store this chicken for up to 4 months in the freezer in an airtight container or a freezer-safe bag. To that end, if you choose to freeze the chicken, remember to consume it within three days of defrosting.
How does Seasoning that has been Blackened Taste?
Traditional blackened seasoning is hot and sour, with a flavor and aroma of fresh herbs. The rich flavor perfectly contrasts the crispy blackened exterior and luscious meat interior, and the herbs balance off any bitterness from the blackening process.
Common spice ingredients include cayenne pepper, basil, oregano, paprika, and thyme. Try experimenting with various spices inspired by the Cajun-influenced method's origins if you want to boost the heat. Most blackened seasonings contain a few basic elements to balance the additional spices, such as salt and pepper.
Cajun-style blackened seasoning is based on cayenne pepper and paprika, so there will always be some level of heat to it. The herbs and milder spices will stay together if the blackened seasoning is balanced, preventing the heat from overpowering.
What is a Recipe for Blackened Chicken?
Therefore, we will use a cast iron pan for cooking our blackened chicken. Additionally, this recipe can be prepared in cast-iron skillets that can go directly from the cooktop to the oven. The flavor of the blackened chicken is a result of the mix of baking and searing. To move your skillet from the burner to the stove, ensure you have an oven mitt. The skillet's handle will be equally heated to the surface. Okay, let's start cooking immediately!
Ingredients:
Two skinless, boneless breasts of chicken
Kosher salt, two teaspoons
1/4 teaspoon of garlic powder
White pepper, ground, one teaspoon
Crushed red pepper flakes, one teaspoon
Chili powder, one teaspoon
Dry oregano, one teaspoon
Smoked paprika, one teaspoon
Unsalted butter, four tablespoons
optional lemon slices
Instructions
STEP 1: SET UP
You should first set your oven to 350°F (176°C).
Cayenne pepper, garlic powder, onion powder, Italian herbs, and smoked paprika should then be measured, combined, and placed in a small bowl.
Then, add your olive oil to the cast iron skillet's surface and heat it over high heat.
Season the chicken in Step 2
Brush a thin layer of olive oil on both sides of the chicken breasts as the cast iron skillet heats up.
After that, evenly distribute the seasoning mixture over one side of the chicken.
To ensure that the seasonings adhere, press the chicken breasts with your hands.
Repeat on the opposite side.
Cooking the chicken in Step 3
Add your chicken breasts to the cast iron skillet once it sizzles hot.
To prepare the blackened chicken breast, cook them in a hot pan for about a minute on each side. Additionally, doing so will guarantee that the chicken will bake evenly.
When the internal temperature reaches 165°F (74°C), place the cast iron pan in the oven to continue cooking for about 10 to 12 minutes.
Once the chicken is cooked, remove it from the oven, let it cool for a few minutes, then top with lemon slices and serve.
How does Food Taste After Being Blackened?
The surface of the flesh develops a crisp, almost caramelized texture and a buttery-spicy flavor when chicken and fish are buttered, covered in the blackened spice combination of your choosing, and cooked over medium-high heat, in contrast to the bitter or dry, gritty flavor of uncooked spices, spices cooked in fat take on a deep earthy flavor.
Even though blackened chicken or fish contain some spices and are somewhat spicy, they shouldn't be too hot to eat. You want to taste all of the herbs and spices in the blend, not one that is so spicy that it overpowers the flavor of the others. Food that has been blackened shouldn't taste scorched or bitter.
What are the Observations that Must be Done When Making Blackened Chicken?
The following crucial information should be kept in mind when preparing blackened chicken: Heating a heavy skillet with two tablespoons of blackened seasoning is the first step in making a crispy blackened chicken breast. A sandwich bag or frying spray are other options. Apply the spice mixture on both sides of the chicken after it has been seasoned.
Place the chicken in the pan and turn it once to brown all the meat. Frying one breast at a time will allow you to complete cooking the others if the pan is tiny. Allow the chicken to cool on a wire rack before serving. Potato salads, salads, and wraps can all be made with leftovers, and it's simple and delicious to include blackened chicken in your meals.
Don't be concerned about the level of spice when serving Blackened Chicken. Almost anything pairs well with this dish, and the spice mixture gives the meat a zesty flavor and goes well with most side dishes. Additionally, you can make salads, sandwiches, and potato dishes with leftovers.
It's great for meal preparation and as an appetizer for your next chicken supper, and it is adaptable enough for both a formal dinner and a weeknight meal. This recipe's greatest asset is how adaptable it is. It can be used to prepare numerous meals for a household.
Because it can be doubled or tripled for freezer-friendly cooking, the chicken is a terrific option for meal preparation. You might even offer it to visitors. When you have the chicken, the intestine can turn it black, so if you have a lot of time, you can prepare the chicken in advance.
What Sets Grilling Apart from Blackening?
It's a special feeling to grill meat. To achieve the blackening effect, grilled meats can be brined, marinated, washed, rubbed, or left naked, unlike dry seasonings and butter. Your heart will taste fantastic whether you marinate it in spices to enhance the flavor or simply grill it without additional rubs.
While grilling requires a little more time, the results are more in your hands. You'll have more time to monitor the meat and record its internal temperatures. Searing meats on the grill does not always produce "crispy" flesh, unlike the blackened heart, which takes on a distinct crispy surface.
It's frequently caramelized, giving the exterior a chewy barky texture. While food is cooking on the grill, you can experiment with flavors more simply. Butter, herbs, aromatics, or even a taste could be used this way, along with a grilling box and single wood chips. With blackened meat, you have this privilege; therefore, you need to be careful with flavorings and seasonings before adding the heart to the pan.
Conclusion
Blackened chicken is an extremely popular fried chicken with a unique and spicy flavor. While charred chicken may be dry and bland, blackened chicken is incredibly flavorful. It can be made from any chicken and eaten plain or seasoned with sauces.
Traditionally, it's prepared in a skillet with butter. When done, the chicken develops a deep dark crust resulting from the butter and the spices used. If you don't have time to cook the chicken in advance. You can store the blackened chicken cutlets in an airtight container.
This way, they'll keep for up to 5 days. You can also freeze leftovers in an airtight container to enjoy them later. This way, you'll have leftover blackened chicken on hand when you need it again. That's great news for you and your family.