There are so many recipes that seem very American, from pancakes to burgers to apple pie, that these traditional best American recipes represent some of my favorite meals that say "USA!" to me. Even though some came from somewhere else in the world, we've made them our own over time. So let's get started!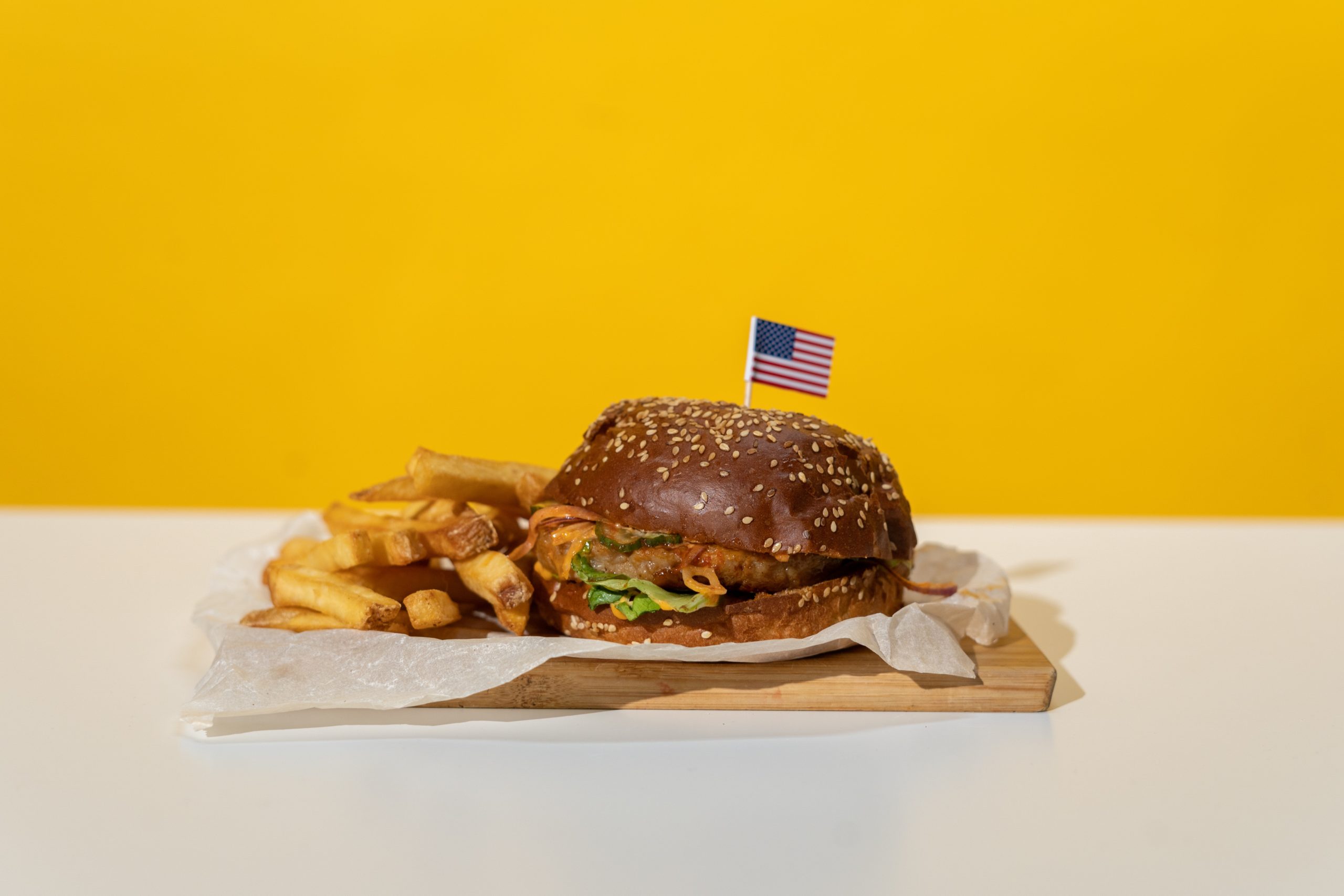 Classic American foods are delicious, from cheese and burgers to cheesecake and apple pie. The recipes are inventive, delectable, and fun to eat! We've even managed to give non-American classics our unique spin. Pizza on steroids, I'm looking at you! Today, we honor our inventiveness in concocting the world's most decadent foods. Here's a collection of dishes that are distinctly American.
Top 10 Best American Recipes
1. Burgers
One of America's most outstanding achievements to humanity is the hamburger. What's not to like about a delicious ground beef patty sandwiched between two soft buns? This world-famous sandwich is excellent for any occasion, whether it's a game day, a summer BBQ, or a quiet dinner.
McDonald's, In-N-Out, and Burger King are always good for a burger fix. However, if you're from the East Coast, White Castle is the place to go. No matter where you are, you can make the legendary White Castle sliders with this simple copycat recipe.
2. New York Pizza
Hand-tossed thin crust with thick and crisp edges distinguishes New York-style pizza. It's also available in hefty slices, and one piece is plenty. Because it's so large, you'll have to fold it in half to eat it.
Hand-tossed thin crust with thick and crisp edges distinguishes New York-style pizza. It's also available in hefty slices, and one piece is plenty. Because it's so large, you'll have to fold it in half to eat it.
3. Steak and Potatoes
You can't think of a more excellent combination than a juicy, melt-in-your-mouth steak with crisp, crispy roasted potatoes! This rich, decadent supper is a definite winner.
You're mistaken if you think it's challenging to make. They're baked together in the same pan simultaneously, and it doesn't get much simpler than that.
4. Tater Tot Casserole
We made tater tots into a casserole with beef and mushroom sauce as if they couldn't get much more addicting. It gets an A+ not only for flavor but also for being a no-fuss meal that can feed a lot.
5. Beef Stroganoff
Beef stroganoff is a delicious dish with tenderloin and a creamy mushroom sauce. Even mushroom haters won't say no to it when served on a bed of rice, spaghetti, or egg noodles. Because it's just too good, I've always thought of beef stroganoff as a special-occasion dish. Imagine my delight when I discovered it only takes 30 minutes to prepare! I instantly added this recipe to my weeknight meal rotation after discovering it.
6. Mac and Cheese
If I had to rank the best side dishes, macaroni, and cheese would be at the top.This creamy, cheesy, hearty dish is so delicious that I could eat it for breakfast, lunch, and dinner. It's also my go-to dish when I need a boost of energy. In a bowl, it's the ultimate of comfort food and happiness.
7. Maine Lobster Rolls
When you combine sweet lobster meat with mayonnaise on a hot dog bun, what do you get? That's what it is: a masterpiece. Maine lobster rolls are incredibly delectable and deserving of a standing ovation.
Lobster rolls are a seafood lover's dream come true, buttered and topped with mayo or a splash of lemon juice. While lobster rolls from Maine are probably the greatest, you can make your own at home using this simple recipe.
8. Crab Cakes
Sweet, salty, flavorful, crunchy, and delicate crab cakes. It's ideal to have all those unique flavors and textures in one bite! These crab cakes are the bomb, seasoned with Old Bay and crispy on the outside with bread crumbs.
You may cook them in various ways, including broiling, baking, grilling, and frying. They're delicious no matter how you prepare them. Crab cakes, in my opinion, are the finest served with coleslaw. I like how the mayo in the coleslaw doubles as a crab cake dressing, in addition to the hot-and-cold contrast.
9. American Cheese Sauce
Oh, liquid cheese, how I adore thee! This simple dip can improve the flavor of any dish by a factor of ten. It's similar to the gravy but better. This dish is a must-try if you're a cheese fanatic like me.
Make a big batch and put it in jars to keep it fresh. That way, you can eat it with whichever snack you like. Chips, nachos, breadsticks – the list goes on and on. I even use it to dip sandwiches in. It's sheer bliss!
10. Chicken and Dumplings
This chicken and dumplings recipe has replaced Cracker Barrel, and it's here to stay. It's a hearty soup with tender chicken and pillowy dumplings. The broth is thick and savory, making it ideal for chilly evenings.
With their chicken and dumplings, Cracker & Barrel has hit it out of the park, but this copycat dish is just as unique! It's also less expensive.
What Is The Most Popular Food In The United States?
Hamburgers and cheeseburgers are undeniably famous in the United States. Traditional, gourmet, fast food, sliders with bacon, green chili, Juicy Lucy style… the list of toppings and permutations is endless.
Burgers must be the most American of all the foods if we choose one. Dinner for most Americans consists of protein, starch, and a vegetable. Two classic examples are a steak with a baked potato and a side of creamed spinach or a cheeseburger with french fries and a salad.
Are Tomatoes Native To The United States?
Tomatoes are the edible berries of the Solanum Lycopersicum plant, also known as the tomato plant. The species is thought to have originated in western South and Central America. During the 16th century, the tomato was brought to various sections of the European-colonized world.
The tomato is a native of the Americas, grown by the Aztecs and Incas as early as 700 AD. Tomatoes were first brought to Europe by adventurers returning from Mexico and Central America in the 16th century.
Conclusion
The country is most recognized for fast, junk, and processed foods more suited to greasy, grinding industrial production in American food. However, Americans have a voracious taste for nice things as well. To honor the country's unending culinary ingenuity, we've compiled a list of the 50 most delectable American foods.
We're sure you'll want to respond with a retort. Recognize that attempting to describe American food is difficult; further, recognize that choosing favorite American things invariably entails leaving out or disregarding certain beloved regional delicacies.