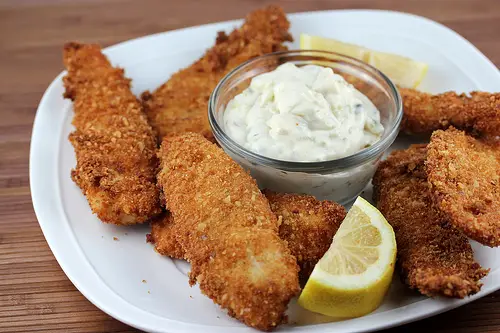 There used to be a time when every Friday was fish fry day at my house. Through the years things have changed, and the Catholic Religion doesn't practice this anymore, with the exception of the Lent season. I guess because of habit, which can be hard to break, it seems like most of the time that we have fish on the super menu, is on Friday.
I love to fish and usually do a lot of fishing in the summer and fall, but this year has been an exception; I just haven't been able to make the time. So for this recipe I decided to use Tilapia, but you could use any species of good white fish, like fresh crappie, white fish, or cod. For the Tilapia I just cut the fish fillets lengthwise along the lateral line, if you're using bigger fish fillets, cut them into one inch strips lengthwise.
This is a simple and mildly seasoned recipe that creates a nice and crispy coating that could easily be spiced up a little more to taste if you wanted to turn it into a Cajun type fish recipe.
The tarter sauce included in this post is a delicious condiment for the fish; give it a try, it's really good.
Add some homemade fries and create a fish fry everyone will love. Enjoy
Ingredients
1-2 pounds of Tilapia fillets (or other "white fleshed fish" of your choice)
2 cups fresh bread crumbs (4 slices of fresh bread processed in food processor or blender)
16 saltine crackers (crushed into crumbs with a rolling pin)
1/ 2 cup all-purpose flour
2 large eggs
1 cup whipped salad dressing or mayo
1/ 4 cup dill pickles (chopped)
1 tablespoon pickle juice
1 teaspoon capers in Balsamic (minced and rinsed- if you can't find Balsamic use regular)
Oil for deep frying
Directions
Preheat deep fryer to 350F
1. Prepare the bread and crackers, and then mix them together in a shallow dish large enough to coat the fish fillets.
2. Place the 1/4 cup flour in another shallow dish. In a 3rd dish using an electric mixer combine the eggs and 1/4 cup mayo or salad dressing.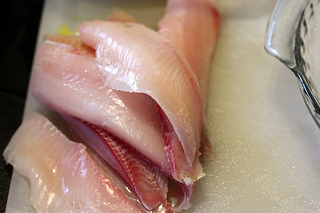 3. Roll the fish fillets lightly in the flour, then the egg mixture, and then press and roll them in the bread and cracker crumbs. Set aside on a plate.
4. To prepare the Tartar Sauce, in a small bowl mix together the pickles, pickle juice, 3/ 4 cup mayo or salad dressing; set aside in the refrigerator.
5. Deep-fry the fish 3-4 minutes on each side or until golden brown. Serve with the tartar sauce.
Serves 3-4