Korean short ribs, also known as Kalbi, are among the most popular and delectable beef dishes globally. Cooking this dish isn't difficult once you understand all the steps and cooking instructions. If you want to get the best results for this recipe dish, you're in luck! This article will give you helpful hints, step-by-step instructions, and important guidelines to follow when cooking Korean short ribs on the stovetop.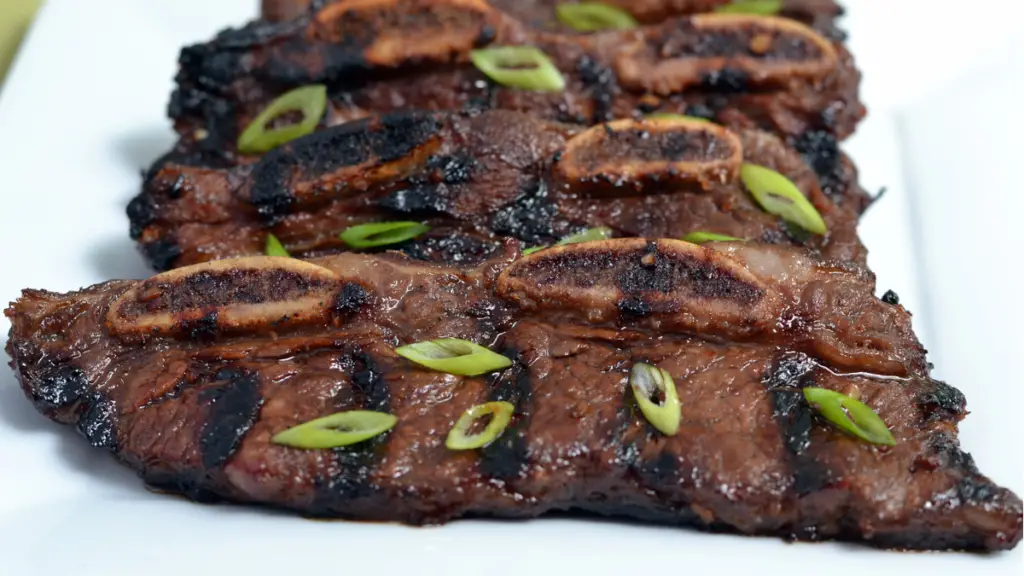 One of the best ways to serve this cut of beef is with this Korean kalbi short ribs recipe! These tender short ribs are delicious and entertaining to eat, and they have a sweet and salty flavor and cook up quickly after marinating overnight. Are you craving beef but don't want to limit yourself to a hamburger or steak? Do you want a beef dish with a tasty Asian twist that's also enjoyable to eat? Then these Korean Kalbi short ribs are perfect for you!
Ribs Nutrition Facts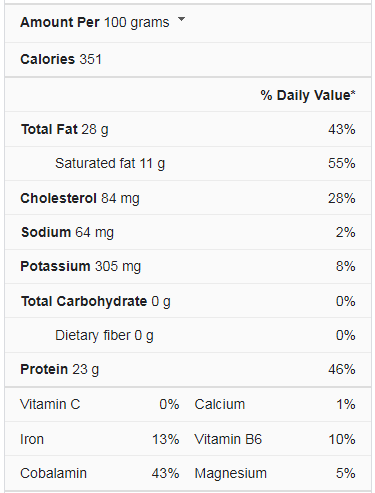 What are Korean Short Ribs?
In Korean cuisine, galbi is a type of (grilled dish). The Korean word "galbi" means "rib," The dish is typically made with short beef ribs, and the dish is renamed when pork spareribs or another meat is used instead. Galbi is usually served raw, then cooked on tabletop grills by the diners.
A sweet and savory sauce, usually containing soy sauce, garlic, and sugar, can be used to marinate the dish. Korean barbecue frequently includes both non-marinated and marinated galbi. Galbi is traditionally cut so that one smooth bone runs along the short edge, and the meat is uniformly filleted in flat layers.
"LA galbi," also known as a flanken cut, is an alternative cut with cut bones peeking out along the long edge. The method was created by Korean immigrants in Los Angeles to accommodate American butchers' preference for a thinner rib-eye cut.
How to Cook Korean Short Ribs?
Here is the best  pan-seared Korean short ribs recipe:
Ingredients
3

 to 

5

 lb of beef short ribs, flanken cut

1

 Korean pear or regular apple

One

 medium onion

5

 to 

6

 medium garlic cloves

One

 bunch of scallions

One

 medium thumb of ginger,
Soy sauce
Rice vinegar

2 tbsp

 sugar, any kind
Toasted sesame oil
Toasted sesame seeds (optional)

½ cup

 of water
Fresh ground pepper
Any dark and leafy green vegetable, cleaned and roughly sliced (optional)
Steps to Follow
Wash the meat cuts in water to get rid of the bone shards. Soak them in a bowl of water for about half an hour to remove some of their blood. After soaking, pat the meat dry with a paper towel and score the sides in perpendicular directions on the opposite sides.
Smash the garlic cloves on a flat surface for the marinade using your knife. Next, shave the peel off of the ginger and chop up your onions into medium chunks. Peel and cut up the pear into chunks, too. Add everything into a food processor and squirt your desired amount of soy sauce. You can add a little at first and check later if you need to add more of it.
Add the sugar, rice vinegar, and some ground pepper into the food processor. Remember, there's no need to add salt because the soy sauce contains salt. Blend everything until it turns into a dark liquid marinade. You can taste it to know if it needs a little bit more of any ingredient. Add ½ cup of water and a few drops of the toasted sesame oil.
Put the meat into a zip lock bag or airtight container, any you prefer, and pour the marinade on top of the meat. Shake it around, so it mixes well, and leave to marinate overnight in the fridge.
When the meat is out of the fridge, wipe off the excess marinade on its surface with your hands or a paper towel. You can even wash it off with water, and the flavor is already locked into the meat. Lay the meat side-by-side on a large pan on the stovetop and turn the heat high. Add water halfway up into the pan and let it cook for 10 minutes.
Flip the meat every once in a while as the water boils down. This will allow the fat to render down and melt easily. Turn your heat down a bit and continue flipping the meat to prevent it from burning. You can now fry the meat in its fat, the fat and remaining marinade will give it an excellent glaze. Once the meat is well cooked, take it out from the pan and cut them up into finger foods.
Fry up the vegetables in the pan containing the leftover marinade, tossing them regularly so they can absorb all those juices. When you're done frying the greens, serve on a plate alongside the sliced Korean short ribs and some white rice. You can sprinkle some toasted sesame seeds, and they taste excellent with the meat.
Enjoy!
Tips for Cooking Korean Short Ribs
Here are some important tips for cooking Korean short ribs:
Are Korean Short Ribs Tough?
Because short ribs are a tough cut of meat, they must be tenderized before being grilled. Grated Korean pear is traditionally used as a tenderizer, and it also gives the marinade a subtle fruity sweetness. You can certainly make galbi without a pear, but it elevates the dish to a new level, in my opinion.
Use an apple instead of a Korean/Asian pear if you don't have one. Use a small amount of kiwi or pineapple, as these are very strong tenderizing agents.
Finding the right balance of saltiness and sweetness is key to making delicious galbi. Generous amounts of garlic and sesame oil are required to achieve authentic flavors. For best results, marinate the ribs for at least 6 to 8 hours or overnight.
How to Marinate Korean Short Ribs?
You can marinate Korean short ribs with:
Chili garlic sauce
Sesame oil
Low-sodium soy sauce
Rice vinegar
Wrapping a bite-sized piece of Korean BBQ meat in a lettuce leaf with a dollop of ssamjang or simply gochujang is best to enjoy (Korean red pepper paste). Serve the short ribs with fresh kimchi salad-type dishes as a side dish.
Conclusion
In Korean, Kalbi means "ribs." So there's So Kalbi (beef ribs), Dak Kalbi (chicken ribs), and Dweji Kalbi (both beef and chicken ribs) (pork ribs). However, when Koreans say simply Kalbi, they almost always mean beef ribs, and to be more specific, short ribs. So Kalbi means Korean BBQ Short Ribs that have been marinated and then grilled. A more modern version is known as Saeng Kalbi, which refers to the same cut that hasn't been marinated.
Short ribs with a Korean cut are simple to prepare and cook. Cooking is sometimes too quick, and if you're not paying attention while cooking on high heat or broiling, you can easily blacken them. This marinade for short ribs has a great balance. It has just enough brown sugar sweetness to balance out the soy sauce's saltiness, the garlic's savory flavor, and the fresh ginger's brightness. We didn't want them to taste too sweet, so we didn't use too much brown sugar.