The nutrition facts provided in Papa Murphy's Take & baked pizza menu are based on standard product formulations and the most current information from ingredient vendors. However, with so many tempting options, knowing which pizza to choose can take time and effort. In this article, we'll look closely at Papa Murphy's pizzas' nutrition facts.
By examining the calorie count, fat content, and other important nutritional information, you can decide which pizza is right for you. So, whether you're watching your calorie intake, trying to maintain a healthy diet, or simply curious about what you're eating, this article will provide all the information you need to make the best choice for you and your family.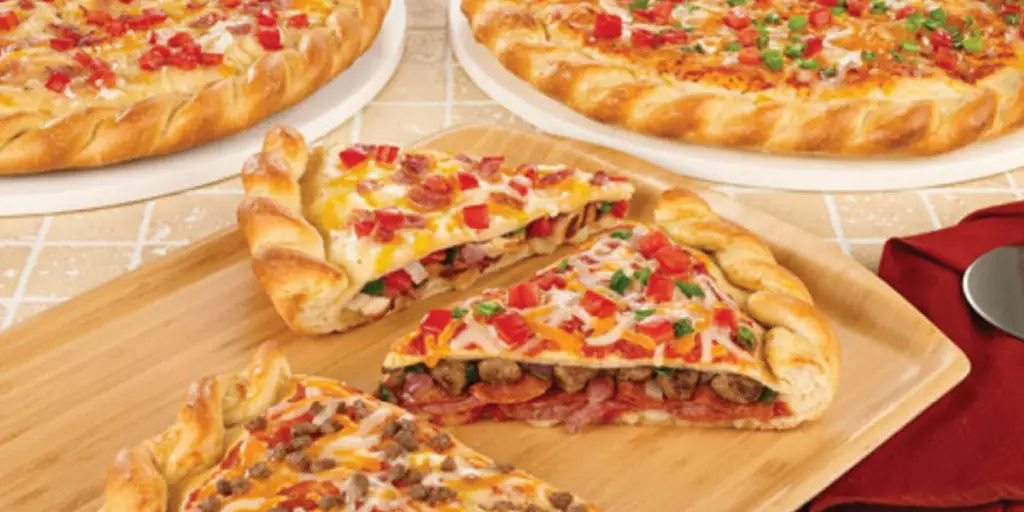 However, product formulations may vary from the original recipe due to supplier or assembly process differences, and specific ingredients may be substituted or removed from the recipe. Occasionally, an allergen-containing component may be added to a product. The nutritional information may also be subject to periodic change depending on availability, seasonality, or new menu offerings.
Nutrition Facts Of Papa Murphy's Pizzas

Papa Murphy's Pizzas
The take-and-bake pizzas from Papa Murphy's are well-known. Customers can place an order for a take-and-bake pizza and bake it themselves. Pizza prices are comparable to other popular pizza chains, and prices vary depending on the type of toppings and the pizza size.
Papa Aldo's Pizza and Murphy's Pizza merged in 1995 to form Papa Aldo's Pizza and Murphy's Pizza. Papa Murphy's is a Vancouver, Washington-based take-and-bake pizza company. The firm and its franchisees run over 1,300 locations in the United States and Canada.
A healthy and balanced diet is essential for everyone. When choosing a pizza, it's essential to consider your lifestyle and health status. If you have diabetes, you should try to eat as many fruits and vegetables as possible and stay within the recommended daily amount of fat, sugar, and salt.
A high-fat/low-carb diet can be beneficial to your overall health. While Papa Murphy's does not make their crust gluten-free, you can get a gluten-free pizza if you're concerned about your diet.
Some Factors that Describe its Nutritional Facts:
The Papa Murphy's Pizzas nutrition facts are based on standard product formulations and USDA nutritional data. The information is subject to variations and can change based on the product's localization, the assembly process per restaurant, or other factors. A family slice of Papa Murphy XLNY contains 210 calories, 11g of fat, and 830 mg of sodium, and this is 50 calories lower than the second-least caloric option on the menu.
If you want a healthier option, you may opt for a thin slice of pizza instead. The salads can be a healthier alternative to traditional take & bake pizza. The Chicken Bacon Artichoke Salad, for example, contains 330 calories, 17g of fat (including 7g of saturated fat), 11g of carbohydrates, 34g of protein, and 1,570mg of sodium.
Another essential factor to consider when choosing a pizza is its price. In general, a pizza can range from $13 to $20. Some types of Papa Murphy's Pizza are lower in calories than others. You may want to choose a cheesy or thinner crust, but check the nutritional information to ensure you're getting enough food for your body's needs.
What are the Health Benefits of this Pizza?
Murphy's pizza was founded in 1984 in Petaluma, California. Robert Graham, the company's creator, was running a Petaluma convenience store when he observed one of his vendors selling uncooked pizzas.
If you want to cut calories, thin-crust and crustless pizzas from Papa Murphy's are often a better option; you can also reduce the overall calorie count by choosing healthier toppings like veggies, poultry, and pineapple.
"To help limit total calories and sodium, use thin crust over thick crust or even stuffed crust," adds Kimberlain. According to the USDA, one slice of a small thin-crust pizza with no cheese has 141 calories and 282 mg of sodium.
If you enjoy pizza, you can work around your calorie targets to allow yourself a slice or two once a week. You can also stick to your weight-loss objectives by choosing a healthier pizza. For example, a large portion of cheese pizza from Hungry Howies has 200 calories.
What Is The Origin Of The Name Papa Murphy's Pizzas?
Papa Murphy's is based in Vancouver and was formed in Hillsboro, Oregon, in 1981 under the name Papa Aldo's. After combining with another take-and-bake pizza restaurant, Murphy's Pizza, in 1995, the firm became known as Papa Murphy's.
Murphy's pizza was founded in 1984 in Petaluma, California. Robert Graham, the company's creator, was running a Petaluma convenience store when he observed one of his vendors selling uncooked pizzas.
 Does This Pizza Have a Secret Menu?
There is a Papa Murphy's secret menu, and it contains the same number of menu hacks as the other pizzeria's secret menus. Much of this is because Papa Murphy's allows you to customize your complete pizza, and you select the size, shape, and cut, as well as the toppings and quantity. Papa Murphy's pink sauce is a mix of red and white sauces. It's delectable, and the flavor is fantastic.
Is it True That the Pizza at Papa Murphy's is Frozen?
We want to remain fresh and never frozen, but we understand. You can order our pizza double-wrapped to help it stay warm in its new digs.
Allow it to thaw for 24 hours in the fridge and then come to room temperature for 60 minutes before putting it in the oven.
You certainly can; I've done it numerous times. Wrap a whole or portion pizza tightly in plastic wrap and thick aluminum foil to freeze. It lasted for a few weeks and sometimes longer, but it was always consumed.
Conclusion
One way to determine the nutritional value of a particular pizza is to use a nutrition fact sheet. These papers contain the ingredients, fats, and carbohydrates for a serving. They are legal to use and do not violate university or college policies.
If they include the right material, you can utilize them as a source to expand your subject-matter knowledge and for paraphrasing. People with food sensitivities also require the nutritional details for Papa Murphy's pizzas.
Although most of its pizzas are gluten-free, the Caesar salad dressing contains 18.9 grams of fat, and a Chicken Bacon Artichoke Salad has 330 calories, ten grams of fat, and seven grams of saturated fat. This salad also has 1,470mg of sodium. It would be better to stick to thin slices of pizza.