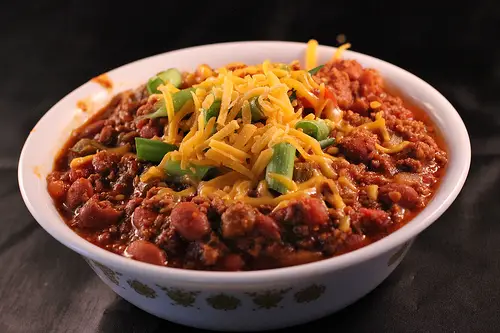 What a crazy winter; here in Upper Michigan we hardly have any snow which is highly unusual for us, however the cold is really hanging in there. It has been quite awhile since I made chili and with this cold weather I wanted a chili recipe with a little bit of a bite to it. This Chili recipe is one of the best, you'll love it. This is a large recipe and it will serve about 12 people. You can cut it in half if it's too much or freeze the rest. It is great reheated. Enjoy!
Chili Recipe
Ingredients
2 pounds ground beef
1 pound Italian sausage
3 (15) ounce cans chili beans (drained)
1 (15 ounce) can chili beans in spicy sauce
2 (28 ounce) cans diced tomatoes (with juice)
1 (6 ounce) can tomato paste
1 large onion (chopped)
3 stalks celery (chopped)
2 green bell peppers (seeded and chopped)
2 green chili peppers (seeded and chopped)
1 tablespoon bacon bits
4 beef bouillon cubes
½ cup beer
¼ cup chili powder
1 tablespoon Worcestershire sauce
1 tablespoon garlic (minced)
1 tablespoon dried oregano
2 teaspoons ground cumin
2 teaspoons hot pepper sauce (or any hot sauce)
1 teaspoon dried basil
1 teaspoon salt
1 teaspoon ground black pepper
1 teaspoon cayenne pepper
1 teaspoon paprika
1 teaspoon white sugar
Instructions
Step 1: In a large stock pot over medium-high heat add ground beef and Italian sausage. Break into small pieces with a spatula and cook until browned. Drain off any excess fat.
Step 2: Add spicy chili beans (with the sauce), chili beans, diced tomatoes and tomato paste. Next, add in onion, celery, green peppers, green chili peppers, bacon bits, beef bouillon cubes and beer. Season the chili with chili powder, garlic, oregano, Worcestershire sauce, cumin, hot pepper sauce, basil, salt, pepper, cayenne pepper, paprika, and sugar. Mix well. Cover and simmer for 2 hours stirring occasionally.